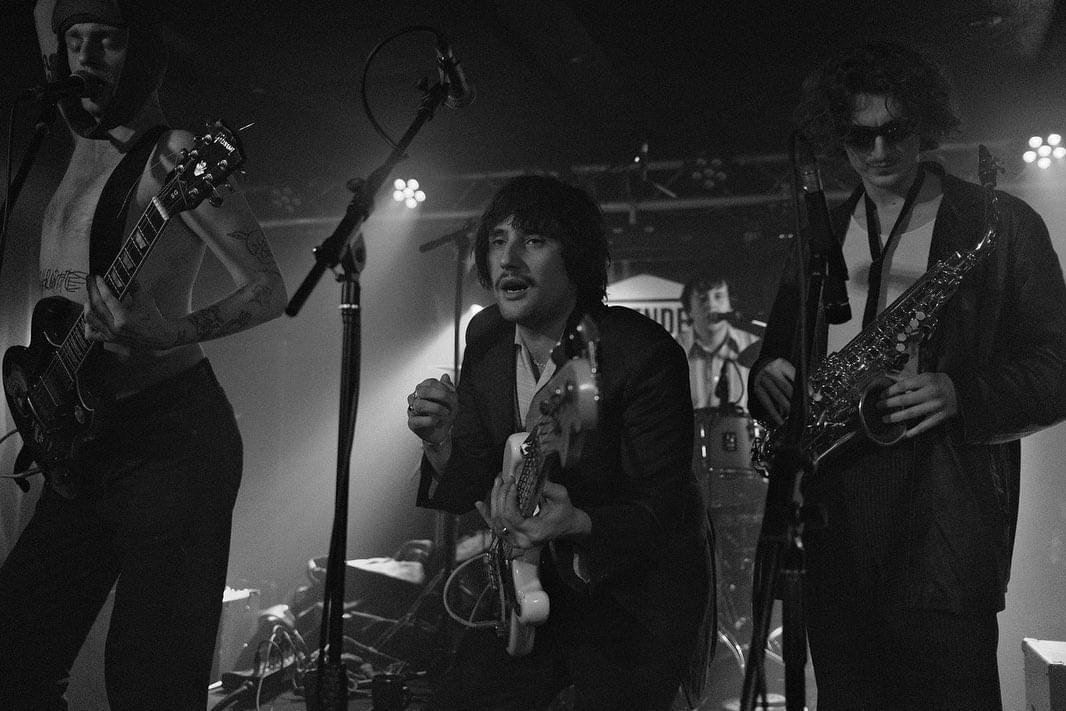 Music Critic Devin Birse suggests eight songs to listen to now
It is hard keeping up with new music. It is even harder finding music worth keeping up with. To alleviate that, this list showcases singles from some of the most promising, and creative acts currently working under the radar. The artists here are not for everyone, but for those who click with them, there is a good chance they might become your new fav.
'Amaranth' – Model/Actriz
The new single off Model/Actriz's hotly anticipated debut Dogsbody perfectly encapsulates their enthralling sound with its sundering guitars and thumping industrial drumbeat. Yet the track's secret weapon is its brief bridges, where the oppressive instrumentation dies down to allow vocalist Cole Haden's tender balladeering to take centre stage, before diving back into nightmarish dance punk euphoria.

'Cowboy Nudes' – Geese
Geese's new single feels like a perfect progression of their groove-laden post-punk. The more radio-friendly indie pop elements initially seem like a step away from their proggy debut Projector but the bizarre lyrics, alt-country vocals, and ranting LCD Soundsystem-esque bridge mark it as a great expansion on their excellent debut.
'Dust' – Opus Kink
Hot off their unhinged debut ep 'Till the stream runs dry this new single by the Brighton Art Punks might be their best yet. Lead singer Angus Rogers has never sounded more maniacal as he screeches over the bands shifting mix of gutter jazz and rollicking drums before the whole thing bursts into pure vaudeville theatrics for its rousing climax.
'Echolalia' – Yves Tumor
Less audacious than their previous work but packing in some undeniable grooves Echolalia might be the catchiest Yves Tumor track yet with Yves's pulsing murmured vocal ricocheting across a truly sublime instrumental.
'Injury Detail' – Mandy Indiana
Mandy Indiana's mix of pulsating beats and droning guitar has never felt more haunting than on their new single. Its initial ethereal opening gives way to a tense track that tows the line between the rhythm section's dance floor ambitions and the nightmarish atmosphere crafted by the guitars and vocals.
Retributions of an Awful Life – Heartworms
Hot off the announcement of a debut ep on Speedy Wundergound the legendary London cult label of producer Dan Carey, (Black Midi, Fontaines DC, Wet Leg, Slowthai), Heartworms cements their reputation as one to watch. The singles pulsating electro-goth style feels rooted in the glorious melodrama of 80s darkwave legends like Depeche Mode and Siouxsie and The Banshees, without feeling purely revivalist thanks to the tracks marching industrial beat and sublime synth work.
'Tennis' – Cowboyy
After showing off their math rock chops on debut single Gmaps Cowboyy now switches their focus to their guitar work. The track's playful instrumentation and crooning singing give way to a series of sky-shattering guitar solos.
'Wyrmlands' – HMLTD
It was near impossible to predict what HMLTD were going to do after releasing their messy but brilliant Glam Punk debut West of Eden but even under those circumstances 'Wyrmlands' is gloriously bizarre. The mix of brutal jazz prog with the group's political art rock makes for a monstrous combination in all the best ways.
---
Enjoyed this? You also might enjoy:
Eight Songs To Listen To Right Now
Redbrick Music's Albums of 2022