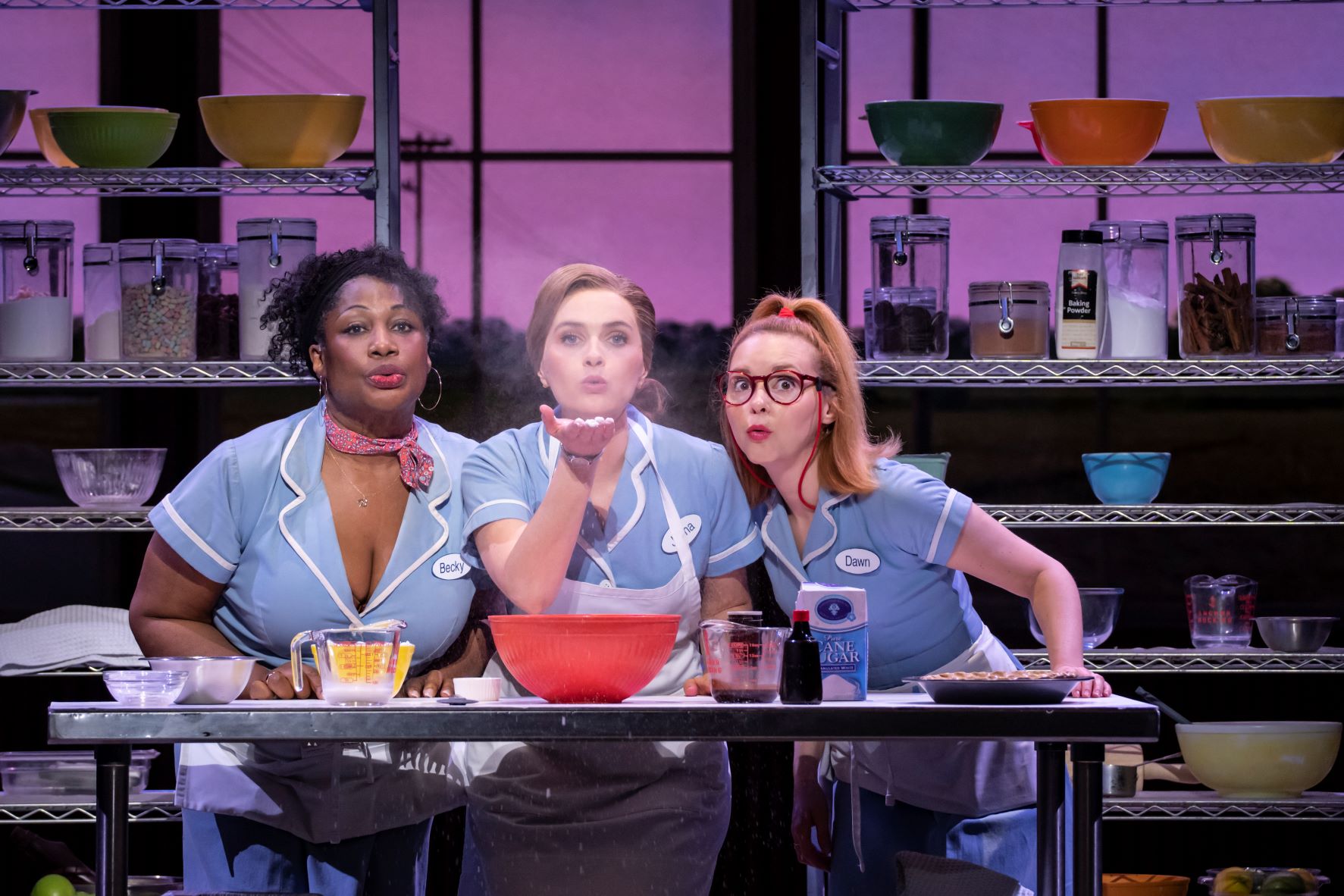 Digital Editor Cara-Louise Scott praises the wonderful Waitress at the Birmingham Hippodrome for its witty writing, incredible singing, and heartwarming portrayal of female friendship
If you're looking for a heart-warming but witty show that'll make you laugh unexpectantly and leave the theatre smiling with joy, Waitress is the musical for you. 
I came to the Birmingham Hippodrome not knowing much about the musical, apart from that it was extremely well-acclaimed and I had been told by many people that it was well worth seeing. It is well-known that when the show opened in 2016, it went down in history as being the first all-female production team on Broadway. Waitress tells the story of Jenna (played by Chelsea Halfpenny), a waitress and expert pie-maker who dreams of happiness in her life. She is in an abusive relationship with her husband, who she is too scared to leave but when she falls pregnant and meets the new doctor, her life begins to get complicated. With the support of her work friends, the hilarious Becky and Dawn, Jenna is never alone and she tries to overcome the challenges she faces with laughter, love and friendship. 
The tour of Waitress features an all-star cast, with Chelsea Halfpenny (Jenna) who was in Byker Grove, Emmerdale and Dolly Parton's hit musical, 9to5, Matt Jay-Willis (Dr. Pomatter) who was in Wicked and Little Shop of Horrors, and Michael Starke (Joe) who has been in Sister Act, Hairspray, The Rocky Horror Show, as well as many TV shows.
To say I was not disappointed is an understatement. Waitress is bubbling with comedy that makes you laugh every five minutes whilst also leaving your heart-aching for Jenna to find happiness. The comedic aspects are enriched by the quirks of the characteristics of the main cast, and each joke or comment that made the audience laugh was well situated in the plot of the musical and never felt over-the-top or dry, as often comedy can be. I think the adult scenes were a huge hit in making the audience laugh; the witty writing of this musical was conveyed effortlessly. While it is a comedy, Waitress didn't fail to shine a light on important messages of happiness, love, friendship and female empowerment.
Chelsea Halfpenny played the character of Jenna beautifully; with her bubbly personality and the way she moves around. We feel instantly sorry for Jenna who has to deal with her horrible husband, and this connection to her allows us to feel even more happy at the end when she manages to find her way to happiness. Her voice is breathtaking too, she captivated every single person in her solo song 'She Used to Be Mine' with the way she hit all the high notes, singing one of the most heart-breaking and personal songs in the musical. The songs altogether were stunning to listen to live, a perfect mixture of funny back-and-forth songs and ballads.
The friendship between Jenna, Becky (Wendy Mae-Brown) and Dawn (Evelyn Hoskins) makes the show as entertaining and funny as it is. Their support for each other is uplifting and I found the scene of Jenna finding out she was pregnant during 'The Negative' song a great way to get to know the characters at the start of the show. Wendy played Becky brilliantly and made us roar with laughter on multiple occasions with her amusing comments, commonly regarding sex. Dawn was also extremely entertaining with her shy, ditsy characterisation and was certainly one of the most loveable characters.
The stage was laid out with the musicians in one corner which was really interesting to see, and the staging shifted between a diner, bus stop, hospital room and Jenna's living room. Moving the staging helped to create new dynamics for action to take place with different characters; we instantly knew what situations would occur from the staging and whether the light was light or dim. The diner stage was extremely realistic, especially with the skyline background.
The ending was not what I was expecting but I liked how the ending showed something different, not the over-shown trope of girl-ends-up-with-boy. It was a happy and heart-warming ending that had everyone up on their feet clapping. And at the end, when her daughter, Lulu (Evelyn Kent) came onto stage, everyone awe-d at her cuteness.
Waitress has all the ingredients for an enjoyable night at the theatre, and is a joyous celebration of the pursuit of happiness that is not only had when baking pies. 
Rating: 5/5
---
Enjoyed This? Read more from Redbrick Culture here!
Theatre Review: The Play That Goes Wrong
What the Ruthless Closing of Webber's Cinderella Reveals About the Theatre Industry