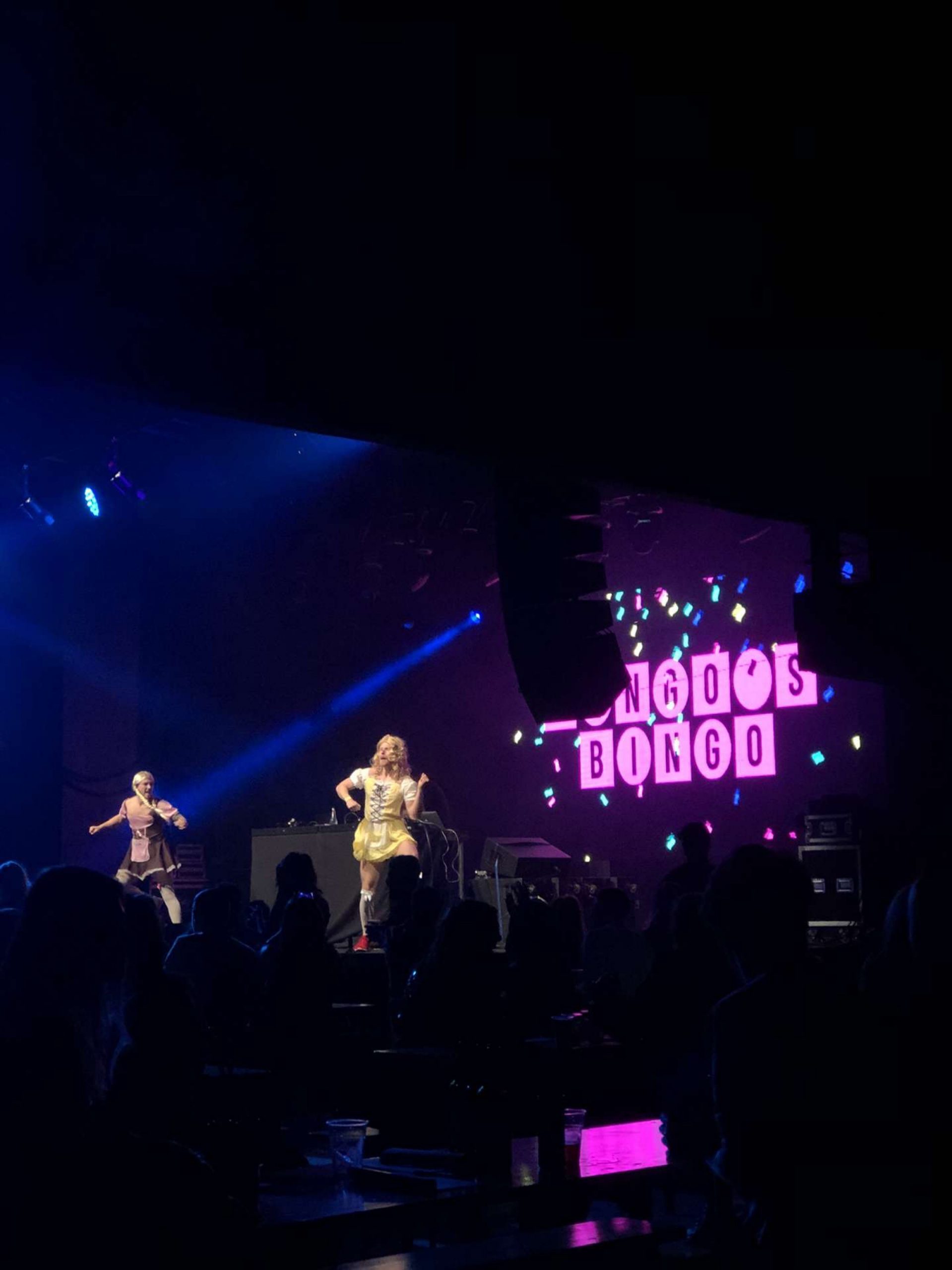 Marketing Secretary and Treasurer Jennifer Prince recommends Bongo's Bingo as a great night out with a 'strange array of prizes up for grabs!'
Bongo's Bingo has become famous amongst my family and friends as a guaranteed great night out. Hearing hilarious anecdotes of people winning space-hoppers and competing in on-stage dance offs made this event top of my list of things to do – but walking into Birmingham's Forum venue, I couldn't help wondering, would it live up to the hype? 
The answer: it definitely did. 
A boisterous DJ lead the crowd through five fast-paced games of bingo, reminding the audience that 'this game is played by f*cking pensioners […] if they can keep up the pace, so can you.' He was not alone on stage though; two men dressed in comical costumes such as Little Bo Peep kept the audience interaction high from start to finish, by encouraging energetic singing and dancing provocatively. 
The games of bingo themselves were broken up with 'rave intervals,' in which everyone 'from 18 to 92' was encouraged to be up on their feet (or stood on their seats) to join in singing and dancing to familiar favourite songs. Not only this, but themed numbers on the random number generator also punctuated the games with surprises, such as Irish music every time the number 33 appeared on the screen. Of course, breaks were also afforded to stock up at the bar, nip to the toilet or catch up with the games. 
Yet, the most exciting part had to be the strange array of prizes up for grabs; ranging from 'giant pink unicorns and Henry Hoovers to mobility scooters and karaoke machines at each and every show.' Admittedly, I was pleased to walk away with seven Disney princess dolls, rather than a box of coco pops. However, the luckiest member of the audience managed to walk away with a huge £1000 prize, after a karaoke performance for having the winning card. 
It must be said that the I felt very safe at the venue. The security staff at the Forum searched every attendee on entrance and the hosts kept a look out for overly rowdy behaviour, quickly putting a stop to any such incidents. Warnings against gambling irresponsibly also added to the safety of the environment. Overall, the competitive socialising provided a feel-good atmosphere and a night full of laughter.
The organisers of Bongo's Bingo are right in saying 'quite simply, there's nothing else like it.' I will certainly be making a return to this 'wild shared social extravaganza […] of pure nostalgic escapism' and recommending it to others both in Birmingham and my hometown.
A final word of warning: do not call bingo unless you have the right numbers… you will see why!
---
Enjoyed this? Read more on Redbrick Culture!
My First Time: Bangladesh @ 50 Cultural Festival