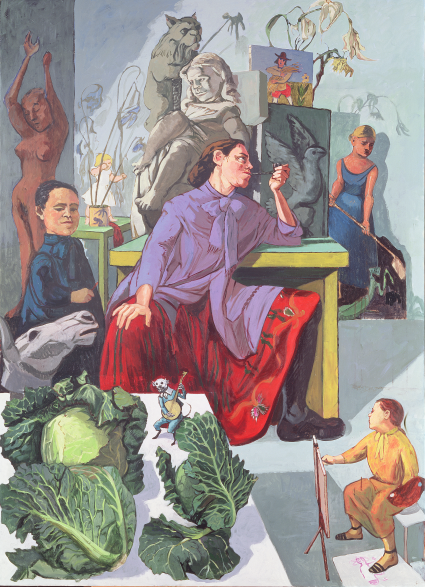 Culture Editor Leah Renz reviews Paula Rego's Exhibition at the Tate Britain, praising the paintings for their ability to induce disturbing backstories in the minds of their viewers.
Images by
Tate Britain Press Images
, Header: The Artist in her Studio , 1993 , Leeds Museums and Galleries , U.K. / Bridgeman Images © Paula Rego
In this, the most extensive display of her work ever in the UK, Paula Rego's anger at female oppression shines through just as brightly as her imagination and artistic skill. Though her work is arranged chronologically, each of the ten rooms which make up the exhibition also has its own theme — such as 'Fantasy and Rebellion' or 'Coercion and Defiance' — and this curatorial decision spotlights Rego's personal and ideological interests. Having grown up in Portugal, with a childhood under the rule of the Estado Novo ('New State'), it is perhaps no wonder that Rego's artwork often engages with Portuguese folklore, childhood memories and darker material such as the state's abuse of power, especially towards women.
One painting, for example, entitled 'The Policeman's Daughter', shows a young woman with a muscled arm thrust into a large black boot; the boot symbolises both paternal and state power, and the woman's action of simultaneously penetrating and polishing the boot depicts both submission and subversion of power dynamics through innuendo. Similarly, the woman's downcast gaze struggles against the visible strength of her body, and her straight back imbues her with nobility and inner rebellion, rather than weakness and inferiority. Either interpretation is possible, however, and this is part of what makes Rego's art so intriguing.
The Policeman's Daughter, 1987, Private Collection © Paula Rego
Rego often weaves disturbing implications into the seemingly innocent, an idiosyncrasy perhaps born out of a desire to offer dark social commentary combined with an interest in childhood, myth, and fairy tales. In her series on nursery rhymes, for example, she re-imagines 'Baa Baa Black Sheep' as a tale of bestiality, depicting a huge woolly black ram with twisted horns (reminiscent of devil iconography) with a little girl stood between his legs whilst the three bags of wool lie ignored on a shelf.
As with much of her work, 'Baa Baa Black Sheep' feels like a snapshot of a wider story; it seems as if the tale continues beyond the work. This is due to Rego's attention to facial expressions and body language, sly eyes which look somewhere out of the frame or even directly at the viewer whilst another character in the painting remains oblivious.
This phenomenon is seen again in Rego's innocuously titled painting 'The Family', although at this stage in the exhibition one knows that Rego will be portraying anything but the innocent and harmless. Sure enough, one girl stands between the legs of her father, smirking as she starts to pull up his shirt, whilst the mother, tugging at a sleeve, largely obscures the father's face. All that is visible is one eye which looks over at the final woman in the scene with furrowed brow — another daughter stood against the light of the window with her hands together as if in prayer but with eyes wide open. The light behind her casts an ominous shadow on the floor and the curtain billows lightly, as if with the winds of freedom or power or escape.
On the table nearby lies a rich red cloth and ceremonial-looking jug which implies a sacrificial altar or cleansing communion. The overall effect is extremely disconcerting, and I overheard one viewer, referring to the women in the painting, saying that 'they're going to do something'. Such is the power of Rego's work that she prompts our imaginations to paint the rest of the story.
Not all Rego's work however is sexually charged; the work displayed in the final rooms of the exhibition tackle issues such as abortion rights and the stigmatisation of mental health. Inspired by late 19th century photos of women suffering from 'hysteria', Rego painted herself in similar positions as the women of these photographs on the distinctive yellow couch of her therapist. Her paintings of women cramped in pain from illegal abortions were used during the campaign to legalise abortion in Portugal's 2007 referendum.
Cast of Characters of Snow White, 1996, Private Collection, London © Paula Rego
Overall, this ten-room exhibition functions as a comprehensive guide to an artist whose work will likely stay with you long after you have left the Tate Britain. Whether you are fascinated by her treatment of fairy-tales, her eroticisation of the innocent, her activism, or her technical breadth —which spans mediums as diverse as acrylic, gouache, oil paints and pastels — this exhibition comes highly recommended.
This exhibition runs until 24 October, tickets are £5 for Tate Collective members (sign up is free for 16-25s).
---
Enjoyed This? Read More from Culture:
Top Five: Poems To Read This Summer
'Happily Ever After': In a Digital World, Where are the Children's Books?