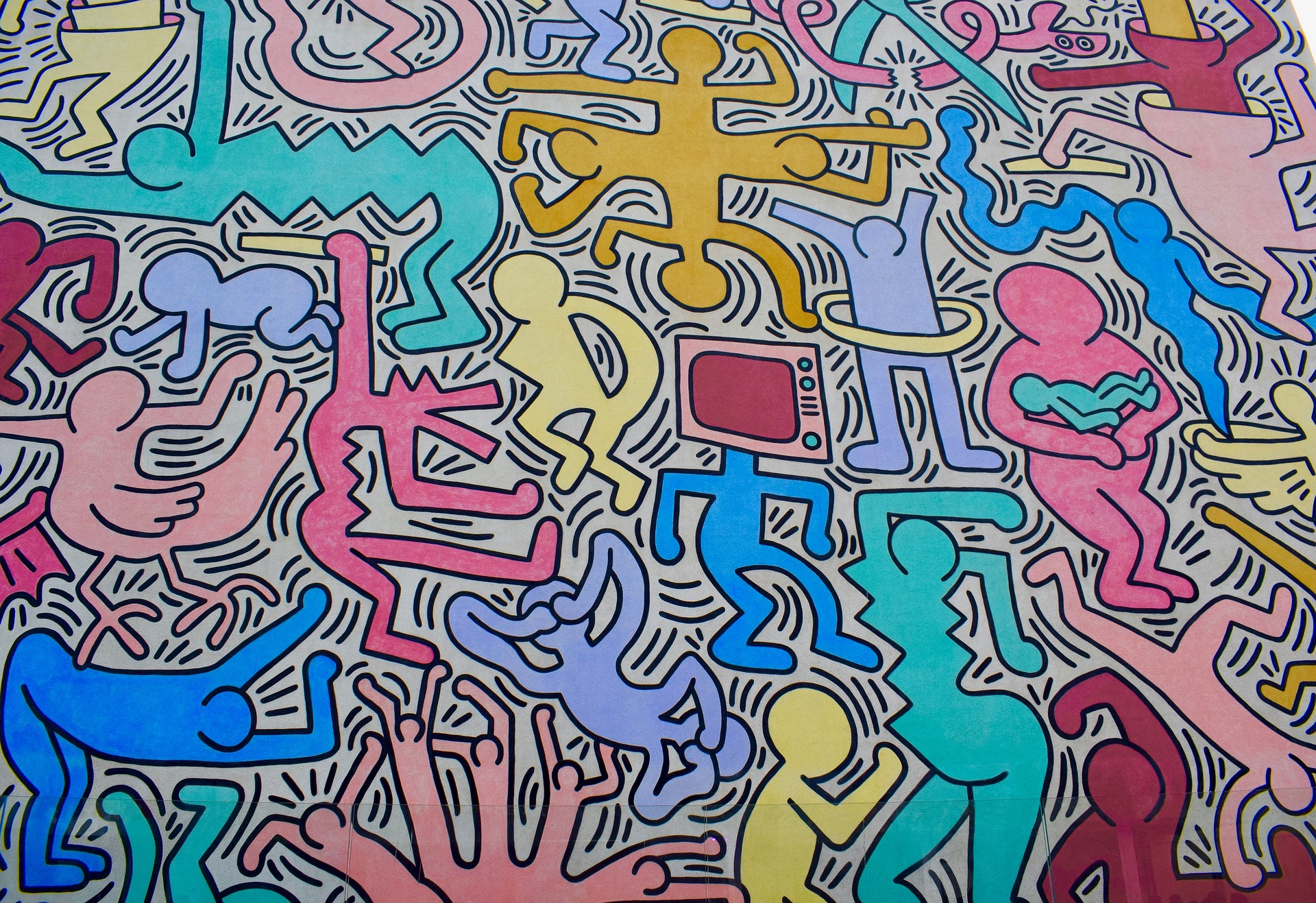 Culture writer Sammy Andrews gives a glowing portrait of the artist Keith Haring; praising his pioneering efforts to make art accessible for all, and opening up discussion about AIDS during the 1980s
My fascination with Keith Haring began whilst I was doing a GCSE art project on New York's underground graffiti scene. I studied him alongside his contemporaries Warhol and Basquiat, both of whom are fascinating in their own right, but there was something really captivating about Keith Haring, both as a person and as an artist. Haring's work spoke to various social issues that were specifically relevant during the 1980s, but his work has also transcended its own time and continues to inspire today. I think what makes Haring such a fascinating figure, to me at least, is him as a person and his legacy which are so multi-faceted.
Haring's early influences were drawn largely from cartoonists and illustrators such as Walt Disney and Dr. Seuss. This resonated massively into the development of his signature style, defined by thick lines, block colour, and basic shapes. His artwork leans towards the visually cartoonish and simplistic, clearly visible in pieces such as Untitled (Be Mine) and Untitled (World). Yet, this simplicity of style served as a bold statement against art traditions and would serve to shape the landscape of his career.
His career began whilst he was studying art in New York. As he discovered the underground scene of late 1970's New York, he was welcomed into a vastly growing counterculture. Underground artists moved with great energy to rebel against institutional and expected practices of the art world. Exhibitions held in now iconic venues such as Club 57 were a boiling pot for artistic communication between these young and underground figures. It was around this period of his life that Andy Warhol became a kind of mentor figure for him, and he became close friends with figures such as Basquiat and Scharf.
As Haring entered the early 1980s he began to experiment with the graffiti techniques that contemporaries such as Basquiat had also explored and brought public attention to. Taking to New York's subway carriages, Haring would draw his figures on unused advertising panels with chalk. This created a widespread awareness of his work, so much so that it was embedded upon the minds of the day to day New York commuter.
What makes this so brilliant, is that it was part of a wider belief inherent to Haring's approach to art: that it should be widely available to the public. The majority of his works were often public display pieces or murals. Across the span of his career, he strove for his art to be accessible, and in 1986 he opened the Pop Shop in which merchandise of his art was available on a mass scale and at a low cost. Haring was always driven to make art accessible for everyone. As his signature style gained prominence, Haring became central to the image of popular culture during the 1980s. He collaborated with popstars such as Grace Jones and Madonna on music videos, bringing his signature artistic style to the forefront of this time.
But what elevates this is that with his fame, Haring decided to use his simplistic art style to spread important social messages. The large-scale mural Crack is Wack comments on ideas of substance abuse, whilst Safe Sex, Stop AIDS, and Ignorance = Fear Silence = Death all encourage conversation and awareness surrounding the pressing AIDS crisis of the 1980s. His work is joyful in colour and cartoonish style, and though it deals with some serious and pressing issues, it always seems to maintain a positivity and hopefulness, often opening up an accessible conversation on such topics. He destroys any taboos or negative assumptions, and instead, seeks to educate and raise awareness.
After his own AIDS diagnosis in 1989, Haring established the Keith Haring Foundation; a cause that supports various non-profit organisations that assist children, and organisations that are involved in education, prevention, and care related to AIDS. This is a foundation that is still actively working today.
We can see Keith Haring's legacy everywhere. His role in opening the conversations surrounding AIDS has since paved the way for a vast improvement in both scientific research of the disease, and the deconstruction of prejudiced assumptions surrounding it. But also, his style reshaped the art world and how art was consumed. Accessibility was always central to his art, and he always strove for art to be widely available to the public. His pieces continue to translate into fashion and media, with the simple bold line figures and movement lines continuing to capture our imagination. Keith Haring was by no means the first graffiti artist in New York, but his strivings to make art accessible, and his opening up of conversations surrounding difficult topics positively changed the artistic and social landscape.
---
Read more from Redbrick Culture here:
Holocaust Memorial Day: Recommended Reads
Book Review: Black is the Body by Emily Bernard