With all 16 teams now confirmed for the upcoming Tom Clancy's Rainbow Six Major competition in Mexico City, Eloise Evans is here to break down everything you need to know
With all 16 teams now confirmed for the upcoming Tom Clancy's Rainbow Six Major competition in Mexico City, here is a breakdown of all the information you will need to know in order to fully enjoy what will no doubt be a thrilling eSports event!
Teams and location
This newest Rainbow Six Major will be held in Mexico City and will occur over a seven-day period from 16th-22nd of August. The top four teams from each of the four major regions (North America, Europe, Asia Pacific, and Latin America) will be taking part and will be as follows:
European League (EUL):
Team Empire
G2 Esports
Natus Vincere
BDS Esport
North American League (NAL):
Spacestation Gaming
TSM
Susquehanna Soniqs
DarkZero Esports
Asia-Pacific League (APAC):
CYCLOPS athlete gaming
Knights
DWG KIA
Invictus Gaming International
Latin-America League (LATAM):
Ninjas in Pyjamas
Team oNe eSports
Team Liquid
FURIA Esports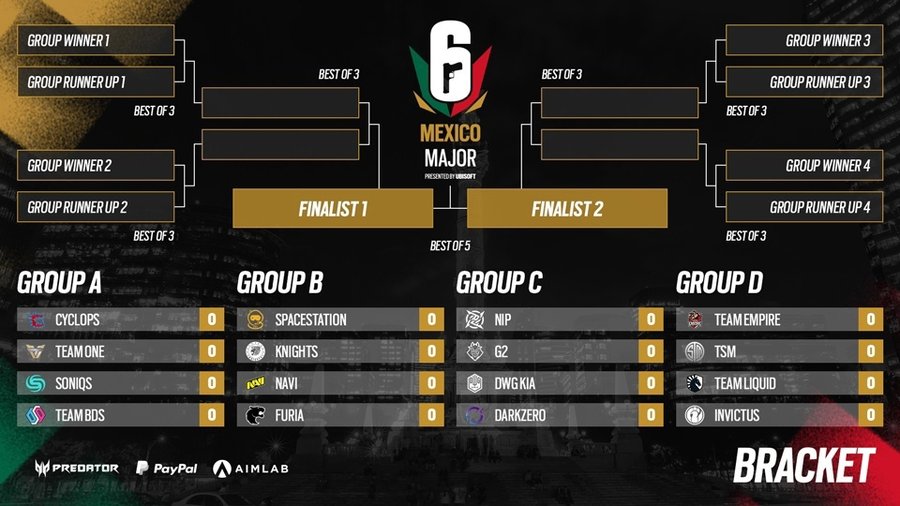 Prize pool
There will be a total prize pool of $500,000 as well as Six Invitational (SI) points available to all 16 teams competing. The full breakdown of the prizes on offer is below:
1st place – $200,000 & 375 SI Points
2nd place – $80,000 & 300 SI Points
3-4th place – $40,000 & 230 SI Points
5-8th place – $20,000 & 165 SI Points
9-12th place – $10,000 & 105 SI Points
13-16th place – $5,000 & 50 SI Points
Group Stage:
The group stage will use a best-of-one, 'double round robin' format. This means that each team will play six matches in the group stage and the top two teams from each group will progress to the playoff stages. A regulation win is worth three points while a win in overtime will be worth two points. An overtime loss is worth one point and a regulation loss is worth zero points.
Each group contains one team from each region, guaranteeing no early regional matches, a change that has been incredibly popular both among players and fans, and the regional seeds have been evenly spread out.
Many are already calling Group D the 'group of death' after Team Liquid and TSM FTX came 2nd and 4th respectively in the Six Invitational 2021. Team Empire is also looking strong, having had a strong stage in the EUL, winning seven out of their nine games, meaning Invictus Gaming is facing an enormous uphill battle to get through to the play-offs.
This group will also feature exciting rematches for TSM FTX and Team Empire who will be looking for revenge against Team Liquid after they knocked both teams out of the Invitational.
Elsewhere, in Group A, CYCLOPS (CAG) will be looking to continue their strong form in their regional league where they have gone flawless this stage, winning all seven of their matches. After an incredibly disappointing Invitational in which they were one of the first two teams to be knocked out, CYCLOPS will now be looking to prove themselves on the international stage.
Also in group A, this will be the first major international event for the Susquehanna Soniqs after their massive roster change at the start of the year in which they dropped four of their five players, only keeping their captain, Seth "supr" Hoffman. Although many questioned the changes, they worked very well for the Soniqs, with them being the only team to finish in the top four of both stages in the NAL. Given this team has yet to face the other regions, it will be interesting to see how well they adapt to the different styles of play.
There are two other teams who will also be making international debuts at this major; Knights and DWG KIA. Knights shocked the league by overtaking both Elevate and QConfirm on the final playday to take first place in APAC South. Meanwhile, DWG KIA managed a tremendous climb from 7th in stage one of APAC North to second in stage two before confidently winning the upper bracket of the APAC Playoffs for their spot at the Major. 
Quarterfinals, Semifinals & Grand Final
After the groups' stages, the top two teams from each group will face each other in a best-of-three match, the loser of which will be eliminated while the winner will progress to the semifinals. These will run between August 20th and 21st.
The two semifinals will also be best-of-three matches, the winners of which will move on to the Grand Final which will be a best-of-five match. The winner of the Grand Final will be crowned Six Mexico Major Champions, earning $200,000 and 375 Six Invitational points. The Grand Final will occur on August the 22nd.
Where to watch
Like the Six Invitational in May, the Major will be on LAN but with no audience in order to protect those taking part and to comply with local COVID-19 regulations. Fortunately, all the games will be available to watch in English on YouTube or on one of the two scheduled Twitch streams, Stream A and Stream B.
This is only the second international LAN event after a two-year hiatus due to the COVID-19 pandemic and will be a fantastic showcase of the talent of all 16 of the teams who have made it. With exciting storylines already forming, this is shaping up to be an unmissable event!
Update:
Unfortunately due to Covid restrictions, Knights will be unable to attend the Major. This is a real shame and means we won't be able to see one of the best APAC teams compete for the first time on the international stage. They will be given the prize money and SI points granted to 13-16th place. They won't be replaced, meaning the competition will go ahead with 15 teams. Details are not yet available regarding how this will affect the schedule and planned format, however these will be released in due course.
---
Liked this article? Check out more of our content below:
Knockout City | Review | Redbrick Gaming
Kanto Games – Pokemon Recommended Teams | Redbrick Gaming