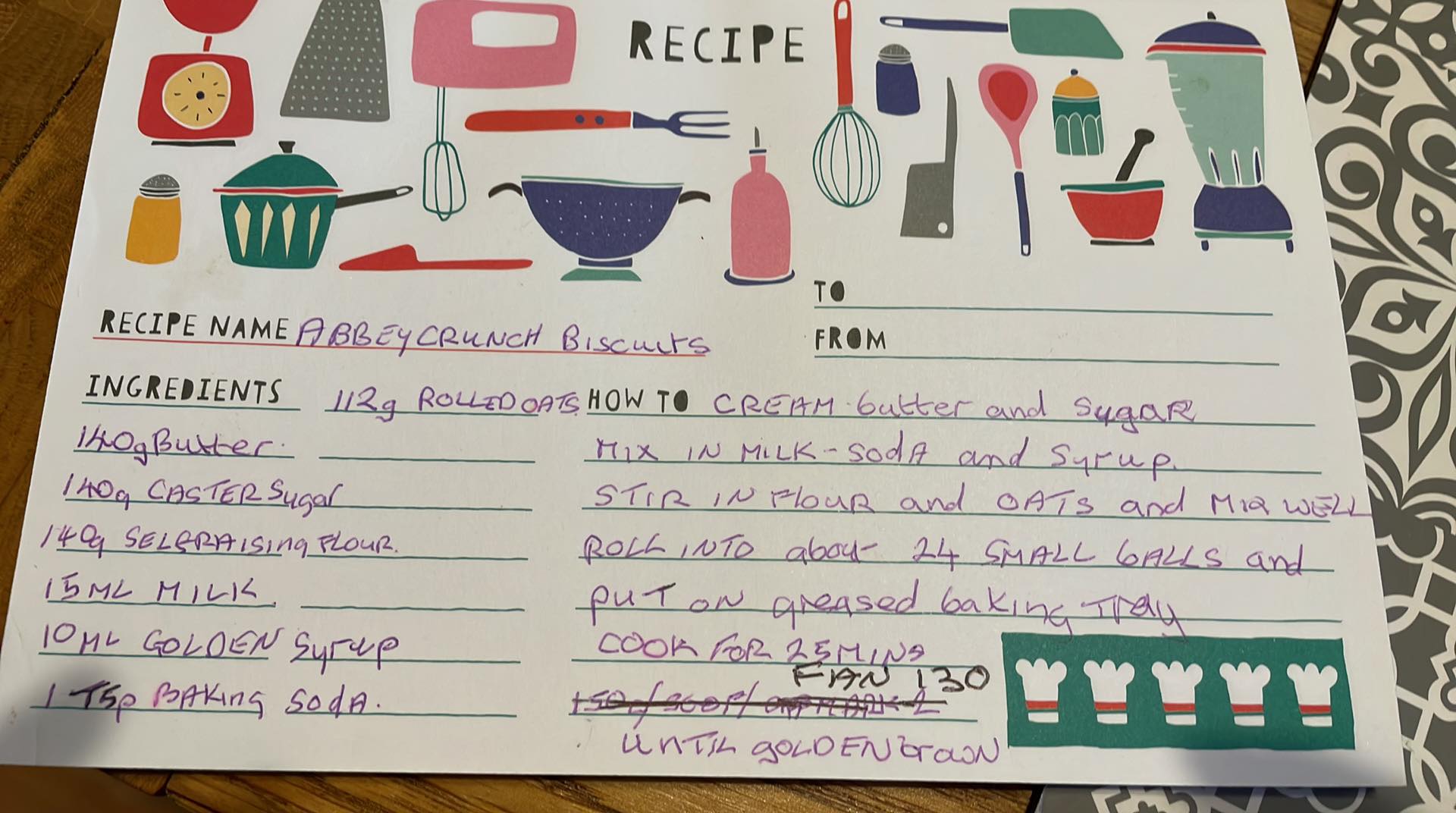 Digital Editor Cara-Louise Scott reminisces on the nostalgia surrounding the discontinued Abbey Crunch biscuits, and shares her family recipe
Abbey Crunch was a biscuit brand by McVitie's that are no longer available to buy and instead morphed into what we know today as Hobnobs. The recipe below was my Nan's, who, as my mum tells me, started making these because McVitie's stopped making the Abbey Crunch biscuits that my Grandad and mum loved. My Nan created this recipe herself and then it got passed onto my mum, still in its original form on a recipe card. When my beautiful Nan passed away three years ago, my mum started making these delicious biscuits more regularly, especially over the lockdown to hand out to people, and I have now come to love these tasty treats too.
These biscuits are unlike any other; they are soft, buttery and melt-in your mouth, and if cooked just right, they have a soft crunch to them that makes them even more delightful. These biscuits are moreish, however, and unless you pass them onto others, you'll probably end up wanting to devour them all in one sitting!
My mum makes these biscuits bigger than my Nan did and adds extra oats in; even when recipes are passed down in the family, family members will add their own uniqueness to them but I think they still have the same warm oat-y taste and the base of a good beloved family recipe.
Makes 24
Ingredients
112g Rolled Oats

140g Butter
140g Caster Sugar
140g Self Raising Flour
15ml Milk
10ml Golden Syrup
1tsp Baking Soda
Method
Cream the butter and sugar together.
Mix in the milk, baking soda and syrup.
Stir in the flour and oats, making sure you mix well.
Roll the mixture into around 24 small balls. Place these onto a greased baking tray.
Bake for 25 mins on 'Fan 130' setting, until golden brown.
Enjoy!
---
Hungry for more? Check out these recipes below!
Recipe: Four ways to use crumble!
Recipe: Chickpea, Avocado, and Sweet Chilli Salad