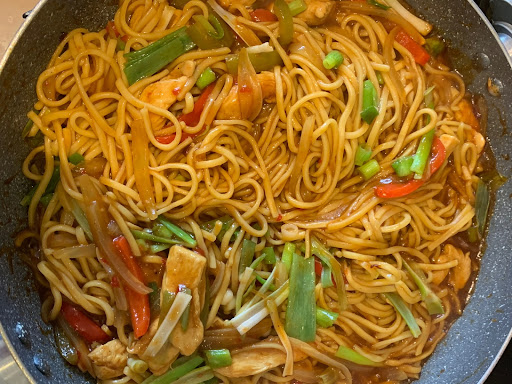 Culture Editor Halima Ahad shares her favourite one-pan, halal chicken noodle recipe
Chicken noodles have always been a favourite dish in my home. They come out at special family gatherings such as Eid, or just to make a quick and easy lunch. It can easily be switched and changed up to suit every dietary need and what's better is that the chicken used in this particular dish is halal.  
This is also a one pan dish so there is less hassle in the kitchen if you are looking for something speedy to cook in the kitchen as a student. Leftovers are also perfect for lunch and can be heated up to make a delicious meal. 
Serves 6 
Ingredients
3 ready to cook packets of egg noodles 
2 packets of Tesco sweet chilli sauce 
2 packets of Tesco teriyaki sauce 
500 g of halal chicken stir fry 
1 red and green pepper 
Small bunch of spring onion 
1 tbsp of vegetable oil 
1 onion 
1 garlic clove and the same amount of ginger 
½ tsp of salt
A pinch of red chilli powder 
1 tbsp of tomato ketchup 
1 tbsp of lemon juice 
Method 
   

In a wok, heat up the oil then place the chicken. 

   

Stir fry the chicken for 10 minutes. Once it has changed colour, add the grated ginger and garlic in and stir this in at medium heat for a couple of minutes. 

   

Add the chopped onion and stir fry this for a minute or so. 

   

Add the chopped peppers, stir fry this for 2 minutes and add the salt, chilli powder, tomato ketchup and lemon juice. 

   

Stir everything properly and cover this on a medium heat for 5 minutes. 

   

Take the lid off the wok and stir fry it once again for another 5 minutes. 

   

Add the sauces, then the noodles after 3. 

   

Stir fry this all together. 

   

For the garnish, add the chopped spring onions.
---
Hungry for more? Check out these recipes!
Winter Warmer Recipe: Red Roasted Vegetable Soup