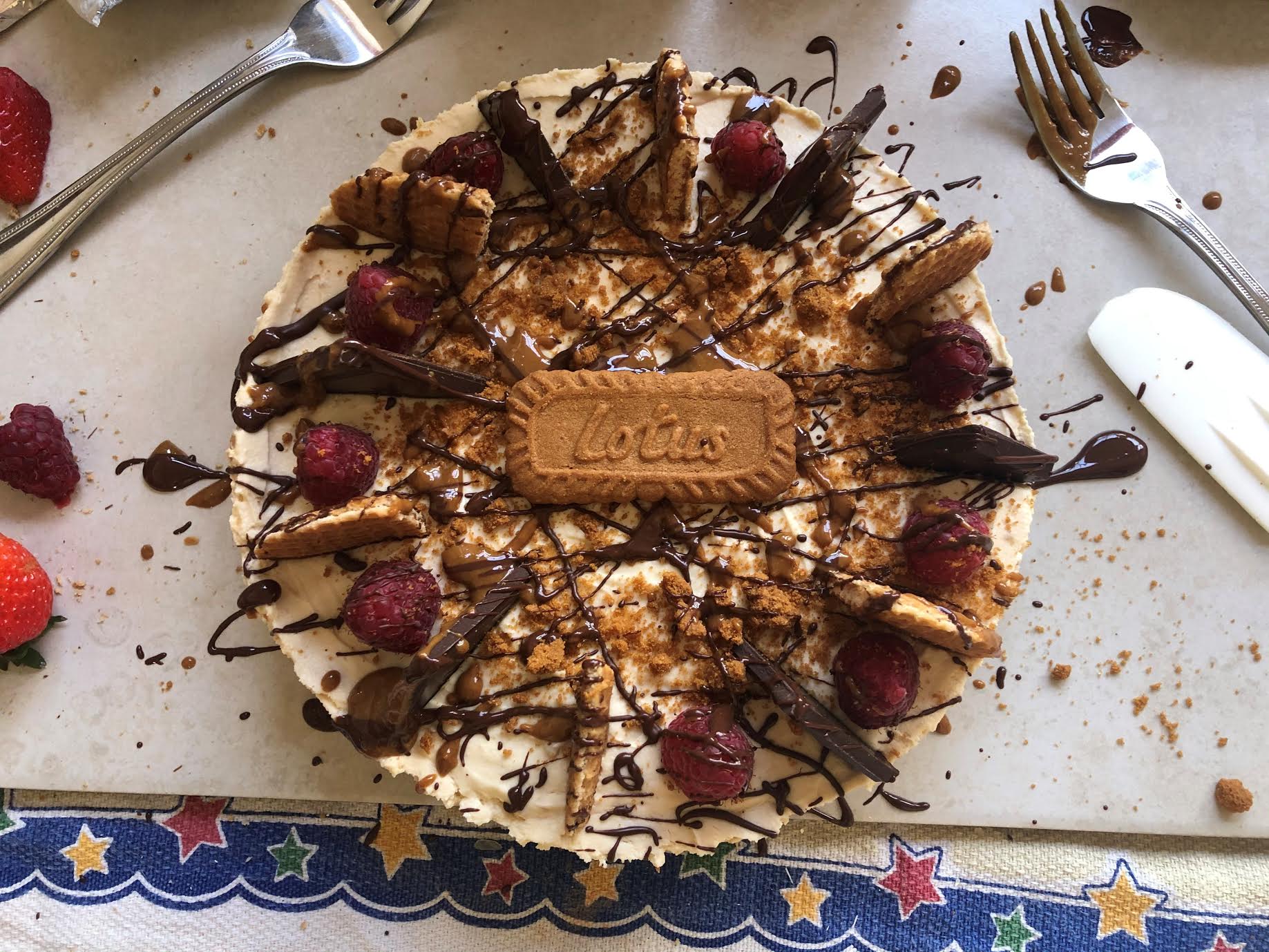 Food&Drink Writer Akeefah Lal Mahomed shares her indulgent cheesecake recipe, perfect for a festive lockdown party
Cheesecake is my go-to dessert to impress the family on special occasions. With the festive season and multiple dinner parties coming up, this is favourite go-to recipe I will be pulling out the bag once again. Easy to make, easy to decorate, easy to impress – inspired by Janes Patisserie 

Biscuit Base:
1 pack Lotus Biscuits
50g Unsalted butter
200g Biscoff Spread 
Cheese Filling:
2x Mascarpone
300ml Double Cream
100g Icing sugar
1tbsp Vanilla Extract
3tbsp Biscoff spread
Decorations:
Biscoff spread (melted)
Chocolate, Coffee flavoured (Melted)
Raspberries
Stroopwafels
Lotus biscuit
Method:
Firstly, blitz the biscuits to begin making your biscuit base. This can be done in a food processor or, more messily, by using a bowl / plastic bag and rolling pin. The smaller the biscuit crumbs the easier it will be to shape into your tin however be careful of over-blitzing, you still want a crumbly texture. In your bowl, melt the butter and mix. Stir the mixture, allowing it to naturally stick together. Press this biscuit mix into the base of your cake tin or dish. Melt the 200g of Biscoff and pour over the biscuit base. Place in the fridge.
Next, the filling. Firstly, whisk the mascarpone, vanilla, and icing sugar together. Separately, whisk the double cream to stiff peaks. Then, fold the double cream into the cheese mix. Next, melt the biscoff and fold into the mix – do this spoon by spoon to control how intense you would like the mix to be. Spread the mix onto your base. Leave to chill in the fridge overnight – cheese is a delicate mix and can absorb other scents in your fridge, wrap your cheesecake with clingfilm.
Lastly, decorate! Break the stroopwafels into quarters, break chocolate squares in halves and crumble a lotus biscuit. Evenly place your wafels, chocolate and raspberries in uniform. Crumble the lotus biscuit around the centre. Melt the remaining biscoff spread, using a knife dip it into the biscoff and drizzle over the cheesecake. Repeat this melting and drizzling process for the chocolate. For the finishing touch, place the last lotus biscuit in the center. Put back in the fridge until ready to serve. Alternatively, this can be decorated in any manner you like.
Tips:
*If you do not have a springform cake tin, you can use a glass dish to show off the layers. Avoid cake tins that cant pop out as easily.
*Prioritize whisking the double cream with the electric whisk. Its much harder to whisk double cream to peaks, than it is to whisk the cheese mix non-electrically. 
*Smooth or crunchy biscoff spread for this – If following this recipe where more is used on the base, crunchy is recommended. If altering the recipe to use more in the cheese, smooth is recommended.
*More than 3tbsp of biscoff spread can be added into the cheese filling. The quantities used in this recipe gives the cheese is to create more of a complimentary characteristic than biscoff-indulgence.
Like this recipe? Check out some more Food&Drink articles:
Budget Bites: Carbonara Two Ways