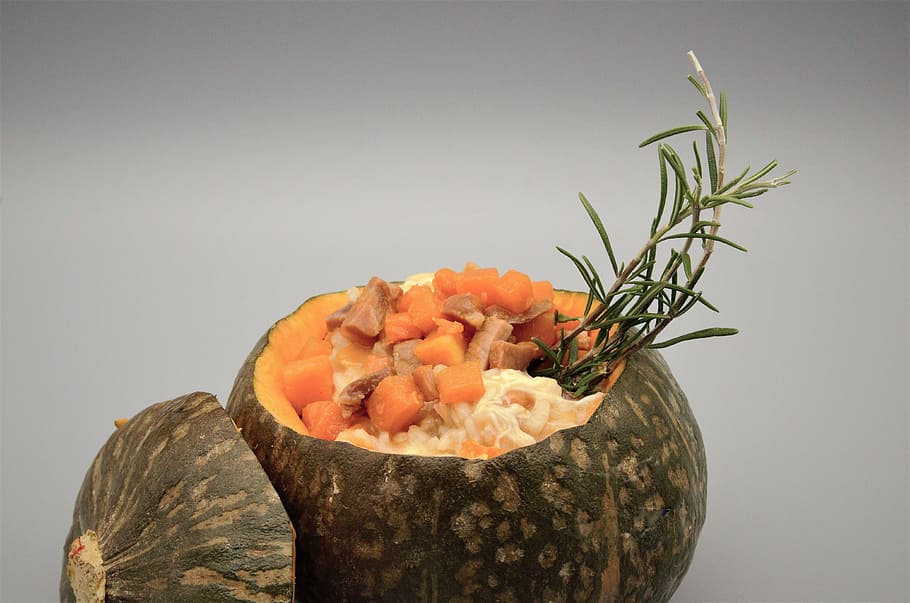 If you are unsure what to do with your leftover pumpkin look no further – Nicole Morris has the perfect recipe for you
Pumpkin Risotto Recipe
Normally a go-to way to use up your leftover pumpkin (post carving) is to turn it into pumpkin soup. However, if you are looking for an alternative way to not let your pumpkin go to waste, why not try pumpkin risotto?
Ingredients
Flesh of 1 pumpkin (you do not want any of the stringy, gooey bits, or the seeds, just the firm flesh)
400g Arborio rice
1 large brown onion
Small glass of white wine (optional)
1.2L of vegetable stock
3 garlic cloves minced
Chilli flakes
Dried thyme
Parmesan cheese, or vegan alternative, to serve
Oil
Salt and pepper
Method
1. Preheat your oven to 200 degrees.
2. Firstly, if not already prepared from a previous carving session, peel and cut up the flesh of your pumpkin into small chunks. Add this to a roasting tin with a glug of oil, a sprinkle of chilli flakes, salt and pepper and bung in the oven.
3. Whilst the pumpkin is roasting you can make a start on the risotto. Dice your onion and fry in oil in a pan over a medium heat. Once your onion has softened, add your minced garlic and a teaspoon of dried thyme. Cook for 2 minutes until your kitchen is filled with a gorgeous aroma.
4. Add your Arborio rice to the pan and give it a good stir so the grains are coated in the herb-infused oil. Next, add your small glass of white wine to the pan (if you are not using wine skip to the next step). Reduce the heat and wait until the alcohol has cooked off.
5. Prepare your stock. Add this a little at a time to the pan and stir. Once the rice has absorbed the stock add some more and stir again. Continue this process until the rice has absorbed all the stock.
6. Take your pumpkin out of the oven and add to the pan; scrape in all of the bits stuck to the bottom of the tin, and the excess oil too, this is where the flavour is. Give your risotto a good stir to mix the pumpkin through.
7. Serve with parmesan cheese or a vegan alternative and enjoy.
Tips
Even if you do not like spice, I tend to find you do not really taste the chilli flakes due to the creaminess of the risotto, it just adds a kick of warmth to the end of your mouthful.
If the texture of the rice is not to your liking and you would prefer it to be softer, once the stock has run out add hot water in the same way you had been adding the stock until you are happy with the texture.
Once pumpkin season is over, you can substitute the pumpkin for a butternut squash for an equally delicious meal.
---
Enjoyed this recipe? Find more here:
Comfort Meal Recipe: Salmon Risotto
World Food Day: Vegan Indian Curry