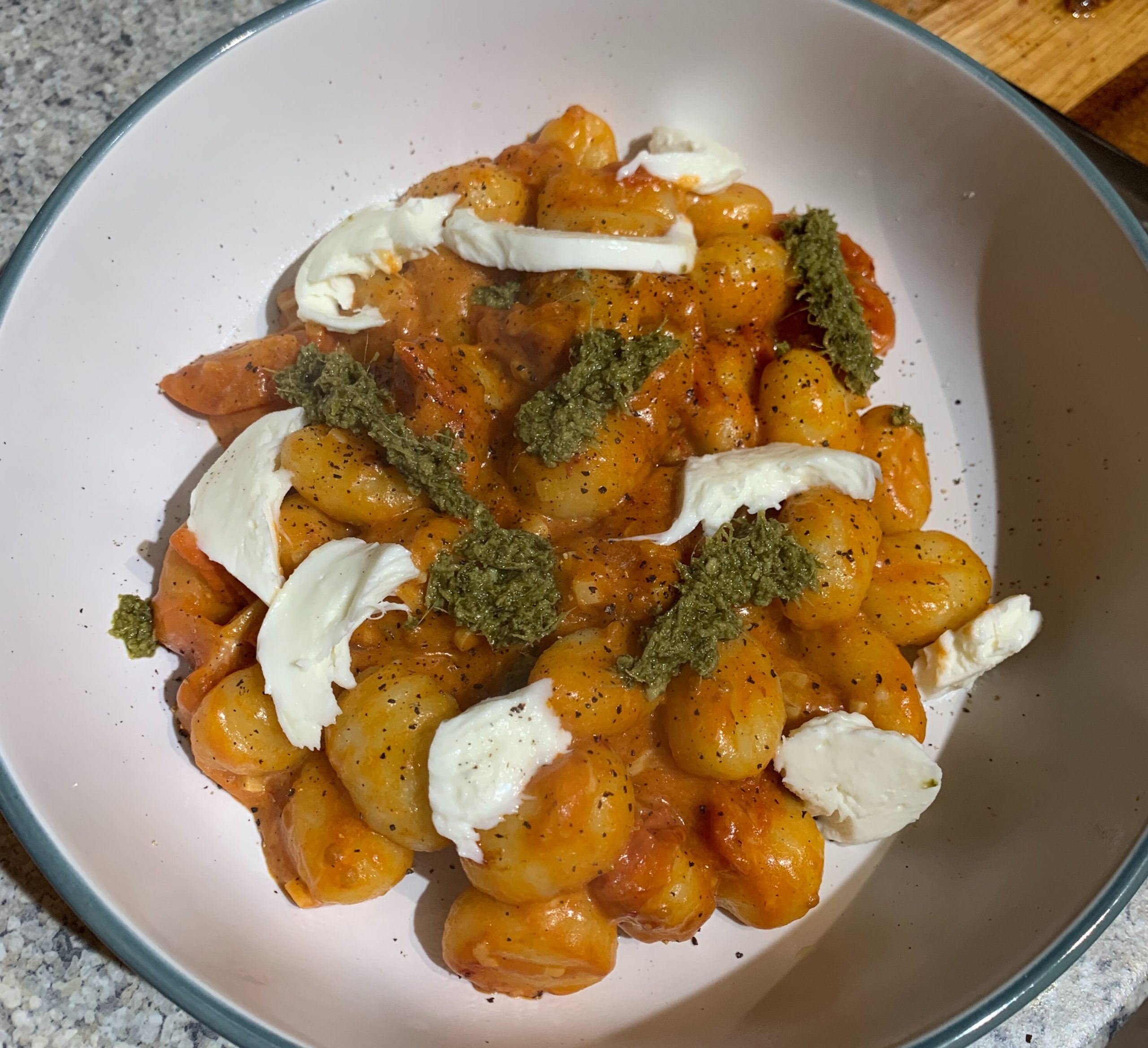 Food&Drink Editor Chloe Hyde shares her simple and delicious Gnocchi recipe
I was never really a massive fan of gnocchi dishes, since my first time trying it in a restaurant was extremely rich and oily. That meal left a bad taste in my mouth, and a bad taste for gnocchi in general. A few years have passed since then, so I decided to create a gnocchi dish using what I had in the fridge which was luxurious and warming – a perfect easy meal going into the dark and cold nights. This is my simplified version of a Caprese gnocchi, since I rarely have fresh basil in the house, but I always have a handy jar of pesto.
Serves 1-2
Ingredients:
1 glug of Olive Oil

½ a packet of Cherry Tomatoes (roughly 175g),

chopped into quarters

3 Garlic Cloves, chopped

1 teaspoon of

Chilli Flakes (this can be changed depending on your preferred spice level)

Salt

Pepper

1 tablespoon of Tomato Purée

A dash of Lemon Juice

Half a bag of Gnocchi (Usually 200-250g)

Half a ball of Mozzarella

A few teaspoons of Basil Pesto
Method:
1. Put the olive oil into a frying pan and turn it to a medium heat. Once the olive oil moves around easily in the pan, add your quartered cherry tomatoes, and chopped garlic cloves.
2. Season with salt, pepper, and chilli flakes, and fry the tomatoes until the they begin to soften, and the garlic becomes fragrant. I left them for just over five minutes, but you want the liquid to be leaving the tomatoes as this will be an important part of the sauce.
3. Once softened and juicy, add in the tomato puree and mix around in the pan. Also add the dash of lemon juice to add a bit of acidity.
4. Whilst still cooking the tomatoes, place your gnocchi in a salted saucepan and bring to boil. This should not take very long to cook (3 minutes roughly).
5. Make sure to spoon some of the starchy pasta water bit by bit to try and create a silky tomato sauce.
6. Right before the gnocchi is cooked, slice your mozzarella, and put into the pan, waiting for it to melt into the tomato sauce. This is where it should start to thicken up a little bit.
7. Drain your gnocchi and keep a little bit of pasta water in the bottom of the pan. Mix the gnocchi into the frying pan with the tomato and garlic until everything is incorporated.
8. Dish up into your favourite pasta bowl, and dollop as much pesto as you would like onto the top of the gnocchi. Finish with a few more slices of mozzarella and a little more salt and pepper.
9. Be the envy of all your friends and enjoy!
If you recreate this recipe, we would love to see it. If you do, make sure to send us a message on our Instagram @redbrickfood where we will be happy to share your recreation.
---
Is your belly grumbling for more recipes? Check out these mouth-watering recipes:
Food of the Fortnight: Margherita Tart