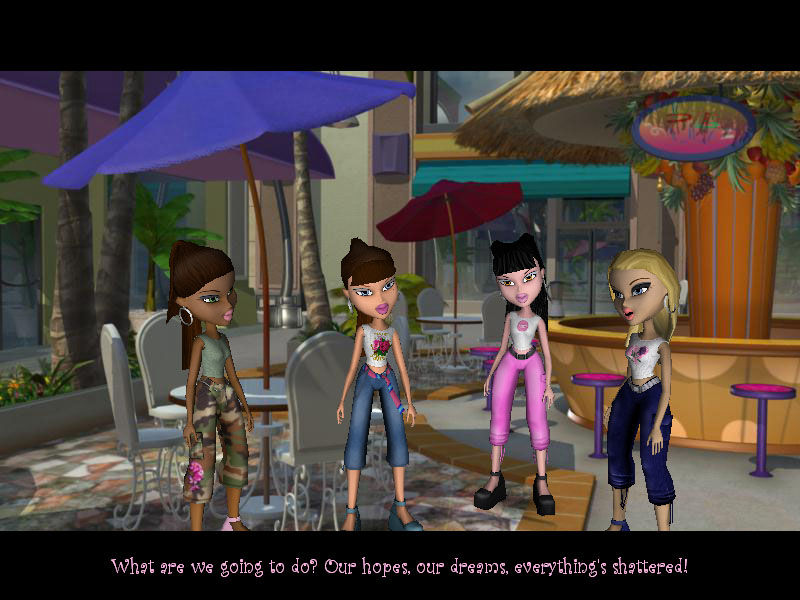 Deputy Editor Emily Calder takes us back with her retrospective of Bratz: Rock Angelz, reminding us why they're still 'the only girls with a passion for fashion'
2020 will mark 15 years since the release of my favourite childhood game, Bratz: Rock Angelz. This fantastic game sold 1.4 million copies, and its questionable but colourful graphics and exciting abundance of magazine-oriented tasks arguably inspired my current involvement in journalism as a twenty-year-old. 
The premise of the game is an eight-year-old girl's dream. Based on the (iconic) film of the same name, the game inhabited hour after hour of my time spent on the PlayStation 2. The open-world, which allowed surprising amounts of freedom for a small game aimed at children, was fabulous fun. You essentially play as one of four Bratz characters who attempt to launch their own magazine, after Chloe leaves a horrific internship at their opposing magazine 'Your Thing,' a rivalry that develops throughout the storyline.
Whilst perhaps not complex enough to entice a modern gamer, the tasks and sense of story that Bratz: Rock Angelz contains had my childhood-self glued to my living room floor. Each girl, all of whom have their own separate personalities and 'passion for fashion,' gets a set of tasks to complete for each edition of their magazine. The most rewarding part is definitely getting to scroll through each complete edition having watched it come together (much like another publication that I am now involved with…) before progressing onto the next series of tasks. Whether you're collect CDs as Sasha for a music feature or rescuing and photographing stray wildlife as Yasmin, this game will never leave players without something to do. Opening up new locations and abilities as the storyline progresses is the icing on the cake as you rollerblade your way (in killer outfits) towards the pinnacle of in-game magazine journalism.
My favourite part of the game is undoubtedly the sheer amount of freedom and things to do. You can run around and explore the various worlds to your heart's content; from the Bratz hometown of Stylesville to London, Paris and a gothic mansion that I never quite grasped the point of. In the process players collect 'Blings' tokens which can be utilised to buy makeup (including face paint, which was great fun) and incredible early-2000's era outfits of berets and studded leather boots. The phone tool can be personalised in terms of wallpaper and ringtone and is your main point of call to communicate with the surprisingly vast number of characters and to carry out a lot of the tasks.
Some of my most treasured memories of this game lie in the absolutely stunning soundtrack. The Bratz, whilst launching their own magazine, are also a bad-ass band: their original songs such as 'Hey (When The Angelz Play)' will inevitably be randomly stuck in my head until the end of time. Whilst the songs that feature the iconic duo Aly and AJ are still certified bops to this day – even if they do bring back traumatic memories of the particularly stressful 'smoothie delivery' challenge. 
This game, on the whole, is probably not everyone's cup of tea. The tasks and premise are very much a product of its time, which I think is one of the reasons why I found it so enjoyable at in 2005, and still love it for the nostalgia. Bratz: Rock Angelz is arguably somewhat trashy, and many of the graphics are glitchy and rather debatable in terms of quality, but the tasks themselves are incredibly fun and take long enough to complete to keep players occupied for days on end. The final task, in which you have to compete to grab a magazine contract (in rollerblades, naturally) took me at least ten attempts, and is my most stressful gaming memory to date – which I think essentially sums the game up as a whole.
---
Enjoyed this? Check out some of our other retrospectives!
Retrospective: Grand Theft Auto