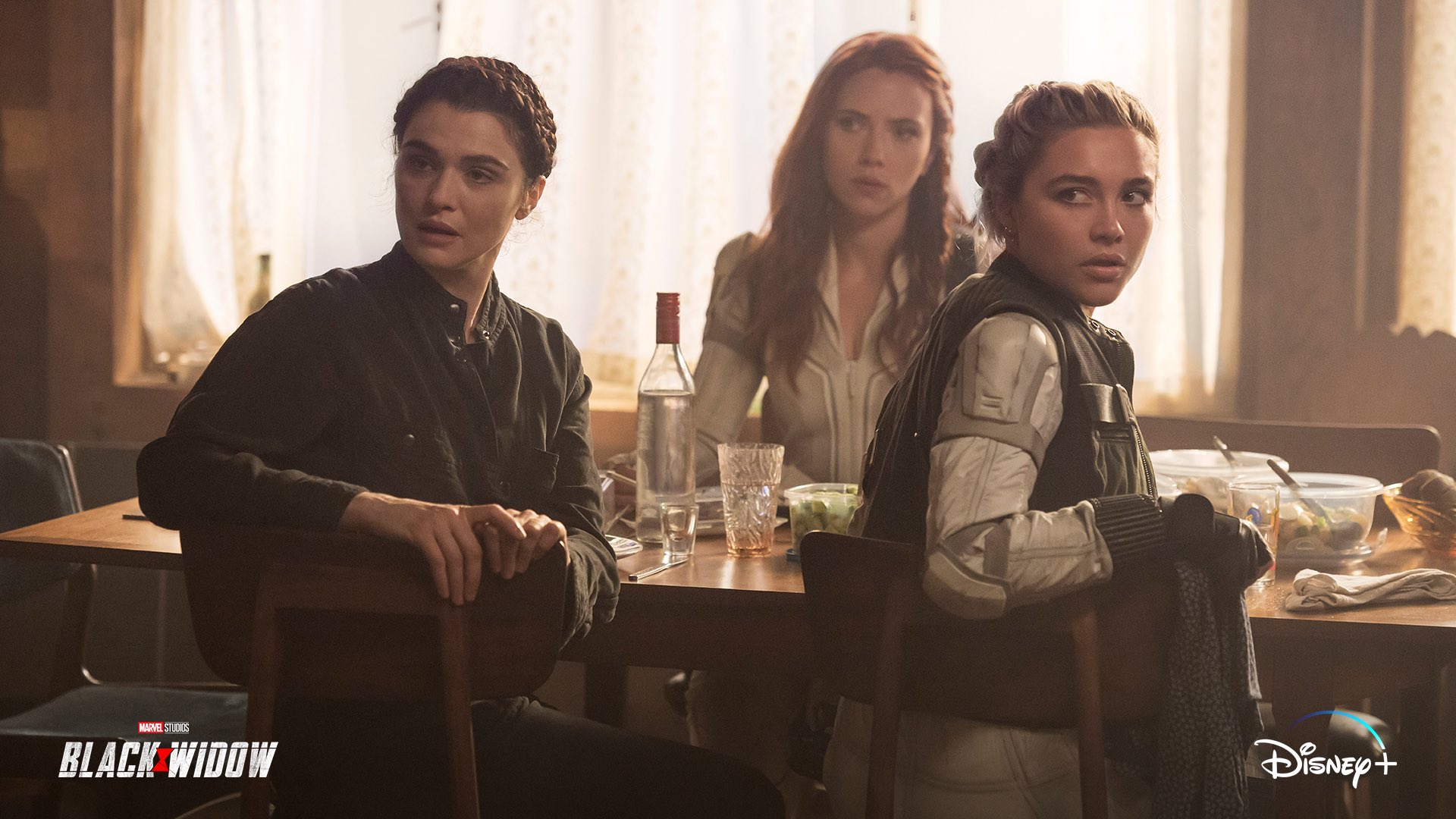 Film Critic Annabel Smith praises Black Widow, arguing that Marvel's latest instalment is a shining example of female-centred action films.
Black Widow stands as the second Marvel film to centre a female protagonist – who happens to be the first female Avenger introduced into the Marvel Universe. The movie makes strides that are necessary to reflect today's values, ones which show women able to accomplish just as much as their male counterparts in an entertaining visual explosion on screen. Nonetheless, one cannot help but think: too little, too late.
With a star-studded cast of Scarlett Johansson (the seasoned Avenger), and Marvel newcomers Florence Pugh, Rachel Weisz and David Harbour, Black Widow has a lot of build-up and excitement, which has only been heightened in its delay to cinemas. Following Natasha Romanoff post-Captain America: Civil War and her journey on the run from SHIELD, it reflects a lesser-known side to the Black Widow we are familiar with, one that is wholly dependent on herself – at least for the first part of the movie. With Johansson acting as executive producer, it only made sense that this film was refuelled to centre Black Widow with all her vulnerability, protectiveness, and ability to cause deadly harm, whilst the guise of a fake family ensured comedy and camaraderie were throughout.
Although the movie proved to fill a gap much like Rogue One attempted in the Star Wars franchise, Marvel managed to pull it off. Black Widow is a notoriously under-the-radar character, able to get away with what many of the notable heroes cannot, particularly considering her previous occupation – spy/assassin. Focusing on her mysterious allusive past gave Black Widow a new angle in the genre of superhero films. And with that being said, the value of this cinematic rendition to the Marvel Universe should not be minimised. As one of the few superheroes wholly reliant on her combat skills, Black Widow stood out for the action sequences, female-centred narrative and one of the most intriguing backstories, one that was well-explained and only strengthened the plot and introduction of Yelena (Florence Pugh), Natasha's co-conspirator. Cate Shortland, the film's director, proved to showcase her talent in Marvel's debut of Black Widow independent from the other Avengers. With a notably sinister montage sequence of young girls' indoctrination into the foreboding-named Red Room accompanied by a slowed cover of Nirvana's 'Smells Like Teen Spirit' by Malia J; Shortland proves Black Widow is to be taken seriously. The only criticism is, why did it take so long to get in the works?
The comedic relief of Pugh and Harbour's character matched up to Marvel's maintenance of the beloved dysfunctional family dynamics, shown through Thor and Loki to Tony Stark's pseudo-father-son relationship with Peter Parker. The straight-edged Natasha and the goofy, trying-to-work-out-her-identity sister Yelena made for a compelling relationship, one that heavily relied on mocking Natasha's uptight nature, an appreciated remark to one of the straightest-edged Avenger – a statement considering Steve Rogers exists. Pugh stole the spotlight, with a costume easter egg for fans to keep an eye out for, and consistent jabs at Black Widow's posey nature. Pugh's Yelena offered a refreshing take to update Black Widow, humanising her and giving her a two-dimensional nature she had lacked in the ensemble films.
Yes, there were a few convenient props throughout, most pointedly the new introduction referred to as the Agent (O. T. Fagbenle). It enabled an easy transition for Natasha to remain off the radar, delving into her own story. This consistent trend in Marvel movies for an easy helper, although feeling more visible in Black Widow, did not negate the value of the film. Plus, the interspersed action and changing scenery kept the movie action-packed and exhilarating, which left little room for questioning the Agent's convenience. However, the late introduction of Weisz's character and a need to establish Black Widow's past meant the plot took a while to develop, perhaps lacking the punch of other Avenger's movies – those without the necessity for a backstory. Marvel lost out on the depth and possibilities for her journey by introducing her solo movie so late into the Universe. Captain America: The First Avenger only began Steve's story, and the following solo films led to much more adventure; unfortunately, Natasha will never have that opportunity.
Verdict: 
With a cast of new characters and the one familiarity of Natasha, the film felt new and unconnected enough to the entire franchise to enable Johansson's character to blossom – as she should. The action-packed sequence, loveable Yelena and stoic Natasha made for a dynamic on-screen duo that shows female-centred action works – like cinema needed another go ahead to say women can lead in any genre.
9/10
Black Widow is in cinemas now, or available to stream through Disney+ premier access
---
Missing the Marvel Cinematic Universe? Check out these articles from Redbrick Film:
Multi-Review: Avengers: Endgame