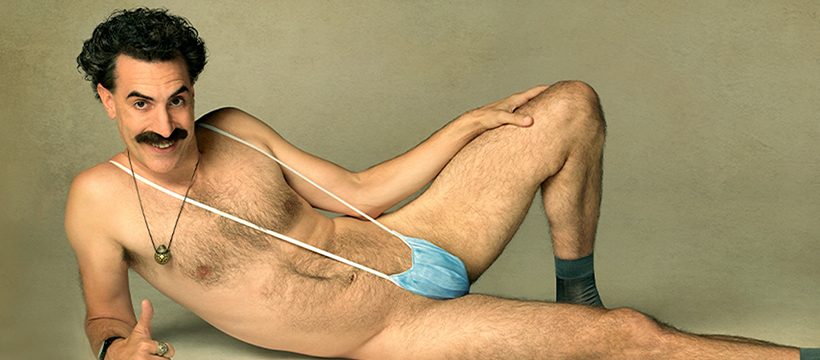 Film Critic Emily Faithful reports live on the latest adventure of Kazakhstan's most infamous journalist on his quest to win over America… again
One would be forgiven for thinking the character of Borat should never have been revived. The waves of 'high five', 'my wife' and neon mankinis brought on by the first Borat film is now almost as tired as TV's meerkat-centric ad campaign of which Borat's voice may nowadays be a reminder. What more does the PC-oblivious Kazakh journalist have to offer? Not to mention, Sacha Baron Cohen's character has become such a staple of popular culture that it would be impossible for him to go about his prank interviews unrecognised. A seemingly-impossible follow-up would have to overcome this and live up to its predecessor. It's no surprise then that Baron Cohen, under almost as much pressure as Rudy Giuliani right now, kept it a secret for so long.
Aware of these challenges, the release of a sequel to such a cultural icon may make the more pessimistic groan, but to the even more pessimistic, the return of Borat makes total sense. The first film, a road-trip comedy which revealed racist, hypocritical and xenophobic elements of American society, was released in 2006. 2020 could be a retirement project. Indeed, this time around, politics takes centre stage, but despite the clear criticisms of conservative ideologies, American republicans, and greed, comedy is still a protagonist. And with the introduction of Borat's neglected daughter, Tutar, played by Maria Bakalova and the guts of Evel Knievel, the plot is solid enough that the film is so much more than a scroll through your twitter feed.
Borat's life has gone downhill drastically since we last saw him, but he's given a second chance by his government to make amends with the America he offended last time around. You won't see any more of Azamat, Borat's producer and sidekick, but let's face it, you've seen plenty already. This time, Borat is accompanied by his daughter, who upon getting to the USA from a 'shithole country', is halfway to becoming like her hero, Melania Trump. The next step: marry a rich man. Bakalova steals the show, taking on more risks than Baron Cohen himself. Her ability not just to keep a straight face whilst performing a Kazakh fertility dance, but convince real people that her character, especially at the times when Tutar is more restrained, is a real person, has led to Baron Cohen calling for her Oscar nomination. With Borat at conflict with his toxic beliefs the second time around, perhaps it's Tutar's journey to independence which is more compelling.
Another road-trip across America, another grey (or blue?) suit, another mankini scene – but something has changed. The previous 'moviefilm' was all in the name of fun. Interviews had some interesting revelations about America, but let's not forget, the main narrative was Borat hijacking his own documentary and moving it to California so that he could marry former Baywatch star Pamela Anderson. There was the sense that Baron Cohen's main aim was to wreak havoc in any way he could, knowing that the interview format he's used since Ali G would inevitably lead to some insight about the American people. This time around, a closing title card reads 'now vote'. For light-hearted relief, it's followed by 'or you will be execute', a threat made to Borat throughout the film, but there's still the sense that the filmmakers are serious. And given the timing, and given what we've just seen, it's pretty clear who they want Americans to vote for.
Agendas often put comedy in the back seat, but here, for people who aren't American republicans at least, Baron Cohen's gotten away with it. He always has, hasn't he? It's the nature of his comedy to one minute be purposeful and relevant, and the next for Borat to be unable to control his wind after being given an expensive bill. Baron Cohen gives us the chance to laugh at the serious issues, treating the self-contradicting opinions of their perpetrators with the same reverence as the next fart-joke made. Those who don't recognise their own stupidity have already lost the game. It's a passive kind of persuasion. The interviews which lack 'the idiot' naturally put Borat in that role instead, so all the interviewees have to do is appear to be more sensible than Borat for us not to laugh at them. They often fail. It seems that the agenda is not to persuade us of something in particular, but to persuade us, through the encouragement of comedy, to think about what we're hearing.
There's another sort of humour too. It's a disturbing sort of laughter, at the fact that the backbone of society, the morality and empathy of others that we assume we can rely on does not actually exist. Borat: Subsequent Moviefilm has been referred to as an exposé – can we really call it that in 2020? The famous Rudy Giuliani scene is perhaps the least surprising moment of the film. More poignant was the lack of decency shown by those who appear so tied to their moral values. It's the decline of moral responsibility which was really exposed (as Baron Cohen said on Entertainment Tonight, 'watch the movie' and 'make your own mind up').
There is doom. There is gloom. But there is also professional babysitter Jeanise Jones who, admired for being such a beacon of hope in giving Bakalova's Tutar the courage she needs to become independent, has now had a GoFundMe page started for her. There is also a lot of heart. There is a clear and unashamed avocation for compassion and the love-conquers-all attitude adopted by holocaust-survivor Judith Dim Evans in a scene she should not have taken so well. Human decency and heart aside, Borat: Subsequent Moviefilm will have everyone laughing as much as its predecessor. There is no shortage of shocking moments comparable to the naked-wrestling-at-the-mortgage-brokers-annual-banquet scene of the 2006 film. It's still fun. There's still Borat asking a real person if he can use potatoes as breast implants. There's still lines you would expect from a Naked Gun movie. There's still 'wawaweewa'. If you hated the first one, you'll hate this one too.
Verdict:
Despite a premise almost identical to that of the previous film, this sequel has earned its relevance through selection of interviewees, but once again, with a great amount of thanks to the introduction of Maria Bakalova, it's the movie's heart that makes it a – you saw it coming – 'great success'.
8/10
Borat: Subsequent Moviefilm is available to stream on Amazon Prime.
---
Looking for more of the latest releases? Look no further than these other articles from Redbrick Film:
Review: David Attenborough: A Life on Our Planet
Review: A Love Song For Latasha
Review: Bill & Ted Face the Music