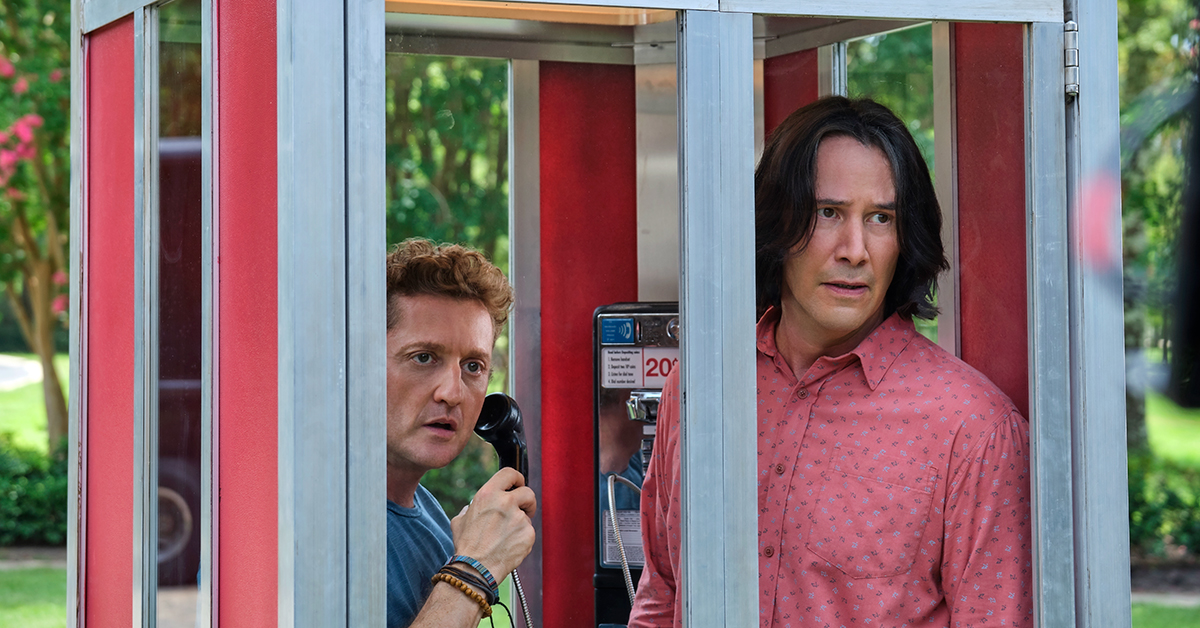 Film Writer Edie Dams argues that while Bill and Ted may not save our world, they certainly bring joy with them in a time that we need it the most.
Post-quarantine cinema is divisive: like Tenet before it, Bill and Ted Face the Music has had to contend with a global pandemic and been met with general sense of fatigue for its contrived plotting and script. Though twenty years in the making, it could not have come at a worse time; as Ben Childs identified, the premise of the film – Bill and Ted's apparent lack of commercial and critical success – still seemed 'fabulous' in light of isolation and unfolding geo-political events. Yet its forceful insistence on optimism, hope and togetherness makes it the most rewarding film of the lockdown period.
In short, Bill and Ted, now middle aged fathers with little to show for their brief rock career in the band Wyld Stallyns, must write a song to literally save the world. The film is best enjoyed without spoilers, but it must be said that a real strength of the film is its structure. There are two narrative strands; one that skips forward in time, lead by Bill and Ted, and one that moves backwards, as their daughters, Theodora and Billie, assemble a ragtag historical band of musicians. The film is a fun and enthusiastic romp through time, space and relationships, but its quality is elevated by the heart and warmth in the writing and performances.
Keanu Reeves does a charming turn as Ted. Having solidified his comeback in the John Wick franchise, watching Reeves make his return to this loveable, now overgrown teenager feels familiar; it is altogether more satisfying to see Alex Winter – now doing predominantly directorial work such as this year's 'Showbiz Kids' – reprise his role as Bill. As the more emotive of the two, his performance gives the pair's incompetence and boyish wonder a softer, more mellow tone. This makes every interaction – be it between himself and Reeves, their wives, their future selves or their daughters – feel more profound.
That is not to say the film is humourless. The duo play off one another fantastically; the camp English personas they acquire in one scene are perhaps the best part of the film, with Winters' exaggerated performance feeling like a reflection of his iconic part in cult film The Lost Boys. It is more that the film is conscious of its own position within the canon – the humour feels well-balanced with the acknowledgement of time having passed, and it is the performances that help to carry this. Reeves and Winter bring a consistent energy to each scene which makes the plot particularly compelling. Whether they're screaming at Dave Grohl and blundering around mansions in lampshades, or reconnecting with themselves and their families, there is the same frenetic passion and sense of fun.
Theo (Samara Weaving) and Billie (Bridgette Lundy-Paine) as Bill and Ted's daughters are both excellent additions to the main cast. Writers Chris Matheson and Ed Solomon credited the success of the screenplay to rewrites that changed the genders of these characters. Not only did they feel this made the script and story better, but it helped to give the film an emotional centre, making 'the relationships between parent and child more interesting, more alive.' This is accurate; both Weaving and Lundy-Paine have fantastic chemistry with each other and compliment both Reeves and Winters. It is their love for their fathers that drives the film's plot, but also makes the plot-lines without our iconic leads still feel substantial and full of heart. Perhaps more importantly, watching two female twenty-something slackers amble their way to success feels like a refreshing version of an otherwise male character arc in media. Weaving and Lundy-Paine tease out some of the lighter humour in the film.
Scenes in which they recruit musicians – such as, for example, when they scheme to use Louis Armstrong to recruit Jimi Hendrix, and vice versa – are funny without feeling forced. The girls faltering their way through social situations and somehow succeeding provides its own kind of charm, and they are enthusiastic and a little dim in the spirit of the first two instalments. More than this, they are essential to the film's plot, as later events stress not only what talented musicians and important players the daughters are in our protagonists' lives, but how integral they are in saving the world.
The film has a considerable cast of characters. At times this can make it feel a little crowded, but the divided storylines and pace of the film help to give enough screen time to each of the major roles. Kid Cudi is a touch underused, playing himself; his performance in Luca Guadagnino's We Are Who We Are showcases his talent and it seems he could have benefited from a more defined role. In spite of this, his innate grasp of the film's rules and theoretical physics makes for several entertaining beats and serves the film's wider meta-textual sensibilities. Incidentally, William Sadler's return as Death, the demoted bandmate of Wyld Stallyns, is another fantastic performance that benefits from the overwhelming light-heartedness of the film. SNL's Beck Bennett is entertaining as Deacon, Ted's now adult younger brother, whilst Kristen Schaal's Kelly provides a sweet homage to the late George Carlin's character.
The biggest scene-stealer is Anthony Carrigan as Dennis Caleb McCoy, an anxious, insecure robot who begins as a time-travelling terminator and finishes the film as the robotic embodiment of a nervous puppy. His inability to cope with work, reality and the nature of his own existence – as well as basic social interaction with the other characters – feels the most resonant with the current post-lockdown atmosphere. Despite his extreme fear, Dennis is able to participate and aid in Bill and Ted's adventures. It is this inclusion and kindness which builds that central warmth running throughout the film. Even interactions with unnamed characters – such as the demons in hell that praise the group dynamic – contribute to the overall sense that, in Bill and Ted's world, everyone is good and has something to offer. There is no real evil; only the occasional chaos, which is fixable and forgivable.
The quality also comes from the gentle self-awareness of its comedy, and its thematic willingness to show that. In many ways, the film seems to be an exploration of middle age, of success and failure, of fulfilment. This is most apparent in the eventual conversations between Bill, Ted and their elderly selves. The scene's humour starts light, playing on the bizarreness of trying to emotionally connect with a doppelgänger. Yet the scene works well as a piece of drama, gradually and almost unnoticeably becoming more genuine. The gravity that is given to the otherwise funny conversations – through Winters's and Reeves performances – seems to indicate that this is a version of Bill and Ted on their deathbed. It stands to reason scenes like this might become melodramatic, but the film does a masterful job of maintaining the overall light tone.
Simultaneously, its most surreal moments provide emotional weight, as the film grapples with the theme of ageing. It acknowledges the film's disconnect from its predecessors and that its protagonists look different; that Rufus is gone and will not be back; that the shape of our lives is not always as we envisioned; that there is often a road not taken; that frequently we feel like failures. As Bill and Ted discover quite early in the film with the vision of their impending divorces, even a different life to the one you wanted is not without love and value; and as their daughters discover at the climax, it is togetherness and community – rather than defined success – that gives our experiences meaning.
That said, there are some issues which even a committed fan might find grating. The visual style and many of the wider shots that display the film's CGI somehow look less impressive than the practical settings of the original 1989 movie. It also seems to suffer from the update to its own idea of a futuristic aesthetic; rather than the retro-futuristic, MTV-inspired vision of the future, the director opts to show us to something we might find more recognisable in a contemporary sci-fi film. These issues are not overwhelming: the film's quality, once again, derives from its heart and optimism.
Verdict:
Above all else, Bill and Ted Face the Music functions as a sort of cinematic comfort blanket, and in difficult times, it is a much appreciated one. As Justin McElroy recently tweeted, in a year of shocking occurrences, the most unlikely was the way in which this film made him cry; it is not necessarily the film we wanted, given the way this year has gone – but it is most certainly the one we need.
8/10
Bill and Ted Face the Music is available to watch (COVID safely) in cinemas from 23rd September.
---
Did you enjoy this? Check out these other articles by Redbrick Film:
New Perspective: Bridget Jones's Diary