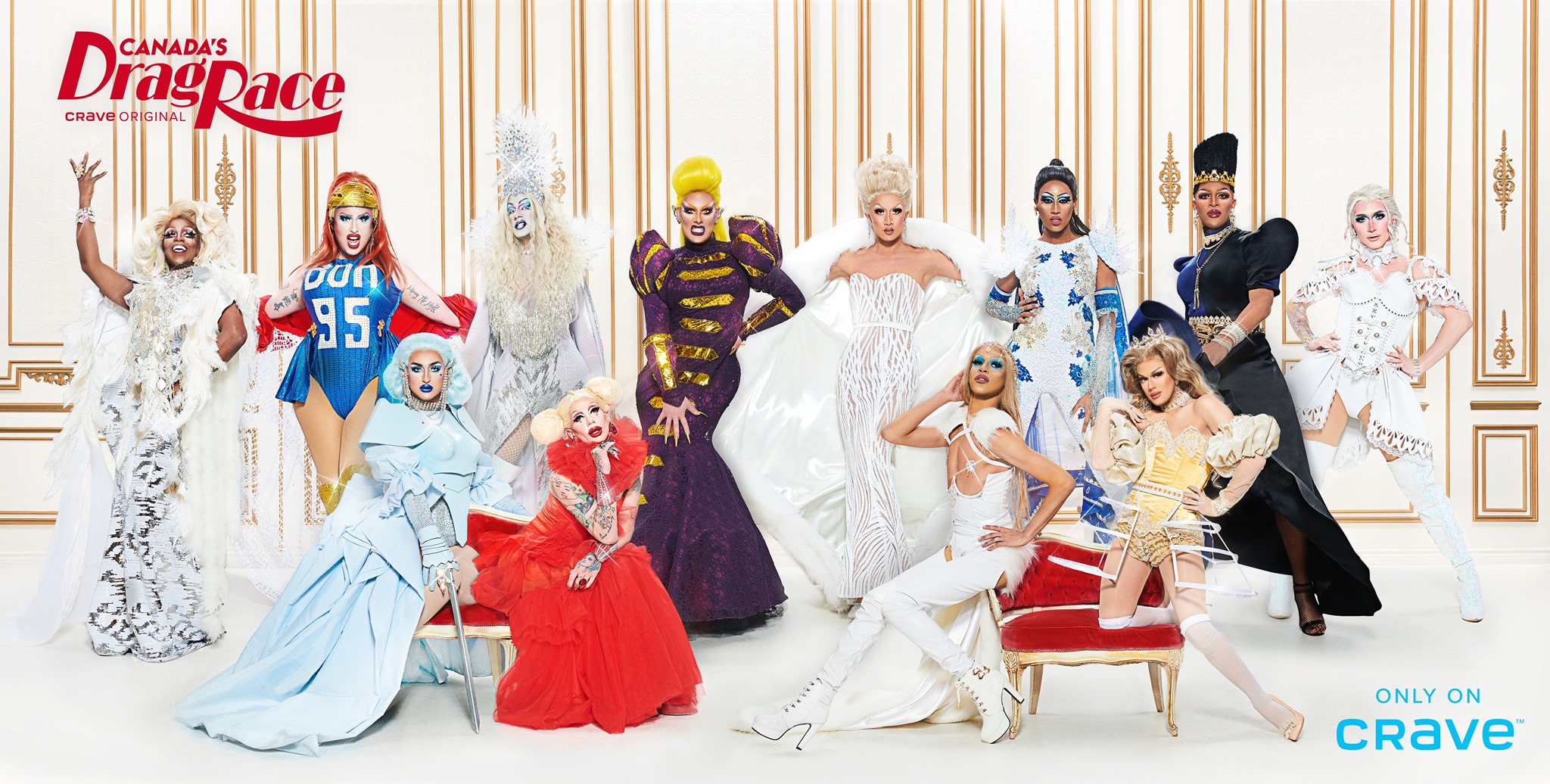 TV Writer Lorcan Drury delves into why the newest installation of one of the most beloved and successful queer franchises, RuPaul's Drag Race, could possibly be a one-hit-wonder in Canada
Canada's Drag Race is kicking up a serious snowstorm, and not for the right reasons. Whether you are part of the LGBTQ+ community or not, RuPaul's Drag Race has been enjoyed by viewers for over 10 years. It is no wonder that, as well as 12 US seasons, there have been five All Stars seasons and two Drag Race Thailand seasons. We even saw Brum's very own Sum Ting Wong sashay into RuPaul's Drag Race UK last year. So, it does seem very wise for the franchise to branch out to its northern neighbour.
It would be an understatement to say that Drag Race fans have been spoiled this year. Season 12 premiered in February, followed directly by All Stars 5 in June, not to mention the four-part Secret Celebrity special. We're all tuckered out! No wonder it came as a surprise to UK fans that Canada's Drag Race was coming to BBC3 iPlayer on July 3rd. But now that its finale is scheduled for September 4th, there is a possibility that the franchise has run out of gas and may not be able to start up again for a second season. As a superfan, how could I not want to watch 12 queens make their television debut? The UK version was such a firecracker that I was elated for Canada's Drag Race's premiere – however, after nine episodes my enthusiasm has thawed out. Here's why.
The most noticeable difference is the judging panel. Unsurprisingly, the RuPaul's Drag Race judging panel is headed by RuPaul. Known for her eternal beauty (seriously, you wouldn't believe she's 59) and campy catchphrases, she acts as the show's mother; she always has the final say in who sashays away and mentors the queens in the Werkroom. The show just wouldn't exist without her. The sheer number of times a word that incorporates 'Ru,' such as 'Ru-sical' and 'Ru-demption,' is mentioned on the show tells any viewer how vital she is to its success. Ru's right-hand woman, Michelle Visage, is a maelstrom to be reckoned with. She is the Simon Cowell of the panel; she never shies away from giving harsh critiques and has even reduced queens to tears. Then there are the alternating judges, Ross Mathews, who injects comedy at every juncture, and Carson Kressley, who acts as the fashion mogul. They counterbalance Michelle's critiques. And of course, at least one celebrity joins the panel each week to add an outsider's perspective. Overall, it works.
Canada's Drag Race is a little different. Before airing, I presumed that Brooke Lynn Hytes, the first Canadian queen to appear on RuPaul's Drag Race, would embody the role of RuPaul as the main judge. That would make sense as she is a drag queen and would be able to mentor the queens based on her experience. Instead, she is not the She-EO, but shares her duties with supermodel Stacey McKenzie and actor Jeffrey Bowyer-Chapman. This is the main issue: as all of them have an equal say on the judging, no one has the power to synthesise the critiques. Although the show's tagline is 'stay true, north, strong and fierce,',the judging panel seems to lack direction and sincerity and the fans feel like they're getting the cold shoulder from one judge in particular – Jeffrey.
Jeffrey has received a flurry of snowballs in the form of hate on social media. The majority of fans think that he is phoney. That he has trying too hard to act like RuPaul. He has even been clocked for mimicking her iconic mannerisms such as how she talks in a coquettish slow-drawl and over-enunciates certain words. To top it off, he has been called out for his extremely harsh critiques, especially towards the pastel powerhouse of a contestant, Ilona Verley. Fans swarmed him on social media, attacking him for body-shaming her. Why? Because he told her to put foundation on her bum as her cheeks were exposed. In all fairness, he is not incorrect in saying that as he was advising her to look completely polished from head to toe. However, it is demoralising to be criticised for just how your body looks. No one should have to change how they look to match beauty standards. It is ironic as the show always preaches self-love and acceptance of everyone for who they are.
Despite that being one of the central messages of the show, some fans don't take any notice of it. Unfortunately, it is commonplace for at least one queen to receive hate from fans each season. On Season 12 of RuPaul's Drag Race, it was Brita Filter, and on Season 11 it was Silky Nutmeg Ganache. The hate Brita Filter received was so bad that she left social media. This time the fans have turned on a judge and have driven Jeffrey off the internet as his Twitter account was deleted over the weekend. The situation was so dire that Crave, the network Canada's Drag Race airs on, had to post an official statement denouncing any form of hate.
It's heart-breaking that Canada's Drag Race might not return for a second season, not because of the discrepancies on the judging panel or anything to do with how talented the queens were, but because of the hate fans have spewed. Regardless of the haters, one thing is for certain though, Drag Race definitely spreads laughter, drama, and glamour to everyone when the world needs it most. Let's hope Karen O'Virus loses the lip-sync and sashays away and out of existence forever.
Make sure you don't miss the finale on September 4th on BBC3 iPlayer. Who's going to snatch the crown? My bet is that Rita Baga will be Canada's first Drag Race Superstar.
---
Check out more RuPaul's Drag Race-related articles here:
Review: RuPaul's Drag Race Season 12
Drag Race UK: Shantay, You Stay