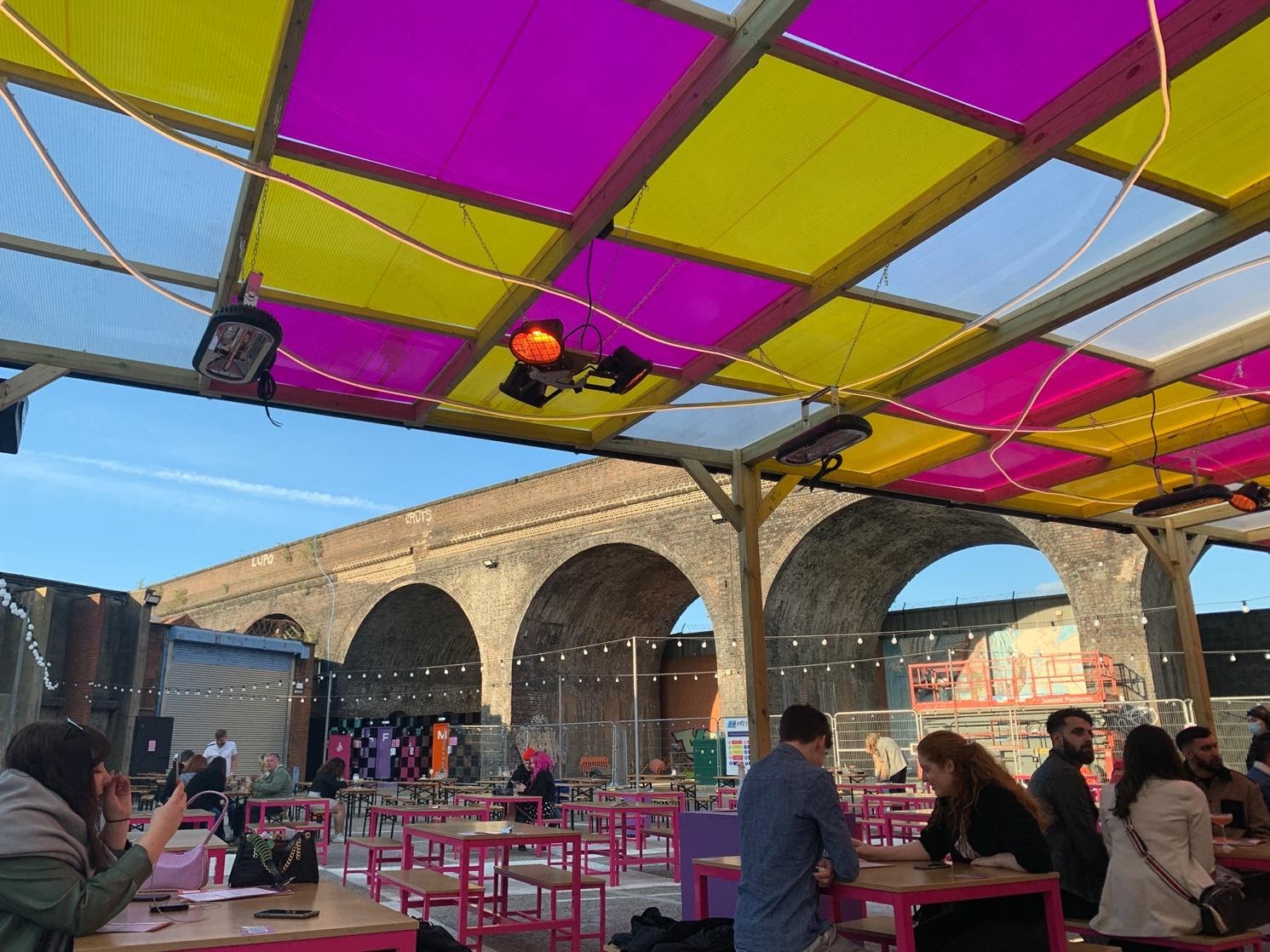 Food&Drink Writer Chloe Hyde visits Digbeth-based Luna Springs, but is somewhat disappointed by the boozy offerings at the trendy cocktail bar
Digbeth's new cocktail bar and restaurant Luna Springs, located on Lower Trinity Street, undoubtedly fits the Instagram vibe. The outdoor venue is named after The Lunar Society of Birmingham which was an 18th century group who would meet at the full moon. Fittingly, Luna Springs is the perfect set up to dance in the moonlight into the early hours.
Their opening on 12th April aligned with the easing of the Government's lockdown restrictions, ready and raring to invite customers to experience their funky neon set up. Not only do Luna Springs offer regular food and drinks service, but they also offer Bottomless Brunch hours from 12-3pm and 4-7pm during the weekend with live music too. They also host a moonlight outdoor cinema where you can pick the film you want to watch, and then relax in a deck chair and enjoy. My housemate and I were so excited to see what Luna Springs had to offer, so we went booked online for a drinks table on Sunday evening.
Since table service is allowed only outside at the moment, we were braving the British weather. Luckily, our table was under a panelled cover in the event of rain and blocked some of the wind out. There were multiple outdoor heaters on the ceiling of this cover, but only a few were sporadically turned on. Other people around us were warming up with blankets which I assume were given out by the venue. 
Upon signing up to Luna Springs newsletter online, they offer a free cocktail voucher which is scannable via QR code. If this is not a good enough incentive to try it out then I do not know what is! Before visiting, we found that the cocktail prices are not listed on the website – something you have to be quite wary of in my past experience. Having read other reviews of Luna Springs, I was surprised to see the number of comments claiming that the free cocktail voucher had not been honoured. When we arrived, I asked about the voucher just to be told by a member of staff that they were not offering the free cocktail. Even worse, we were not offered any explanation as to why. The terms and conditions were all correct, so that was a disappointing start.  
The cocktail menu was extremely exciting. It strays away from the typical and traditional cocktails you would find in most chain restaurants. Unfortunately, the price was somewhat less exciting. Their choice of fourteen cocktails ranged from £8.50-£10.90, which is expensive for the quality in my opinion. Ordering is done using a QR code stamped on the table, so you need to make sure your phone is charged!
To their credit, the drinks arrived promptly, given it was not very busy when we went. We opted for the Citrus & Mango cooler and the Ab Fab, which both boasted a fruity concoction. Again, we were a little put-out that the cocktails had no sort of garnish. Really, we were paying almost £10 for a glass, some ice and a plastic straw. My drink (Citrus & Mango) was so ridiculously strong and sour that I barely got past a few sips. It's a rare occasion that I even vaguely dislike a cocktail, but this one was virtually undrinkable. The Ab Fab was slightly better, but not to the standard that the price would have you believe. 
We found there to be minimal communication with the staff. Upon asking about a Skittle-Infused vodka shooter, which is on their menu but was not on the online ordering service, we were told abruptly: "No we don't have it". Following this, the member of staff rushed away – no sort of apology for the inconvenience. We felt very let down by the service which we assumed to be great, given the multitude of fantastic reviews of the venue and staff which we read prior. 
Whether we had come at the wrong time or day, or maybe even the fact there were some teething problems going on, I found Luna Springs to promise much more than it delivered. The setting has the potential to be very trendy and the concept is extremely visually pleasing, but it hardly lived up to our expectations. 
---
Check out other exciting content from Food&Drink: