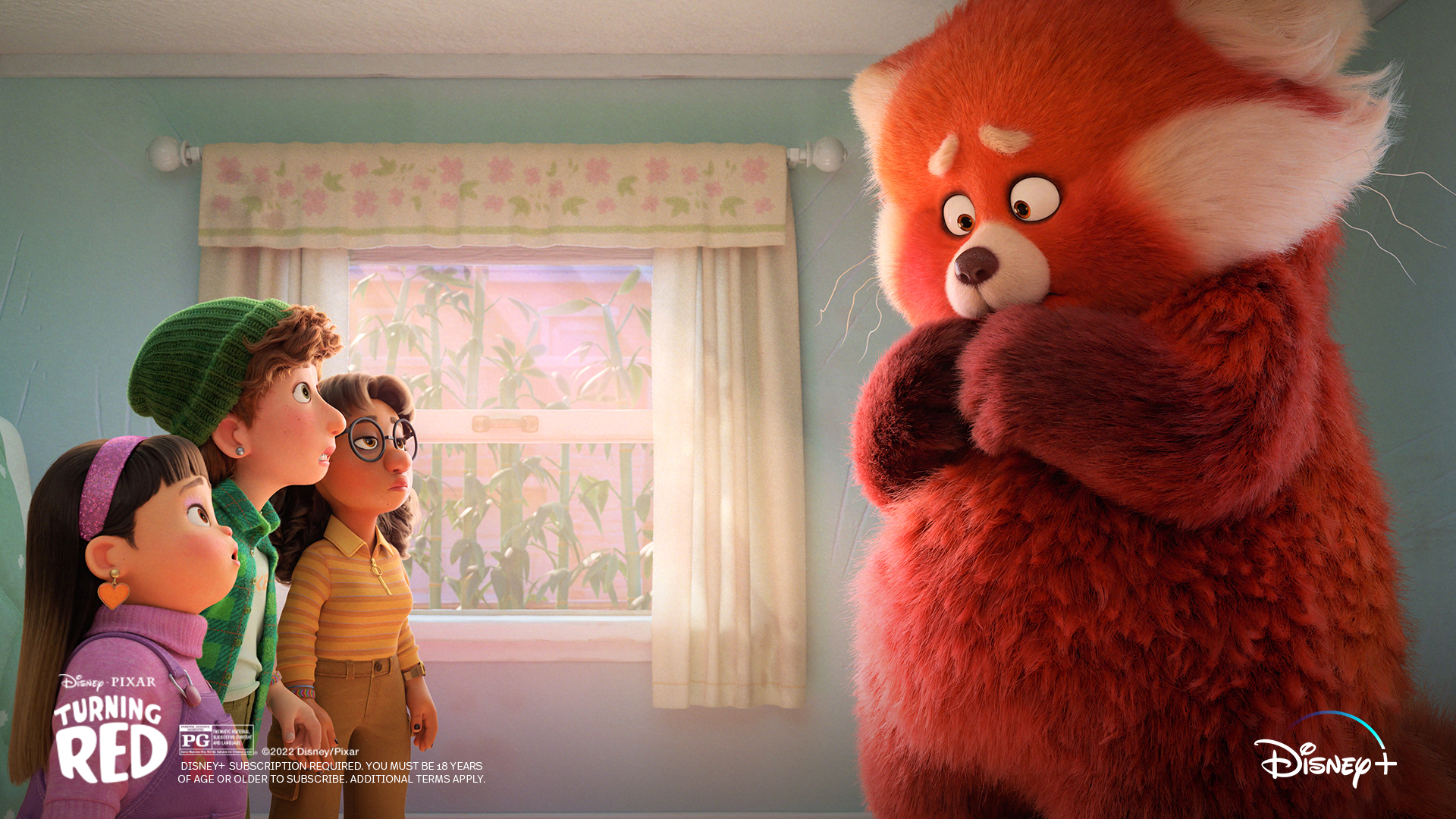 Music Editor Sammy Andrews praises the latest Pixar film, Turning Red, as a heart-warming depiction of the teen experience
Pixar's latest film Turning Red is an energetic and vibrant dive into coming-of-age and self-acceptance that promises to both warm your heart and lift your spirits. From the stylisation of the animation to the film's very own boyband, Turning Red captures what it feels like to be 13 and figuring out who you are. This is the kind of film I wish I could have had when I was 13 and discovered who I was through numerous obsessions with boybands (One Direction, I'm looking at you…).
Following Meilin Lee, a Chinese-Canadian 13-year-old girl who is desperate to affirm her own identity and independence, Turning Red sees her navigating her cultural and family responsibilities alongside the troubles of coming of age. All sounds normal, until the struggles she faces become her unexpected transformation into a giant red panda when she experiences any extreme emotion. This, in concept, sounds like Pixar have lost their minds a bit, but is delivered in the film with such sensitivity and a sense of humour that the film becomes a really joyful journey of a girl's self-discovery.
The animation style of the film is exceptionally striking and vibrant. Pulling from elements of anime and ensuring each colour is extraordinarily bright, it is a much more stylised approach to visual storytelling than we have seen from Pixar before, and it works perfectly to encapsulate the film's vibrant energy. From the lively depictions of Chinatown to the countless 90s pop culture references, it is exceptionally well-considered and exciting.
Each and every moment of this film feels as if it has been considered with charisma and charm behind it. The supporting characters each have their own strong personalities that you cannot help but love. Characters in the background are extremely diverse, and one can even be seen with a diabetes patch. It is even the first Pixar film to mention periods, and it does so in a light-hearted and relatable way. And do not even get me started on the obsession the girls have with the fictional boyband 4*Town.
Calling in Billie Eilish and FINNEAS to create the songs for 4*Town, Pixar have perfectly encapsulated the boybands of the early 2000s. Pulling from N-SYNC to BTS, 4*Town are an explosion of fun within the film. I can guarantee you 'Nobody like U' will get stuck in your head. The girls bond over them and Mei's journey is soundtracked by this boyband – just as a lot of teenage girls find their teen years soundtracked by the current boybands.
It is in these really special details that Turning Red flourishes. Its story is one of generational burden and how that is navigated alongside growing up and growing into yourself, and yet the film never feels emotionally heavy. It would be easy to criticise a Pixar film for this as we have come to associate them with emotional films like Up and Soul, but I think what they have done with Turning Red is equally as important. Turning Red gives young girls the chance to feel seen and understood, and equally encourages and celebrates their expression.
Verdict:
I was very sceptical when the initial trailer for Turning Red was released. A film about a girl who turns into a red panda when she gets too emotional seemed a little bit too crazy for a Pixar film. What I found when I watched it was a new favourite film. It is bright and fun, exciting and deeply heart-warming. Turning Red has captured the experience of growing up as a boy-band obsessed, pop-culture loving teenage girl, and I wish it existed when I was 13.
Rating: 9/10
Turning Red is available now on Disney+
---
For more recent releases, check out these articles from Redbrick Film: 
Review: The Worst Person in the World