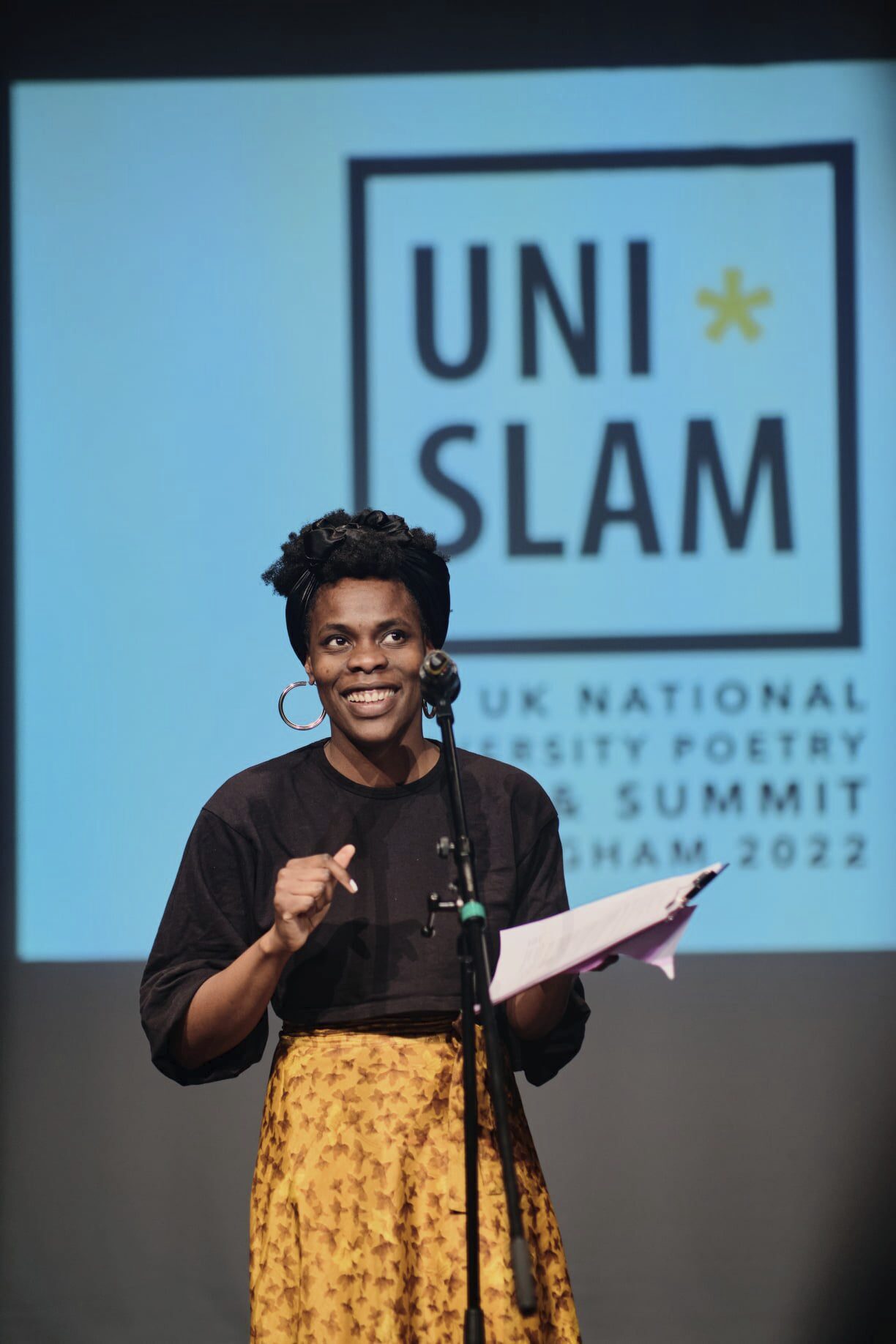 Digital Editor Cara-Louise Scott attends the Grand Final of UniSlam and finds the show to be an empowering and insightful take on the form of poetry and spoken word
The Grand Final of UniSlam was a night to remember; with beautiful poetry, incredible talent and a lively atmosphere, it really showed its audience what poetry is really about – bringing people together.
Held in the Patrick Studio at the Birmingham Hippodrome, the Grand Final consisted of the University of Birmingham, Leeds, Cambridge, and Sheffield, competing against each other for the UniSlam champion title. Many other universities took part in UniSlam in the lead up to the final with semi-finals happening earlier the same day, but it had been narrowed down to the Top 4 for the Grand Final. At the start of the event, we got to watch a student from Edge Hill University and another student from UCL perform their pieces; even though they had been eliminated, the judges chose them to open up the final and it was clear to see that the talent was unmissable even for those who hadn't made it to the final.
The event was hosted by Vanessa Kissule, a writer and performer, who engaged the audience from the very beginning. She got us laughing, smiling and made sure we were clapping, cheering and stomping our feet all throughout the night. Just from the opening of the eliminated poets and Vanessa's charm, I knew we were in for a treat.
Structurally, Sheffield was up first, then Cambridge, then Leeds, then Birmingham. They all performed twice before the interval, either as a team or an alternating solo member, and then performed twice again in the second half. Sheffield, Leeds and Cambridge were all incredibly impressive. I found Sheffield's solo performances to be extremely touching, as they discussed topics around sign language and gender. Cambridge's group performance was astonishing, using Women's vote as the focal point, with a layering of language and speech that was rich and empowering.
However, the star-studded performances came from our very own University of Birmingham. Up first was a group performance, using just one sentence in the entire poem, but layering it and changing it around to create an empowering message about climate change and deforestation. Next was Luca, who spoke of gender identity, bringing tears and cheering from multiple members of the audience. In the second half, it was Yerkezhan's turn to read an empowering piece, followed by Denise who spoke of grief in her beautiful performance, which again, moved the audience to tears.
UniSlam offered all of these teams a place to be themselves and to discuss topics around language, gender, sexual assault, depression, culture and home. It gave them a place to speak up.
Unsurprisingly, our University of Birmingham team won! This was followed by Leeds in second place, Cambridge in third place and Sheffield in fourth place.
Over 200 people joined the livestream from across the world, and the event was very accessible which the host praised at the end. Getting to hear the judges, Belinda Zhawi, Kim Moore and Rachel Long, perform too was an incredible honor; they are all hugely talented.
UniSlam Grand Final 2023 was an amazing evening to be a part of; I felt extremely lucky to get to watch and listen to the stunning performances from student poets who all have a great future ahead of them in the poetry scene. Our university's UniSlam team should be incredibly proud of themselves!
---
Enjoyed this? Read more from Redbrick Culture here!
Review: Birmingham Literature Festival – Birmingham Poetry All Stars