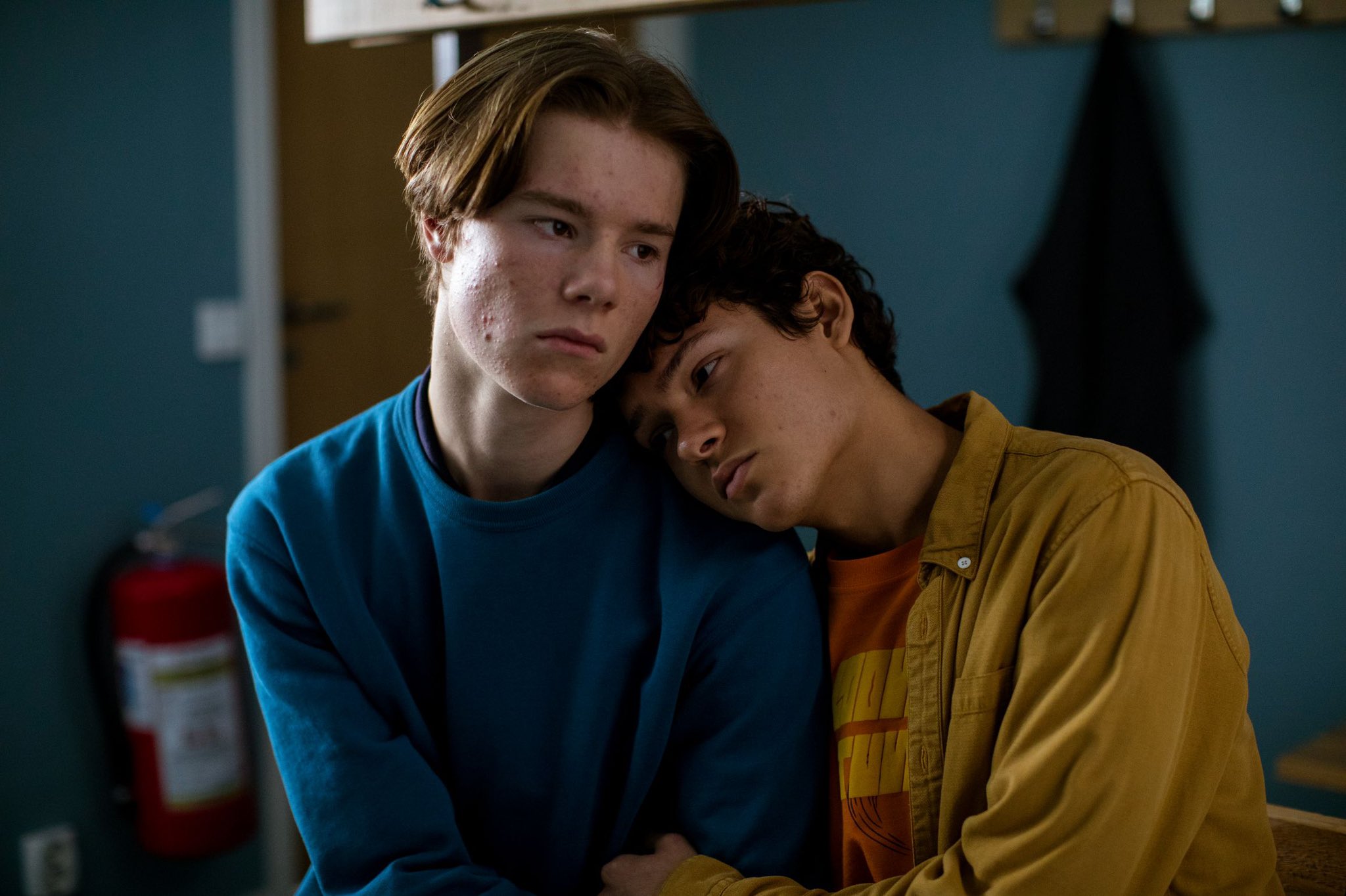 TV Writer Bruna Franco praises Netflix's new teen show Young Royals for its strong LGBTQ+ representation and refreshingly diverse cast
I would have been doubtful if someone told me that a drama about a Swedish prince at an elite boarding school would be relatable and poignant – but Netflix's Young Royals hits all the right spots. Spearheaded by women behind the screen, the six-episode series is full of young actors with boundless talent taking us on a rollercoaster of emotions while breaking television barriers. 
Young Royals centres around Prince Wilhelm (Edvin Ryding), second in line to the Swedish throne. After a fight in a nightclub goes viral, Wilhelm is forced to attend Hillerska School in order to protect the family name. Although his second cousin, August (Malte Gårdinger) attempts to bring him into an elite fold, Wilhelm's interest is piqued by outsider Simon (Omar Rudberg), a scholarship student. Navigating their budding romance becomes more difficult when Wilhelm unexpectedly becomes the Crown Prince.  
The concept of a rebellious teenager at a prestigious school initially places it in the realm of scandalous teen dramas such as Elite or Gossip Girl. However, Young Royals consistently sets up characters that seem like archetypes – the troublemaker prince, the outcast commoner, the inauthentic popular girl, the calculating social-climber – and then flips the perspective. The diverse casting is essential in achieving this multifaceted characterisation. With increased awareness of how media influences body image and the impact of seeing adult bodies playing teenagers, the creators' smart selections are evident. They feature young people with a range of body types, ethnicities, and unedited skin texture including scars and acne. They also cast an actor with Asperger's to play Simon's sister, Sara (Frida Argento), who has Asperger's and ADHD. Allowing the characters to be unpolished – in both appearance and behaviour – is a win for the show.
Young Royals also shines in its treatment of sex and sexuality, in the vein of Sex Education. The dynamic duo on screen, Ryding and Rudberg, convince us of young love with a chemistry that is undeniable. It all begins when Wilhelm notices Simon singing in the choir on the first episode. Enthralled, it is the first time we see Wilhelm genuinely smile. From there on, there are pining looks, stolen kisses, secret hand holding. It is tentative, vulnerable and sometimes flawed. There is notable tension between closeted and open queer experience, but even as Wilhelm struggles to balance duty and love, there is an important message: 'We did nothing wrong.' It is the LGBTQ+ representation we deserve.
In fact, all the drama could feasibly happen: no one constantly skips class, there are not multiple murders, there are no threesomes in a swimming pool. While this excess is the allure of some teen shows, Young Royals loses nothing in its realistic portrayal of teenage life and it is incredibly refreshing to see. Even the sexual encounters range from the humorous (such as turning a videogame on so parents cannot hear) to more serious looks at topics (such as the denial of female pleasure). Other prominent issues like self-esteem and body image, revenge porn and social media, alcoholism and drug abuse are explored with care, and allows for us to witness maturity that some writers think young people are incapable of. The breadth of teenage emotion is conveyed with beautiful subtlety, highlighted by the camera: nail-biting, vein in ticking in the jaw, welling eyes. 
In line with this frank and measured lens, Young Royals does not romanticise royal life. In an era where the role of royal families is questioned, and royals like Harry seek to separate themselves, it is ultra-relevant to see Wilhelm eager to escape the royal obligations of the Crown. He seeks authenticity but is forced to act for his family and his country. 'Being a prince is not a punishment, it's a privilege,' the Queen (Pernilla August) has to remind him. All the while Wilhelm wonders if he can ever be more – or rather, less – than a prince.
Overall, there is enough substance to challenge what you know, and enough fluff to have you smiling, making Young Royals a great comfort show. It has been a hit, with less than 0.1% of Google reviews rating it below 5 stars. I'm inclined to agree, and I hope for a longer second season so that there is a more surprising plot line, and backdrops and motivations can be developed.
Rating: 4.5/5
---
Check out more TV reviews here:
Review: Feel Good – Season Two