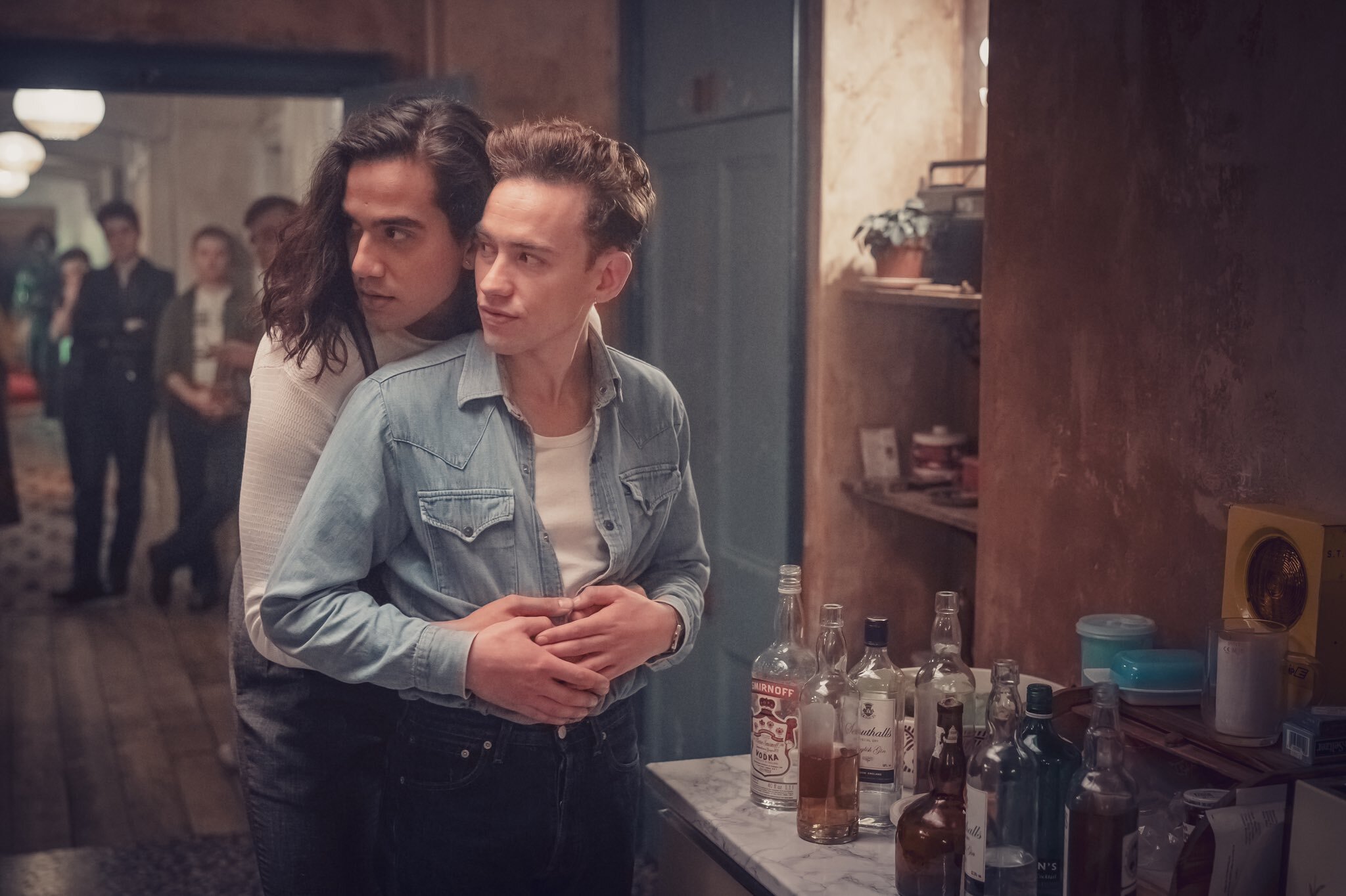 TV Critic Bethany Sherrott praises Russell T Davies' new Channel 4 drama for its memorable characters and poignant balance of joy and grief as it humanises the 1980s AIDS epidemic
This review contains spoilers for the first episode of It's A Sin.
It's a Sin by Russell T Davies premiered on Channel 4 on January 22nd 2021, with all 5 episodes immediately dropping onto their free streaming service All 4. It tells the story of the LGBTQ+ community in London throughout the 80s, and how it was demolished by the misinformation purveyed about HIV and AIDS.
We open with Richie Tozer (Olly Alexander, from the band Years and Years) and follow his life as he moves out of his home on the isolated Isle of Wight and into London to pursue a career in acting with his best friend Jill (Lydia West). Along the way, they acquire a host of friends and flatmates: Roscoe Babatunde (Omari Douglas), Ash Mukherjee (Nathaniel Curtis) and Colin Morris-Jones (Callum Scott Howells). The cast grows together as a beautiful group of friends but not a perfect one, and the trials and tribulations of their friendship alone would make for an incredibly compelling television show. But each of these kids has their own story out in the world, and this is where Davies' show shines.
I have to start with Colin. Colin is the standout for me from the show, with Callum Scott Howells giving a glowing and excruciating performance. The show follows Colin as he moves from his home in Wales and into London to work as an apprentice in a tailor shop on Savile Row, no less. It is here that he meets Henry (Neil Patrick Harris) and he quickly becomes a good friend, beginning when he saves him from a painfully awkward encounter with his boss after everyone else has gone home for the day. After a drink in a pub where Henry quickly susses out Colin's sexuality, he is welcomed into Henry's home which he shares with his partner Juan Pablo (Tatsu Carvalho), offering him a safe space to be himself and settle into London life.
However, things are not allowed to stay happy for long. Juan Pablo falls ill, and Henry follows suit soon after, abandoning Colin at work. In the first of many harrowing scenes, Colin bangs down Henry's door, only to be stared at by Henry cowering in the darkness of his hallway until Colin can do nothing but leave him be. Henry's thin frame is visibly distressed, and this is the first shot of the tragedy that will ricochet through the lives of everyone the show meets. Returning later that week, Colin is told by a mean-faced neighbour that Henry had been taken to the hospital, and Colin rushes to visit.
The hospital scene is ominous enough, but watching Colin put on layers of 80s-era PPE is particularly haunting in the age of COVID-19. Eventually, after being successfully covered in gloves and masks, Colin is allowed to enter the cavernous hospital room Henry is dying in, all alone. The language Henry uses to describe his illness is confused, but that's not because of his exhaustion. The convolution of words such as cancer and contagious are just some of the myriad of terms HIV and AIDs were described with when they first emerged.
A friend told me that she found Henry's death too quick to be effective because you didn't get to know his character well enough. That's a valid review, Harris is only in one episode, and only briefly in the sections following Colin's life. But to me, the fleeting nature of Henry's presence only makes it more heartbreaking. Lives were taken before their time, before you could truly get to know them. It sets up the show in an excruciating way, with death a harrowing reminder at the end of and throughout every single episode.
But there is so much joy throughout It's A Sin as well, and the happiness of this era is emphasised in the climax of the final episode with Richie telling his mother (Keeley Hawes) how much fun he had in his life in London. Plus, and this will come as no surprise, Hawes' gives an incredible performance in the final episode of the show as Richie's troubled mother. Roscoe is brilliantly compelling from his first scene, marching out of his home in drag and defying his parents who wish to take him to Nigeria to 'cure' him. Ash was another favourite of mine, a calmer character constantly radiating kindness, who works to become a teacher whilst his relationship with Richie burns slowly under the surface.
And then there's Jill. Lydia West shines as the companion to them all, and is the first to understand the seriousness of the disease lying in wait for her friends. She is a fierce friend to Richie, and stands up magnificently to his mother, her speech at the end of the show still ringing in my ears days after I shut my laptop.
It's a Sin is filled with comedy, delight, and pride that is perfectly balanced against the heartache and grief that haunts the characters throughout the ten years it follows. It is a difficult watch at times, and I actually wouldn't recommend bingeing this one – I certainly couldn't – but it is so rewarding too.
Rating: 5/5
---
Check out more TV articles here:
Authenticity in Casting: Can Straight Actors Play Gay Characters?
Bridgerton: Colour-Blind Casting is Here to Stay, But Is It Progressive or Performative?
Nicola Adams and the Importance of LGBTQ+ Representation on Television