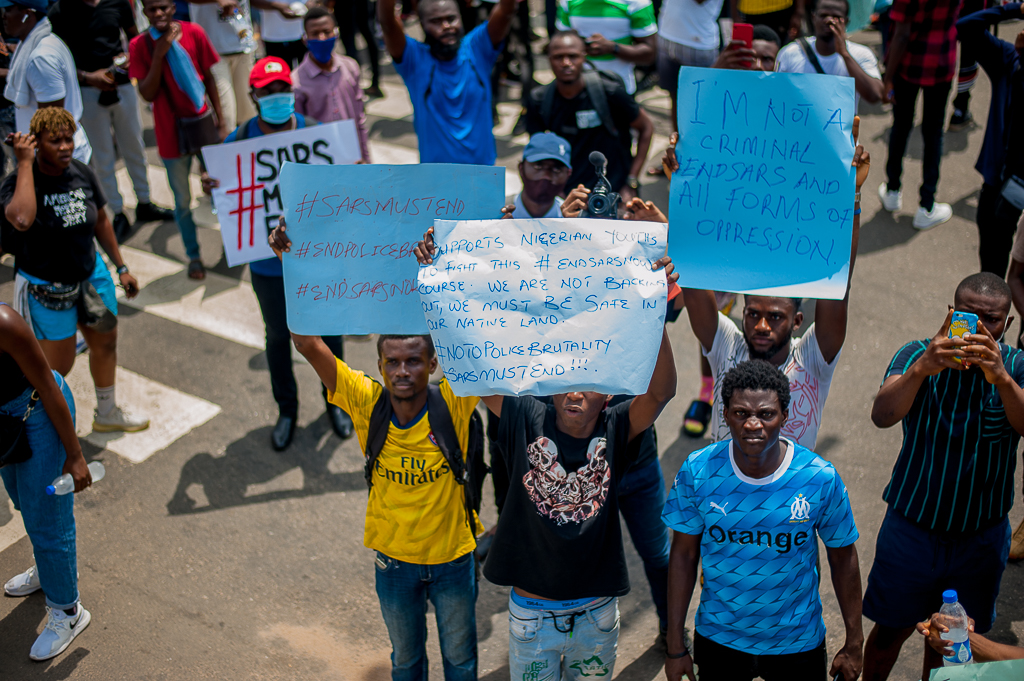 Comment Writer Rubika Latif explains the injustices taking place at the hands of Nigeria's Special Anti-Robbery Squad, arguing that social media is responsible for the international uproar
With increasing protests and a cry for help the condemnation of police brutality has risen to new heights, following the recent news of the atrocities occurring in Nigeria. The powerful campaign against a branch of Nigeria's police called the Special Anti-Robbery Squad (SARS) has gained attention across the world because of the persecution of peaceful protestors, who demand reforms within the governance of their country. I initially noticed information circulating on social media a while before the mainstream media reported on it; there was a delayed response in giving Nigeria a platform on their broadcasts, considering the urgency. This poses questions about the importance of social media in raising awareness quickly, in comparison to mainstream media and why I think social media has recently proven to be effective in creating international solidarity.
With protesters largely from a younger demographic – the majority between the ages of 18 and 24 – this symbolised a significant change and showed how Nigeria's youth have their intensified efforts, demanding reform about how police utilise their powers. Their message was simple: those who are sworn to protect you, should not turn on you. SARS had been set up in 1992 to tackle a growing problem of people stealing from each other using force in Nigeria but overtime the unit began to abuse its power. Nigerians now battle for their human rights and encourage government action, in relation to their 'five demands,' including an immediate release for arrested protesters, justice for all those who died through police brutality, an independent body to investigate reports of police misconduct, retraining of SARS operatives before future deployment and an adequate increase in salaries for Nigerian police. 
Since, the SARS unit was evidently attacking Nigerians' right to challenge police brutality there has been evidence accumulating on social media comparing their brutal actions to genocide.  The mainstream media's failure to pick up on the story sooner implies that the news may not be as effective as it used to be in raising awareness. Amnesty International also said that it received 'credible but disturbing evidence' of 'excessive use of force occasioning deaths of protesters.' Nigerians also shared stories about their inhumane treatment and provided video evidence of how members of SARS engaged in crimes such as kidnapping, rape, theft, unlawful detention, torture, extortion and murder. 
Sanwo-Olu, the Governor of Lagos, had imposed a 24-hour curfew on an estimated population of 20 million people and only gave essential service providers and first responders permission to be on the streets. The Governor directly addressed the people of Lagos on Twitter, stating that he has 'watched with shock how what began as a peaceful #EndSARS protest has degenerated into a monster that is threatening the well-being of our society.'  However, protesters who gathered at the Lekki toll gate were reportedly shot at by the Nigerian army, as they expressed that they were against the curfew. This raises potential questions about the extent of media interest in Africa because despite a swathes of evidence supporting human rights abuses, there was not prompt exposure, until it was exposed on social media and it began to trend internationally.
Through social media, I saw raw footage from Nigeria, and this was unfiltered news. It was straight from those whose fundamental human rights were being infringed upon and I saw how quickly it was gathering momentum. Nigerians desired to tell their own experiences in their own words and used the power of social media to spread information about their situation in real time. This aided a quicker global condemnation and ultimately put pressure on President Buhari, to dismantle the SARS unit. While news may be sensitised, social media often highlights the realities of those experiencing atrocities, as soon as they start happening. 
Similarly, social media gives a constant insight into politicians' opinions and raises awareness on issues that the news may not prioritise, justifying its role of filling in the gap in reporting. This view is corroborated by Mike Vorhaus, who wrote for Forbes that, 'as newspapers have fallen dramatically in usage, and the national newscasts have dropped in ratings, the swing to new sources of information has accelerated considerably.' The news from Nigeria was also shared by international celebrities, who used their large social media platforms to condemn police brutality, thereby forcing more attention on the issue.
In contrast, 'fake news' and the sharing of doctored images have been used to argue against the use of social media as a source of news, so ensuring you fact-check information learnt on social media is important. However, this does not reduce the significant impact that social media had in bringing this abhorrent abuse of Nigerian citizens to international attention and thus encouraging real change. I think the Nigerian demand for justice is profound, particularly so soon after the injustice faced by George Floyd. In a similar way, the video showing the violence he faced from US police had also circulated social media and following his tragic death, led to a powerful global movement against police brutality.  
Social media is increasingly being used as a news source, which indicates the immense power of collective action and how quickly a local injustice can cause international outrage. The trending #EndSARS protest has already had a positive influence because within a few days of protests, the Nigerian Police Force announced that it was dissolving SARS, although citizens warned that this promise has been broken in the past. Previously, the government has tended to change their deployment or change the name of the unit, rather than remove them entirely.  This was subsequently proved with the creation of Special Weapons and Tactics (SWAT). The outcry against the violent repression and mass murder of peaceful protesters makes it apparent that social media has had a remarkable impact on international solidarity, and it is likely that more people will continue to engage in this manner. 
---
Like this story? Related articles from Comment:
The Troubling Trend of Performative Activism
Is it Right to Criticise the Social Media Outrage at George Floyd's Murder?
Protesters vs Sunseekers: A Social Media Reaction Indicative of Systemic Racism