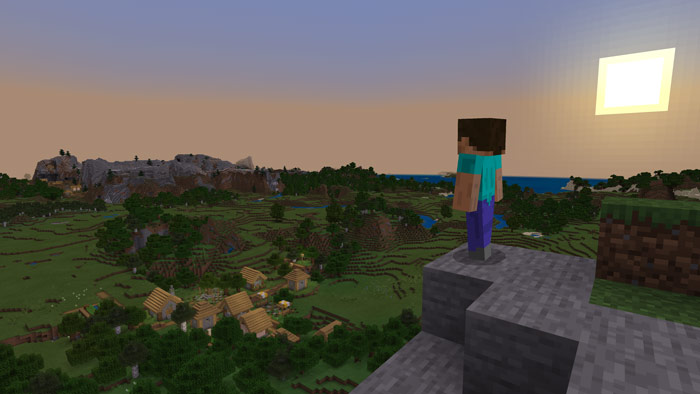 Steve, from Minecraft is joining the fight, and he's brought some friends too. Sam Arrowsmith gives the lowdown on the new kids on the block
Minecraft's very own Steve in Super Smash Bros Ultimate. Many thought it wouldn't be possible. The creator of Smash Bros, Masahiro Sakurai, expressed such sentiments himself. But now, four characters are joining the roster, along with a bewildering assortment of elements from a popular and beloved gaming world.
First, the characters. You've got four options, Steve, the main male protagonist, Alex, the main female protagonist, a shambling Zombie and a shadowy Enderman. All possess the same moveset, but the extra skins add variety to your character choice. When Sakurai presented the gameplay for these at Minecraft Live, it showed how dedicated he is to the source material of the games he includes in the leviathan franchise he has created. As in the original game, crafting is very important, and you can mine the ground in any of the arenas, gaining resources like stone and gold, with variance in rarity depending on the landscape. You also gain access to a crafting table that you can use to craft increasingly durable weapons, until you reach the fabled diamond tools. Crafting is a feature of special attacks, too.
You can use more common resources to build blocks with which you can get to a higher level or place barriers between you and your foes. They even incorporate anvils and pistons into their attacks. Mining Redstone also allows you to build powered rails for your Minecart, which you can use to escape from or trap opponents, or to create remotely detonated bombs. Steve, Alex and Co. also have most of their motions stripped from the source material, even looking up and down with your control stick movement. For their Final Smash, entitled "House of Boom", they use a piston to fling their unlucky opponent into a house, containing TNT and Creepers, all of which detonate, as your character looks on, eating a steak. It provides a nice touch of humour to the moveset, although the house only affects one fighter, with any others only facing the damage caused by the piston.
In terms of supplementary content, the characters are accompanied by the Minecraft World stage. The stage has six biome options: plains, birch forest, savanna, taiga, snowy tundra and stone shore. Each have their own landscape features and obstacles, for example, the snowy tundra stage has an igloo in which you can fight, or simply destroy it. The stage always has a variety of mobs moving around in the background, with different materials to mine. Nintendo have also added Minecraft music for the arena. Sakurai admits that the music from Minecraft itself would be too relaxing, so they instead used music from various spinoffs, including Minecraft Dungeons and Minecraft Earth, which are more likely to fit the tone.
Three Minecraft Mii costumes will also be available, with Creeper and Pig outfits for Mii Brawlers and Diamond Armour for Mii Swordfighters. All of these are sure to make Minecraft fans very happy, and I, for one, can't wait to see how these new features play out in game.
---
Like this? Check out more from Redbrick Gaming here:
Game & Mario: The Plumber's Portable Beginnings
Super Mario 3D All-Stars Review