Gaming Editor Alex Green Recaps the biggest announcements and the big winners from this year's Keighley Extravaganza that is The Game Awards
Sekiro: Shadows Die Twice and Disco Elysium walked away the biggest winners from this year's Game Awards, hosted by Geoff Keighley. In a crowded and hotly contested field, From Software's excellent solo samurai story took home the Game Of The Year, beating out other great titles such as The Outer Worlds, Control and Death Stranding. The game also took the award for Best Action/Adventure Game. Elsewhere, Disco Elysium took the honour of winning the most awards, taking home four awards for Fresh Indie Game, Independent Game, Narrative and Role-Playing Game, as well as having the best thank you as they thanked Marx and Engels. In addition, Fire Emblem: Three Houses took home a duo of heavy winged trophies, winning Best Strategy Game and the Player's Voice category, the only category completely determined by fan-voting.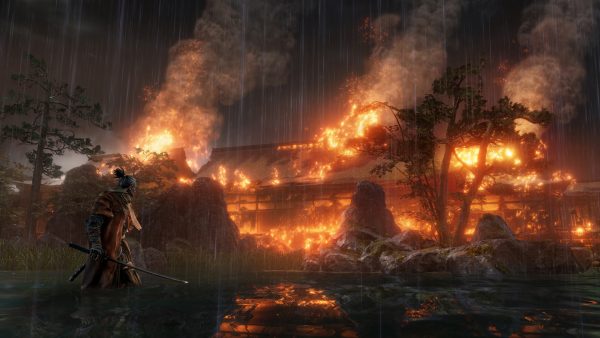 Other big moments from the awards themselves came from the double winner of Death Stranding, picking up Best Score & Music and Best Game Direction. The latter gave Hideo Kojima the opportunity to take to the stage four years after he was controversially not able to appear in the midst of his falling out with Konami, of which he alluded to stating "I'm very happy to come back to this stage tonight." Elsewhere, Devil May Cry 5 took the victory for Best Action Game with longtime series director Hideaki Itsuno displaying his pride at being able to "stick with my roots and make as pure an action game as possible." Other notable winners included Control for Art Direction, GRIS winning Games For Impact and Super Smash Bros. Ultimate nabbing the Best Fighting Game Award.
Alongside the numerous awards, plenty of interesting announcements and reveals were interspersed amongst Green Day performances and Reggie Fils-Amié speeches. The biggest announcement was from head of Xbox Phil Spencer, announcing hard details for the next-gen Xbox, with the Xbox Series X releasing in holiday 2020, which was dubbed the "fastest and most powerful Xbox". Alongside was a reveal teaser trailer for Senua's Saga: Hellblade 2, the sequel to 2017's critically acclaimed Hellblade: Senua's Sacrifice developed by Ninja Theory, one of 15 Xbox Game Studios. Xbox was also bolstered by an additional gameplay trailer to another sequel to a critically acclaimed game in the form of Ori and the Will of the Wisps, which continues to look gorgeous and adds to the original's fundamentally excellent platforming. In addition to these Microsoft exclusives, a new trailer for Gears: Tactics appeared showing off some key similarities to the recently revived XCOM franchise with the isometric view, plentiful character customization and cinematic attacks but with the additional promise of boss battles.
Whilst sequels such as No More Heroes III, The Wolf Among Us 2, and Bravely Default II, a number of intriguing new IPs received announcements and trailers. Firstly, Gearbox announced Godfall, developed by Counterplay Games for PS4 and is described as a "looter-slasher" with third-person combat as well as single-player and co-op. One of the most exciting new announcements was Weird West, the first game from WolfEye Studios, an independent studio formed by Rapheal Colantonio and Julien Roby, the respective former president/creative director and executive producer at Arkane Studios (Dishonored, Prey). The trailer showed a dark, fantastical version of the wild west with werewolves and plenty of other supernatural shenanigans. Whilst it seems pretty early in development, it certainly seems like a game with plenty of potential. Ghosts of Tsushima had one of the longest trailers of the show, showcasing a key character known as 'The Ghost', whilst displaying brutal and intense combat, some horse-riding and platforming in the open-world and hinting at a story fuelled by revenge as well as a summer 2020 release date, giving Playstation players a new exclusive before we head into a new console generation. Continuing with games made in the Asian continent, Chinese studio 24 Entertainment will be releasing a MMO combat game in 2020 on PC called Naraka: Bladepoint. The trailer displays combat with a similar style to that of For Honor, with drawn-out combat and strafing and blocking being the name of the game and plenty of grappling and platforming to get around quickly.
In addition to these:
Michelle Rodriguez and Vin Diesel announced a new game based on the Fast and Furious franchise called Fast and Furious Crossroads.
Riot announced two new games based on League of Legends with Ruined King: A League of Legends Story and Convergence: A League of Legends Story.
Beat Saber, on top of winning Best VR/AR Game, announced a new Green Day pack, adding songs such as 'Boulevard of Broken Dreams', 'Holiday' and two tracks from their upcoming album 'Father of All…'.
Perfect World announced a new MMO based in the Magic: The Gathering universe called Magic: Legends and Daniel Ketchum also announced a new expansion called Theros: Beyond Death.
PlayerUnknown, developer of the original battle royale PlayerUnknown's Battlegrounds, showed a teaser for a new title simply called prologue.
(Check out the full list of winners here)
---
Check out other gaming news here:
Death Stranding PC Release Announced
Super Smash Bros. Ultimate becomes the best-selling fighting game of all time