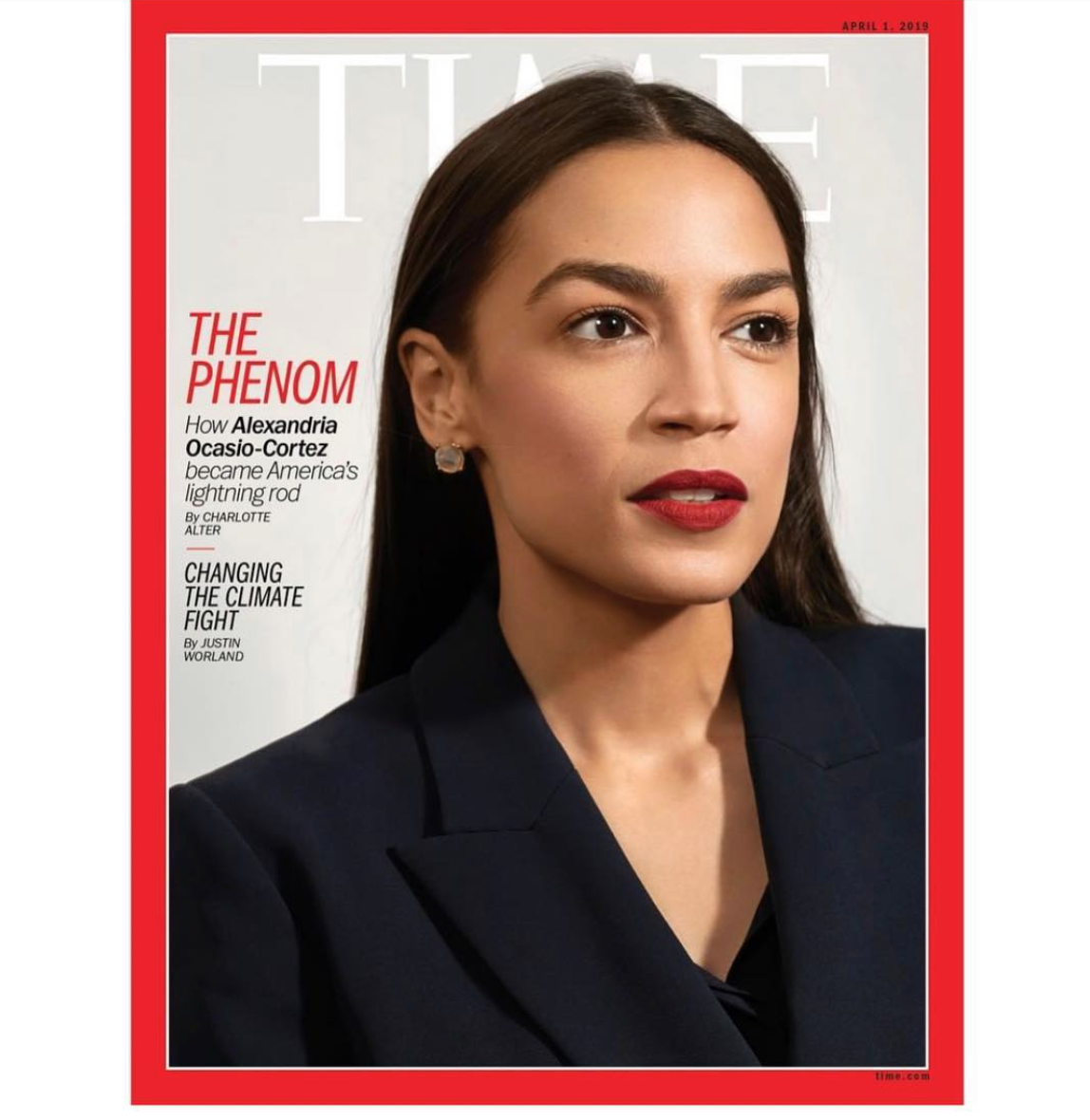 Social Secretary Ella Kipling deep dives into the political connotations of fashion, focusing on the statements made by female politicians in the United States
While clothes may be just that, clothes, they have been regarded as a means of self-expression with intrinsic links to identity for years. I will be taking a deep dive into some of the most iconic women in US politics and how their fashion choices over the years have had powerful effects that you may not have consciously noticed.
During her swearing in ceremony, Alexandria Ocasio-Cortez, the youngest woman ever elected to Congress, wore gold hoops and red lipstick. The stylistic choice was an homage to Sonia Sotomayor, an Associate Justice of the Supreme Court, who kept her red nail polish despite advice to wear neutral coloured polish to avoid scrutiny.
Ocasio-Cortez explained on Twitter that she chose to wear hoops so that 'next time someone tells Bronx girls to take off their hoops, they can just say they're dressing like a Congresswoman.' Her decision not only shows Ocasio-Cortez's strong ties to her roots, but also shows her refusal to change who she is or deny her femininity in order to be taken seriously in congress. Women can wear hoops and bright lipstick and still be powerful forces within politics.
Red is a recurrent theme in fashion and its crossover with politics. Take for example Hillary Clinton's red suit which she wore in her first presidential debate against Donald Trump in 2016. The Ralph Lauren number made up one of three looks and was followed at the next debates by a white suit and a blue suit, together making up the colours of the United States flag. Whilst the nod towards patriotism does not go unnoticed, people focused on the red pantsuit the most, with many deeming it a political statement. Walking into a presidential debate as the first female nominee ever dressed in all red is a powerful move, and tells people exactly what you are there to do: it demands people to pay attention and see you as a force. As critic Haley Nahman puts it: 'A colour can't be interrupted.'
Ocasio-Cortez has had her own moments with red. The congresswoman donned a red blazer during a 2020 hearing where she addressed Republican Rep. Ted Yoho of Florida's comments that she is a 'fucking bitch.' Ocasio-Cortez's powerful speech, in which she stated that her parents did not raise her 'to accept abuse from men,' and responded to Rep. Yoho verbally accosting her outside the steps of capitol hill, went viral. Here was a strong woman standing up for herself and for all women by condemning the misogyny and abusive language she was subjected to by Rep. Yoho.
The vibrant red of the suit only emphasised Ocasio-Cortez's power in that moment, and she told Vanity Fair that she 'had a little war paint on that day,' when referring to her outfit. According to data from fashion search engine Lyst, searches for red blazers increased by 74% in the five days following Ocasio-Cortez's hearing.
It would be remiss if we did not mention Ruth Bader Ginsburg and her recognisably iconic collars. Bader Ginsburg explained to the Washington Post in 2009 that her decision to wear a collar originated from the fact that the standard robe worn by Supreme Court members was made for men 'because it has a place for the shirt to show, and the tie.' Bader Ginsburg explained: 'Sandra Day O'Connor and I thought it would be appropriate if we included as part of our robe something typical of a woman.'
It only seems appropriate that the first and second women ever appointed to the Supreme Court would alter the traditional uniform to reflect their femininity and identity. The robes being made for men are representative of a larger issue, but just as Bader Ginsburg made her way and staked her place in a space that was male dominated, she did the same thing with her robe, adding the collar- a detail which is now indistinguishable with her image.
Most recently, Nancy Pelosi's choice to wear matching masks with all her outfits throughout the pandemic was much more than just a style choice. The Speaker of the House of Representatives stated that Donald Trump's 'contempt for science' led to 'an historic national tragedy.' In a statement she explained that his 'continued resistance to mask-wearing' just continued to 'prolong the pain for families.' Pelosi's matching masks could be read as a way to encourage mask wearing by presenting them as a fashionable outfit accessory. Or, it could be interpreted as her emphasising the importance of masks whilst those around her, including former president Donald Trump, refused to wear one.
The House Speaker also branded House Minority Leader Kevin McCarthy a 'moron' for criticising the mask mandate. Pelosi's continued adornment of vibrant masks, many of which featured bright patterns that matched her suits, made a political statement and set her apart from those in government who did not follow CDC guidelines.
By showing that masks can be functional and fashionable Pelosi inspired others to join the trend. Virginia boutique Donna Lewis became so inundated with orders after Pelosi appeared on television with one of their masks that they fell three weeks behind on orders. Owner Chris Lewis told Insider: 'Anyone that loves Nancy wants this mask. It really became a new, fun accessory in a tough time. I have people who come in here and say "I saw this on Nancy, and I love it."'
It is no secret that women in politics face much greater scrutiny over their outfits and styling choices than men do. The pieces and fashion choices mentioned above are just some of my favourite moments when women decided to use the power of clothes to their advantage and make a stand.
---
Read More from Life&Style:
A Love Letter to the MET Gala – Past, Politics and Predictions
Are Women Downplaying Their Success?