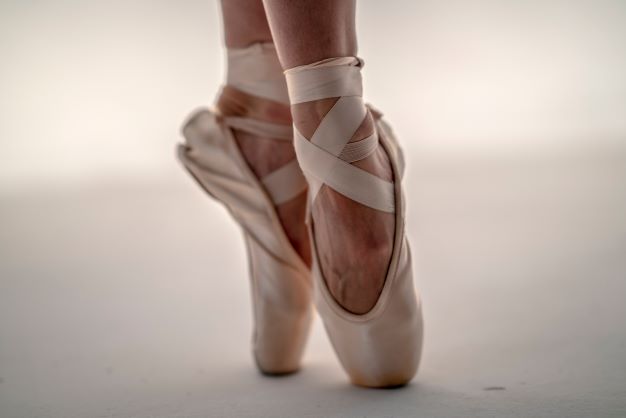 Life&Style's Serena Murphy discusses the rise of 'balletcore' fashion and its implications on femininity
Picture this: It's a Saturday morning in the noughties. You are dressed in a pink leotard, pink tights, pink leg warmers, pint tutu- frolicking around a youth centre or church hall dreaming of being a professional ballet dancer when you grow up. Now you're grown up. And maybe you're not a professional ballet dancer, but, thanks to the new 'Balletcore' trend, which aims to capture an 'off-duty' ballet dancer look, you can still enjoy the delicate pastel aesthetic, without the expensive ballet lessons.
So, what is 'Balletcore', and where did it come from?
Balletcore takes inspiration from the feminine silhouettes and muted colour palettes commonly associated with the style of activewear worn by 'off-duty' ballet dancers. It uses soft fabrics, such as silk and tulle, to create silhouettes distinguishable for their tight fitting, leotard-like corset tops, and delicate tutu-esque skirts. These looks are often finished with a pair of white tights and pastel pink leg warmers. The look is characterised by its layering of different colours and fabrics to create a delicate, but maximalist, effect. The aesthetic has taken social media by storm, and 'Balletcore' currently has over 400 million views on TikTok.
Designers have always taken inspiration from the delicate silhouettes and sweet pastel colours of ballet. The Balletcore aesthetic danced the high fashion runway in recent years, with Miu Miu's signature ballet flats, and Molly Goddard's tutu-esque tulle dresses. Recently, brands such as Skims, which blurs the line between activewear and casualwear, have brought this aesthetic to a wider audience.
Urban Outfitters has recently further broadened the audience with the release of their 'Balletcore' line, new for 2023, which takes direct inspiration from the social media trend. It is no surprise that more attention is being paid to the aesthetic quality of activewear, given that two years in a pandemic wearing pyjamas every day raised our standards on comfort. When it comes to clothing, it seems that, now more than ever, we are demanding both comfort and style, and are less willing to compromise one for the other. Balletcore enables us to achieve both.
Hyper-feminine fashion trends have always been present in some iteration. Doll-like, delicate frills and pastel colours were popularised by celebrities like Courtney Love in the 1990s, mixed with a grunge aesthetic. Problematic 'Lolita' fashion trends emerged on social media platforms such as Tumblr in the 2010s, which often linked the aesthetic to a certain type of body: white, and thin. Recently, however, hyper-feminine fashion has become more inclusive, and a way for many people to actively reclaim their femininity. Recent reclamation of the 'bimbo' aesthetic has been popularised on TikTok by the likes of self-identifying 'bimbo' Chrissy Chlapecka, who wears loud, colourful prints and statement pieces, such as 90s inspired Juicy Couture tracksuit sets. 'Bimbo' was a term previously popularised in the Incel community, which presented conventionally attractive, hyper-feminine women as unintelligent, but has since been reclaimed by many people desiring to embrace their femininity and challenge its association with unintelligence. Perhaps Balletcore can be seen as an offshoot of this desire to reclaim hyper-femininity that has been prevalent on social media in recent years. This time, however, it ditches the hot pink velour for pastel pink silk.
However, what is distinct about Balletcore is its nostalgic element. For many, it provides a way to heal their inner child, who was perhaps mocked for their feminine outfits as they entered their teen years. Recent years have seen a rise in nostalgic fashion trends, one of the most popular being the 2020 'Kidcore' aesthetic, characterised by bright colours and the iconic 90s style graphic t-shirt-and-baggy-jeans combo. #Kidcore has 1.7 billion views on TikTok and is heavily linked to #Nostalgiacore. Videos under these hashtags often take the form of a series of grainy images of fields and 2000s style children's play areas, to the sound of birds chirping. The comment sections are filled with young adults reminiscing about growing up in the 2000s. The release of live action adaptations of both 'Barbie' and 'The Little Mermaid', set to premier this year, reflect the demand for nostalgic media. Given the context of 2020 as the first pandemic year, and the cost-of-living crisis in 2023, the rise in nostalgic fashion trends is not surprising, and is perhaps a welcome form of escape for many.
Ultimately, whether Balletcore has emerged as a way to feminise activewear, a way to embrace femininity, or whether it is a welcome escape into childhood in difficult times, its comfort, uniqueness, and inclusivity certainly make it a trend that, hopefully, will stay a while.
---
Read More From Life&Style:
From Diversity to Conformity: Is London Fashion Week Regressing Body Positivity?
Baby Aire: Celebrity Baby Names and the Spectacle of it all
Buccal Fat Removal: The Body Image Trend Cycle and Celebrity Transparency