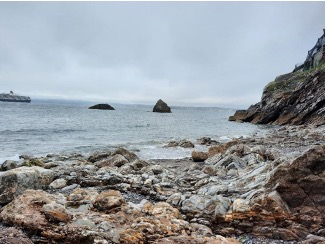 Food&Drink Editor Cara-Louise Scott describes her local holiday on England's south west coast, concluding that it is on par with travelling abroad
At the end of June, my partner and I went on a much-awaited holiday to England's southwest coast, staying in a caravan in Warmwell, Dorset near Weymouth for five nights, and at a hotel in Torquay for two nights. This vacation turned out to be the perfect substitute for a holiday abroad.
Warmwell is a charming area to stay in, with it being so close to Weymouth – around 20 minutes by car, bus or train. Encompassing the countryside, this town has lots of caravans and family holiday parks dotted around. Woodland walks find themselves in this area, too, with footpaths that go on for miles – perfect for evening strolls after a day at the beach.
On the first day we travelled to Dorchester, a historical market town not too far from Weymouth. It is a very small town, but with an abundance of shops, museums and beauty spots. There is a park nearby to the shops, with plenty of green space, benches, flowers and a bandstand, and is a close walk away from a hidden nature reserve along the River Frome. At the end of the day, we stopped at Coffee #1 for the first time to indulge in some much-needed cake (I would recommend the banana chocolate chip cake).
On the second and third day, we travelled into Weymouth by train. We got lucky with the weather, so on one of the days we sat on the cove beach, tucked away near the fort, and on the other day we sat on the main beach, and even managed to go in the sea. What I love about Weymouth is that the beach is so big you can always find space, and there is so much to see and do. The harbour is one of my hot spots to sit down at and have some chips in front of the glistening views, and if you walk along the harbour to the fort and climb up some stairs, you get to a viewpoint with stunning views across the ocean. The main Weymouth amusements contain basketball games, Mario Kart, air hockey and 2p machines, which ensure a fun time away from the sun.
Just down the road is a place called Bowleaze Cove which joins up to Weymouth Beach, and offers lovely views across the sea, a fun park and tasty chips from the café.
@Cara-Louise Scott
After our fun days out in Weymouth, we went to Bournemouth for the day, which was only 40 minutes on the train. Bournemouth Beach stretches on for miles, so you are guaranteed to find a quiet spot to sunbathe, which is exactly what we did. Across the seafront there are ice cream stalls, selling ice creams of all flavours – the chocolate orange one is to die for. We walked through the alluring park, which was full of friendly squirrels and people watching Wimbledon. For dinner, we went to Ask Italian, which was our first time going – I could not recommend it enough. It is the cheapest Italian restaurant I have been to, but probably the best quality for food; we both had pizzas and they were a very decent size.
The next day, we travelled over to Torquay. This was my first time back to Torquay in over three years, and going with my partner who has been visiting the town every year of his life, I was able to see new places that my family and I had never explored. We walked along the coastal path, which has jaw-dropping views over the ocean, and where you could see Brixham and Paignton in the distance. I would recommend going at night to admire the sunset and the evening skyline. On Saturday, we went down the cliff to a small rock area, where my partner endured cliff jumping (and I watched in anticipation). We also explored Meadfoot Beach and a viewpoint called Daddyhole, which had equally stunning views.
We stayed at the Devonshire Hotel, which was a place mainly for coach parties, but we loved being the youngest there as everyone – including the staff – was so friendly and chatty to us, especially when we were sitting in the lounge when England were playing in the Euros, just a week before the final. The price was exceptional for the hotel quality and you get a large room with breakfast included (both cereals and cooked breakfast), as well as access to bingo, live music, the lounge area and the outdoor pool. On both nights we played bingo (and lost), and on Saturday we went to the outdoor pool.
We walked lots into the town and around the harbour area. There is an amusement with a bowling alley where you pay £1 and get 5 turns each. Before we left on a sad rainy Sunday, we managed to sit down in a park full of pineapple-looking trees and colourful flowers. Torquay is such a magical seaside town; I cannot describe just how exquisite it is. You will have to see for yourself.
---
For more articles on local holiday destinations, check out these articles:
Diving Helmets and Jane Austen: Visiting Winchester Cathedral