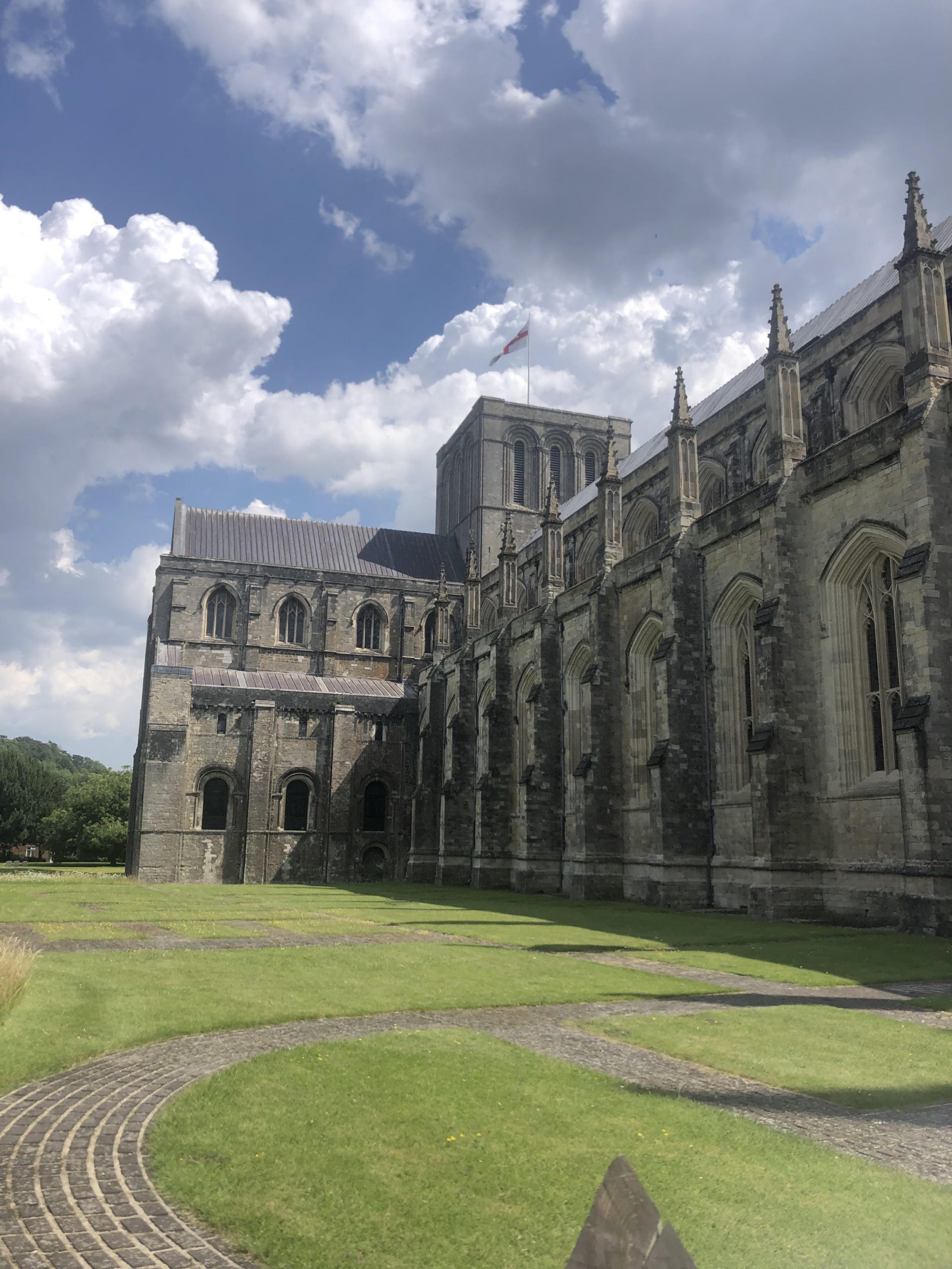 Travel Writer Rebecca Whalley delves into the rich literary and architectural history of Winchester Cathedral, introducing to us famous figures and interesting facts related to this landmark
Winchester Cathedral is often overshadowed by the archbishop seats of York and Canterbury, but this landmark in the Anglo-Saxon capital of England has a much stranger history. Home to the remains of legendary monarchs like King Alfred the Great, this cathedral is a hive of architectural and literary history and was, believe it or not, the scene of a deep-sea diving masterstroke.
The grounds of Winchester Cathedral have been a sacred site for almost 1500 years, and the ghostly outlines of previously venerated spaces are still visible today. Having begun as an early Christian church in around 645 AD, named Old Minster, it soon became one of the most important cathedrals in England.
Winchester Cathedral's most cherished resident is Saint Swithun, a sanctified local hero from the 9th century. My favourite legend about this bishop was his miracle of restoring an old lady's broken eggs after she dropped them while crossing a nearby bridge. His bones were originally housed in a shrine in the centre of the cathedral, and were visited by thousands of pilgrims hoping to be cured of ailments by being close to his remains. The Church officials, therefore, built the Holy Hole, a small tunnel underneath Saint Swithun's remains, for the pilgrims to enter and heal.
Sadly, when the destructive Henry VIII seized control of the Catholic Church, his men destroyed the shrine in 1538, blocked off the Holy Hole and took all the valuables. A modern replacement shrine stands today; if you look closely you can see an ornamental broken egg shell referring to the local legend.
The Norman invaders in the 11th century effectively bulldozed over the old church and built their own Romanesque cathedral on the original grounds, which looks like it should be in Spain rather than southern England. Of course, the Normans were not going to build this monstrosity themselves, so they hired the locals to do the heavy duty work for them. You can actually see the wobbly pillars and archways built by the English, who just were not quite as good at building as the French.
This thousand-year-old architecture still stands today. Wandering from the 15th-century Gothic nave of the cathedral into this Romanesque section is like a portal into three different spheres of history: the Saxon, the Norman, and the Early-Modern.
As an English Literature undergraduate, I was particularly interested to see the grave of Jane Austen. One may assume it would be grandiose – a centrepiece, even – but it is a mere slab on the ground and would be difficult to spot if not pointed out. It also does not even mention her authorship or her writing. This grave accompanies a tragic story – Jane died in the arms of her sister, Cassandra, and only four people attended her funeral. As funerals were deemed too emotional for ladies, neither her sister nor mother could attend. By the time of her death, only her family knew she was responsible for her highly popular novels; it was not acceptable for an unmarried lady to write commercially.
Winchester Cathedral's most fascinating story is that of William Walker, the diver that saved it from collapsing in 1911. Built on a water table, the wooden frame of the cathedral had begun to rot. After even steam pumps had failed to ward off the flooding water, an experienced deep-sea diver from Portsmouth was called in. Over a period of six years, Walker toiled tirelessly in total darkness, placing bags and bags of concrete underneath the cathedral's frame. Walker almost single-handedly stopped the sinking, and without him, we would not have the extraordinary monument we do today.
Since then, Winchester Cathedral has been used as a filming location for The Crown, Les Misérables, and The Da Vinci Code.
---
For more local destinations worth visiting, check out these articles: