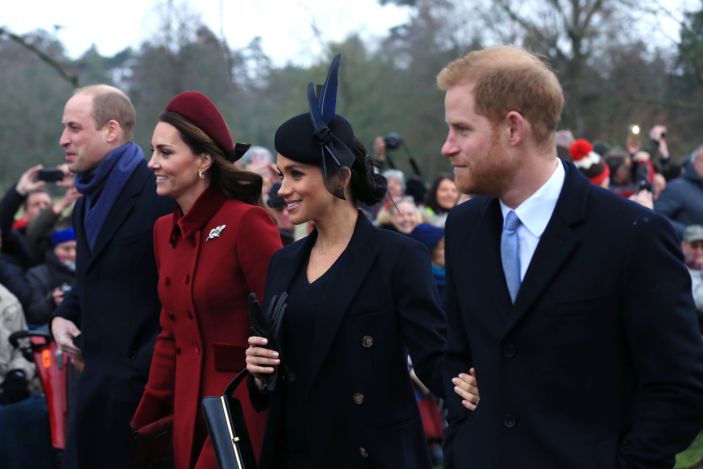 Comment Writer Alex Cooke considers the double standards apparent in the treatment of women within the royal family, arguing that Meghan, as a mixed-race woman, faces unfair bias
It has been pointed out many times that there is a double standard in how Meghan Markle is portrayed in the media, versus other members of the Royal Family. However, I think that The Daily Mail exhibited another especially egregious example of this recently when Princess Beatrice was seen at Wimbledon whilst pregnant with her first child. The Daily Mail described her 'lovingly [cradling] her baby bump.' This is a direct contrast to their reporting of Meghan's pregnancy, where they ran an article that asked why Meghan was cradling her bump so frequently and whether this was because of 'pride, vanity, acting – or a new age bonding technique.'  All of these adjectives suggest self-obsession, which add to a narrative that creates a negative portrayal of Meghan.
I believe that the problem is in how Meghan's behaviour is reported on, as Princess Beatrice and Meghan Markle were doing the exact same action but described completely differently. Their choice of wording betrays a bias against Meghan, but whether this is a conscious choice or not, there are too many examples of this for it to not be a pattern. For example, the Daily Mail also described images of Kate Middleton holding her pregnant stomach, but used the headline 'Kate tenderly cradles baby bump.' The same action is being interpreted in different ways which leads to an unflattering portrayal of Meghan. These unfairly critical articles add up, if you type 'Meghan Markle' into google there are 35,800,000 article results (at the time of writing this article). This relentless and predominantly negative press coverage over time arguably slowly creates unpopularity in the public's opinion of Meghan. 
There have been many examples of the media also writing about Meghan and Harry as a couple with an incredibly critical angle compared to other royal couples. An example of this that highlights the extremity of this disparity is two headlines regarding the royals and their business practices. Kate and William 'set up companies to protect their brand' whereas Meghan and Harry's actions were described as 'a right royal cash-in' as they 'trademarked over 100 items from hoodies to socks.'  Once again these are very similar actions, both couples as public figures are trying to prevent people from profiting off them. However, Meghan and Harry are portrayed as greedy and ungrateful, whereas William and Kate are described as just making sensible business decisions.
A reason why this is particularly harmful is that Meghan is mixed-race and a woman. As a woman in the public eye, Meghan is already under considerably more scrutiny than men who have married into the Royal Family. Kate and Meghan's abilities and practices as mothers are constantly being commented on, whilst their husbands are barely mentioned aside from banal praise. This unfair press scrutiny becomes even worse as I believe Meghan is more likely to be associated with negative traits because of derogatory stereotypes about her race. Meghan is the first mixed-race woman to marry into the Royal Family. Therefore, to constantly find fault with Meghan has discriminatory undertones. There is already the infamous stereotype of the 'angry black woman' which portrays black women as being unreasonably short-tempered. A lot of Meghan's media coverage portrays her as being a diva, which is an extension of this stereotype. 
This bias in the press coverage of Meghan Markle is not only unfair but also so vast. Since it was discovered by the press that Meghan and Harry were dating, Meghan has been of great interest to the tabloids. Harry and Meghan have tried to distance themselves from the tabloids, which are drastic measures from members of the Royal Family who famously rarely respond to stories from the press. Meghan admitted in her and Harry's interview with Oprah that she would ask whether she could go and have lunch with friends and the response from the Firm was 'no, you're oversaturated, you're everywhere, it would be best for you to not.' This would be despite not having 'left the house in months.'
There is a bias against Meghan Markle in the media, which is made obvious when compared to other members of the royals such as Princess Beatrice. The choice to continuously publish articles on Meghan, especially unfairly critical ones, has real consequences for a real person's mental health. Although Meghan did choose to join the Royal Family and knew to a certain extent that she would sacrifice some privacy, I would argue it does not give the media the right to publish so many malicious articles that may often not even be true, especially when these articles have racist and misogynistic undertones. I believe Meghan Markle is exploited by the tabloids, who profit off her private life whilst causing so much interest and infamy that she loses any chance of a positive reception from the public.
---
Read More From Comment:
It's Not Just Meghan, The British Press Have Normalised Racism 
The Silencing of Meghan Markle
The Meghan and Harry Aftermath: Four Things We Have Learnt About Our Country