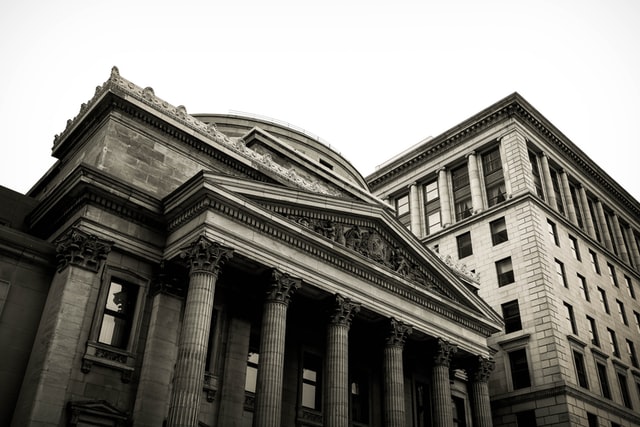 Writer Ella Kipling reports on UoB's renovation of the former Municipal Bank in central Birmingham.
The University of Birmingham has completed a three-year renovation of the former Municipal Bank in the city centre. Now that the building is complete, the University has planned to open the doors in September, with a formal public launch set to take place on October 2nd 2021. 
The new facility, named 'The Exchange,' was introduced in February 2020, as a 'new city hub, bringing together communities and the public, private and third sectors.'
The building is situated opposite Centenary Square and the Library of Birmingham and has two entrances: One facing onto a new public square known as Bank Court, and the other facing Centenary Square.
Managing Director for Galliford Try Building West Midlands & South West Simon Courtney said that the construction group were 'proud to have redeveloped the old Bank and keep much of the fabulous features of the Grade II-listed building.'
The Birmingham Municipal Bank at Centenary Square was opened on 27th November 1933 by Prince George. The facility was originally designed by architect T Cecil Howitt in the Monumental Classical architectural style, and was built by Neville Chamberlain, son of the University's founder and first Chancellor Joseph Chamberlain. 
The Exchange will be used for opening up research through public exhibitions and community engagement programmes which will allow people from the city to 'get involved with the University's work.'
Additionally, it will be used to facilitate data sharing that will 'help grow the regional economy.' Short paid courses, free taster courses, and micro-credentials will be provided by The Exchange, as well as a hub to support the 'development of entrepreneurial skills.'
Provost and Vice-Principal of the University of Birmingham Professor Tim Jones stated that the project reflects the University's 'commitment to civic engagement' and its 'proud role in the region as a key partner and collaborator.' He deemed the building 'an opportunity to bring the best of the University to the city.'
Jones said in a press release that the development will 'provide the city with a gateway into the University so that together we can make our city a better place to live, work and learn.' He went on to say that The Exchange will be a 'place of curiosity, celebration, collaboration and change that will bring communities together.'
Like this article? Here are more from News: 
University Clearing Set to be More Competitive This Year
Birmingham Live Misrepresents Student's Transition Story
May Parsons: Giving First Covid-19 Vaccine 'Was a Real Privilege'