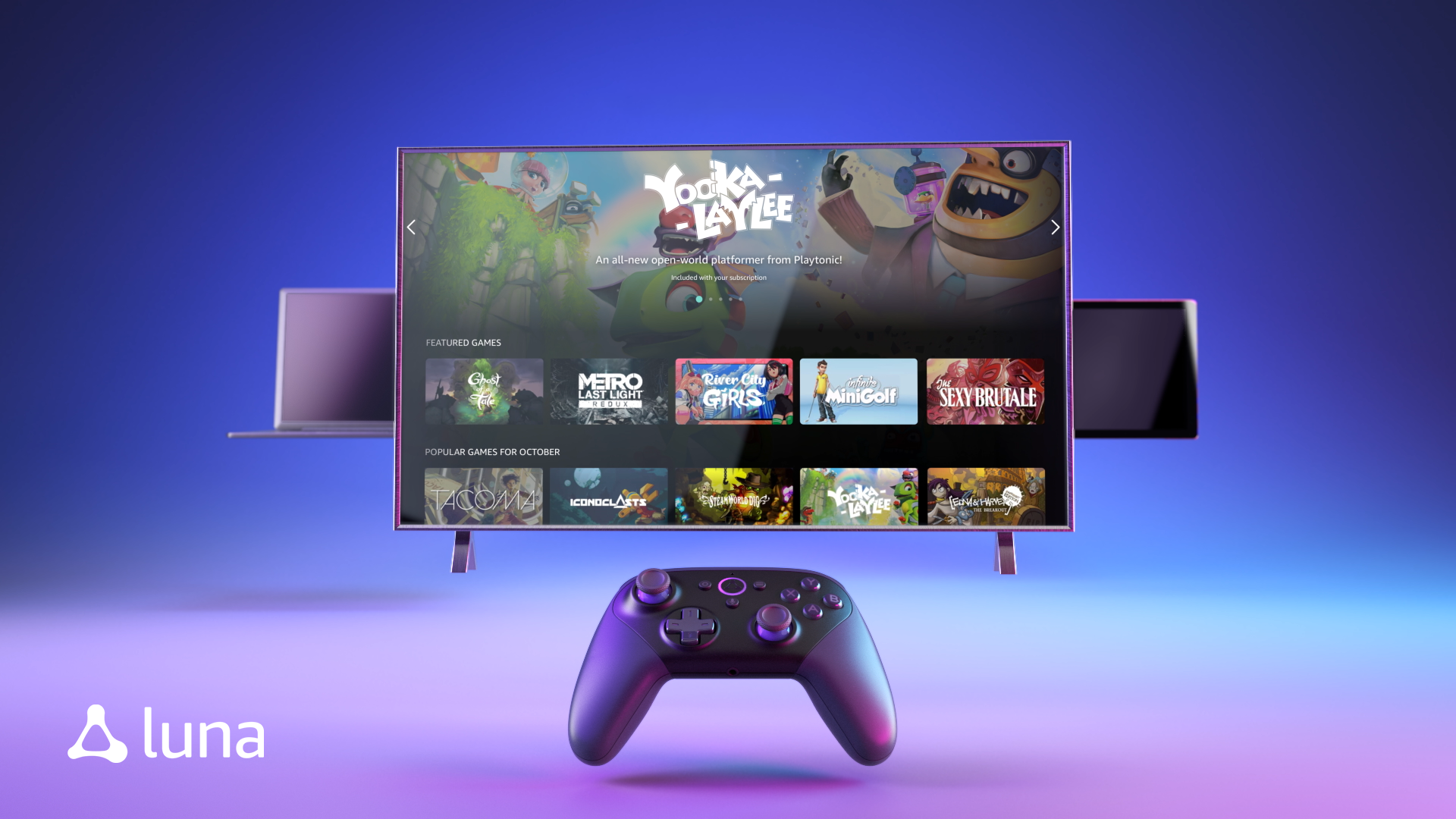 Dash Wood examines the Amazon Luna, and whether it has the potential to become streaming's next big thing. Will he be over the moon?
You would be forgiven for missing the almost scarily silent early access launch of Amazon Luna, online retail giant Amazon's new game streaming service. In fact, despite launching in late September, I only learned of the new program a couple days ago when a couple articles regarding the services suddenly appeared in my news feed. Boasting the impressively low base price of only $5.99 a month, which includes access to a varied library of more than 70 games, what exactly sets Luna apart from the other streaming services like likes of Stadia and xCloud and what does the rise of game streaming services mean for the future of the industry?
Firstly, it's important to establish that Luna, in its current form at least, appears to be an entirely subscription-based service. This differs quite substantially from the model found in Stadia, which allows you to buy your games to keep and play at 1080p at any time on the platform without any recurring fees. Confusingly, Google does offer the Stadia 'Pro' service, but this monthly £9 fee grants only access to a depressingly small library of games, a barely noticeable upgrade to 4k streaming and some anticlimactic exclusive discounts.
This makes Luna feel much more like a 'Netflix for games,' or perhaps more fittingly an 'Amazon Prime for games,' than it does an entirely new console system like Stadia was clearly intended to be. Interestingly, Luna is listed as a compatible Ubisoft+ subscription service, meaning that existing subscribers should be able to connect their accounts and start streaming their favourite games via Luna at no additional cost. Ubisoft+ is a separate service operated by Ubisoft which offers unlimited access to a cross-platform library of their popular for a £14.99 monthly fee.
This is actually a far more significant feature than it may seem at first; as Ubisoft+ subscribers are also able to download and play their games locally on PC or console. With how large some modern games are becoming, Tom Clancy's Rainbow 6: Siege for example taking up well over 70gb of hard drive space, there's something very appealing about being able to boot up Luna and try out a couple games before committing to clear the storage space, or just sitting through the lengthy download, which would otherwise be required to play them. This isn't a colossal win for Luna however, with Google Stadia also set to receive Ubisoft+ integration by the end of the year.
Luna can be played on Android via an app or on PC via web browser and is compatible with touchscreen, mouse and keyboard or traditional wired controllers. Amazon also offers it's own Luna Controller, which looks suspiciously like a Nintendo Switch Pro Controller dashed with purple paint and Alexa shoehorned in. Whilst its direct connection to Amazon's servers supposedly leads to lower-latency gameplay; I was disappointed by Stadia's underwhelming use of the same technology and would argue that the increase in responsiveness which will be, in all probability, very marginal and fail to justify the Luna controller's $50 asking price.
It is also worth noting that whilst many Google gamers were upset by a lack of compatibility with Apple iPhone and iPad, a result of draconian app-store content restrictions, Amazon has rather sneakily by-passed this with special web compatibility for iOS. This means that your games can be played entirely in Safari without an Appstore download anywhere to be seen. There is also Luna compatibility with the Amazon Fire TV and Fire TV Stick but I'm not exactly sure how important of a selling point this is as I've yet to actually meet someone who uses either device.
Although it is of course a matter of personal taste, I find the Luna games library more intriguing than Google's initial offering. Stadia launched with a pathetically small library of only 22 games, many of which were mediocre ports of titles circa 2013 and presented alongside some below average recent titles like NBA 2K20 and Rage 2. Luna on the other hand, despite still being in the early access stage, has already bagged some compelling modern games like Remedy's Control, Metro Exodus and Two Point Hospital.
Unfortunately, both Luna's launch library and Stadia's current library still pale in comparison with Xbox Game Pass Ultimate, which boasts both streaming (via xCloud) and download access to well over 300 excellent titles on Xbox consoles, Android and PC for £10.99 a month. Although a little pricier, Game Pass Ultimate is undeniably the best value for money out of all the currently available services.
In light of this, Amazon's latest effort to break into gaming seems a little odd. With all its similarities, Luna seems primed to compete as subscription oriented alternative to Google Stadia but with Stadia's dwindling player numbers I'd be curious to know what exactly Amazon thinks it is competing for.
Even so, with yet another contender entering the increasingly crowded streaming market it's clear that things are beginning to heat up and I'm excited to see what lengths new and existing services will go to stay ahead of the competition. Will, as some industry experts are predicting, the success of game streaming will mean that this ninth console generation will truly be the last? Looking at the high launch sales of the PlayStation 5 and Xbox Series X, both at their core very orthodox home consoles, I personally don't think that traditional gaming is going anywhere soon but, as with all things, only time will tell.
---
Check out more from Gaming here:
Will an Increase In the Price Of Games Impact Gaming as a Hobby?
Steve, Alex, Zombie and Enderman from Minecraft from Smash Bros. Ultimate