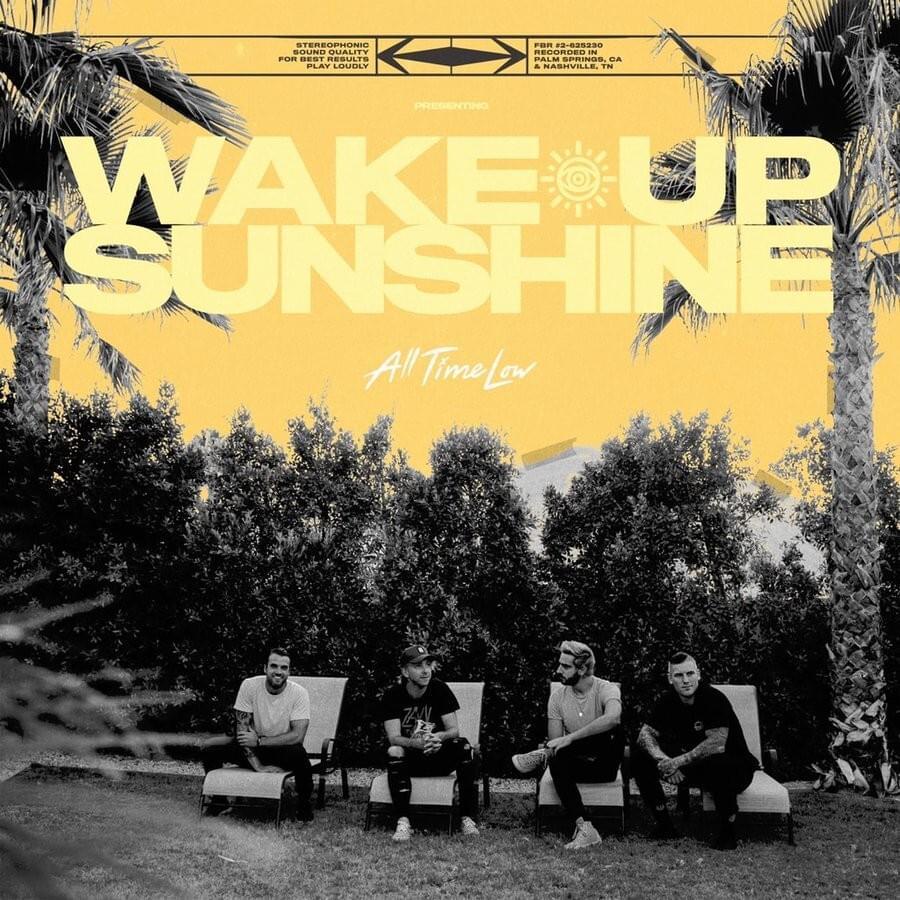 All Time Low reach back to their older records in their new nostalgia-fuelled album Wake Up, Sunshine, Music Critic Ellie Harris writes
All Time Low have been one of the staple bands of pop-punk since their formation in 2003. With their 8th studio album Wake Up, Sunshine, the band has returned to a classic pop-punk style, drawing on their roots to create a nostalgia fuelled track-list that's sure to appeal to any long-time listeners. Personally, I could not ask for a better quarantine album; with the catchy melodies reminiscent of the early 2000's, it's easy to pretend we're not in the 'livin' hell' of 2020, but a bygone era of Myspace and eyeliner. Wake Up, Sunshine is the summer album that we all need right now. 
Stylistically, Wake Up, Sunshine seems to be a divergence from All Time Low's 2017 album Last Young Renegade, which had a far more pop-influenced sound. Instead, songs such as 'Getaway Green' sound as if they could have been taken straight from their 2012 album, Don't Panic, or even 2009 album, Nothing Personal, which the band re-recorded last year. 
The album starts with six fast-paced, upbeat songs that positively scream All Time Low. The familiar power chords that characterise pop-punk are used liberally by guitarist Jack Barakat, packing a punch alongside the ever-changing rhythms created by drummer Rian Dawson and bassist Zack Merrick. Guitar riffs, instrumental build-ups, and powerful vocal displays by Alex Gaskarth are abundant, making it almost impossible not to want to get up and dance, with the incredibly catchy lyrics to songs such as 'Sleeping In' and title track 'Wake Up, Sunshine' sure to get stuck in your head. There's no denying that that the band is following a formula, nor can the album be described as particularly innovative, but I would argue that this adds to the charm (and has resulted in some great songs too). 
Interestingly, Wake Up, Sunshine is split into two halves, with 'Pretty Venom (Interlude)' bridging the gap between the two. Whilst the first seven songs are all fast-paced and powerful, the last seven are far more mellow and reflective, covering love and nostalgia in a slower, less heavy manner. 'Glitter and Crimson' is a beautiful power ballad about forbidden love, which despite the somewhat sad lyrics remains upbeat, as do the other tracks in this half of the album. It is notable that there are no slow, acoustic songs on the album, which is unusual for an All Time Low record, but this adds to the positive feel that the band has created, and in my opinion, Wake Up, Sunshine is in no way lacking from not including one.
Of the two songs that feature other artists, 'Monsters (feat. blackbear)' is more of a stand-out track than 'Favorite Place (feat. The Band CAMINO)'. Placed in the first half of the album, 'Monsters' is a more aggressive sounding alt-rock tune, with a catchy and vocally impressive chorus, as well as powerful instrumentals throughout. The rap verse by blackbear simultaneously jumps out from the rest of the song, and indeed the rest of the album, whilst also fitting seamlessly into it. 'Favourite Place', on the other hand, comes in the much more mellow second half of the album and, while still a good song, fails to grip you in the way 'Monsters' does. The Band CAMINO's verse melds into the rest of the song, with little distinction between them and All Time Low, making it difficult to determine it as a feature at all; overall, it lacks the punch that 'Monsters' and blackbear manage to deliver. 
Wake Up, Sunshine ends with the song 'Basement Noise', which reflects on the band's origins as 'stupid boys making basement noise', taking us full circle. For an album that returns to a classic pop-punk sound and explores the roots of All Time Low, there can be no better ending than where it all began.
Wake Up, Sunshine is available now via Fueled by Ramen
---
You Might Also Like:
Single Review: 5 Seconds of Summer – Wildflower
Single Review: Fenne Lily – Hypochondriac
Album Review: Little Dragon – New Me, Same Us