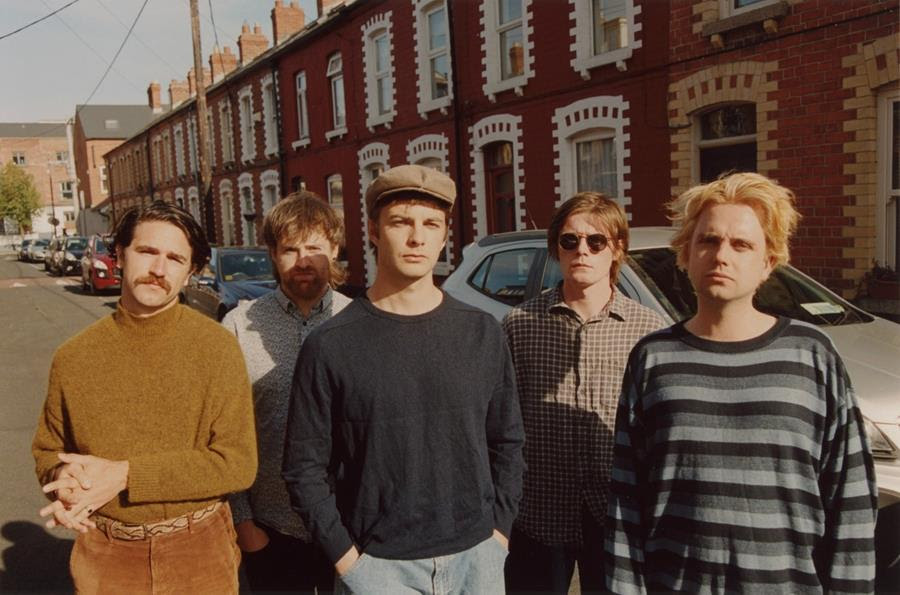 Fontaines D.C.'s sophomore album A Hero's Death should ultimately be viewed as a successful, if slightly patchy, portrait of a band refusing to stay rooted to a singular musical landscape, Music Critic Cameron Milner reviews
Of all the challenges facing an artist in their early years, the second album is perhaps the most daunting. With the sophomore release often being the project that determines an act's ability to achieve genuine cultural longevity, the second full length is a clear signal to both fans and critics as to whether an artist possesses the originality to prove themselves more than just a one trick pony. This was the very challenge facing Dublin band Fontaines D.C. upon the recording of their second album: A Hero's Death. 
Coming off the back of a Mercury Prize nomination for debut LP Dogrel and the relentless touring which followed, 2019's post-punk breakout stars Fontaines D.C. admitted to feeling burnt out. A straight forward re-hash of Dogrel's energetic and angsty sound could have been an easy pleaser for the fans, yet on A Hero's Death, the band instead subdue some of the more incendiary aspects of their debut in exchange for an LP which boasts a larger proportion of moodier and introspective tracks coupled with a production style that moves away from the raw sounds of its predecessor. A Hero's Death is many things, but a rehash is not one of them. Yet whilst the new record is far from a sophomore slump, it isn't exactly a home run either. 
In many ways, A Hero's Death is an inversion of their debut release, and on opening track 'I Don't Belong' Fontaines D.C. announce their mission statement both lyrically and tonally. The gloomy opener sets the precedent for the album to follow, establishing the more personal lyrical themes that are prevalent throughout almost all 11 tracks that make up the LP. The defiant 'I don't belong to anyone/ I don't want to belong to anyone' refrain, set against the backdrop of a slow paced and somber instrumental, is perhaps as much of a reminder to themselves as well as to the fans that the band refuse to be chained to the expectations weighing them down. 'I Don't Belong' unapologetically announces Fontaines D.C.'s departure from the Dogrel era, as well as firmly establishing the notion that the band do not belong to the one sound that, so far, has defined them. 
'I Don't Belong' is a bold change of pace for an opening to a Fontaines D.C. record, yet when appreciated alongside the context of the album, it proves integral to the tracklist. Unfortunately, the same cannot be said for every track on A Hero's Death. 'Sunny' uninspiringly meanders for almost five minutes without ever reaching an interesting or memorable moment. I can't help but think back to the album's promo shots when listening to tracks like 'Sunny' and 'Living In America,' which feature each member of the band staring miserably into the lens of a camera and looking as though they would rather be just about anywhere else on the planet. This sense of sounding painfully moody on 'Love Is The Main Thing,' on which frontman Grian Chatten sounds so unbelievably disinterested throughout the entirety of the song that it almost gets to the point of being comical. Perhaps the band were trying to make a bitterly sardonic statement about the ups and downs of love by juxtaposing the track's optimistic 'Love Is The Main Thing' refrain with an overtly depressed vocal line, but whatever the intention, the end product is a genuinely dull affair that comes across as though Chatten is simply bored by the change of pace. Genuine commitment is the key ingredient needed for when a band try an even slightly different style, and such commitment is noticeably half baked at several points throughout A Hero's Death. 
What makes moments like 'Love Is The Main Thing' so frustrating is the fact that, when Fontaines D.C. genuinely connect with each other as well as the new material, they create true career highlights. A Hero's Death is loaded with incredible moments that showcase an exceptionally talented young band, and while there are undeniable low points on the record, it is safe to say they are outnumbered by the highlights. Drummer Tom Coll and Bassist Connor Deegan III both particularly shine as they partner to forge an exceptionally tight rhythm section that are always prevalent in the mix. Memorable basslines such as the fantastic intro to 'Televised Mind', as well as the galloping drum beats on both 'I Was Not Born' and 'A Lucid Dream' make all three tracks some of the album's very best, and leave you desperate for more. Lead single and title track 'A Hero's Death' is also a stroke of genius. Not only does the song feature an anxiety inducing instrumental that grows and ferments with an inherent sense of urgency alongside the 'Life ain't always empty' hook, the track's Beach Boys inspired backing vocals also serve as a delightful oxymoron to the panic stricken guitars which seethe in the mix as they ominously build with each passing second. 
A Hero's Death also demonstrates how, when fully committed, Fontaines D.C. can produce some fantastic low-key cuts. 'Oh Such A Spring' sits like a gemstone set into the very heart of the tracklist with its powerful imagery and heartfelt vocal performance proving that even the very shortest tracks can have the greatest impact. However, it is album closer 'No' that sees Fontaines D.C. fully capitalize on their new sound. The lightly strummed guitar chords in the song's intro float melancholically until Chatten's heartfelt vocals join to create a moment of true sincerity that was sorely missed on several previous tracks. 'No' seems to be heavily molded around Chatten's vocals as he reaches into a slightly higher register, with the effect of conjuring a strong sense of loss alongside a feeling of gritty determination for the future. When the band perform like this, they are hard to beat. 
Fontaines D.C.'s sophomore album sees the Dublin five piece watch their former musical identities die a hero's death. Although not every track on the LP fully connects with the band's vision of themselves and their new direction, the album's highlights stand up as some of the very best moments the band have ever produced. Although comparisons to Dogrel will inevitably be made, A Hero's Death should ultimately be viewed as a successful, if slightly patchy, portrait of a band refusing to stay rooted to a singular musical landscape. 
Rating: 7/10 
A Hero's Death is available from July 31st 2020 via Partisan Records
---
You Might Also Like
Greatest Hits: Dylan Lucas
Single Review: Maisie Peters – Sad Girl Summer
Single Review: Pillow Queens – Handsome Wife