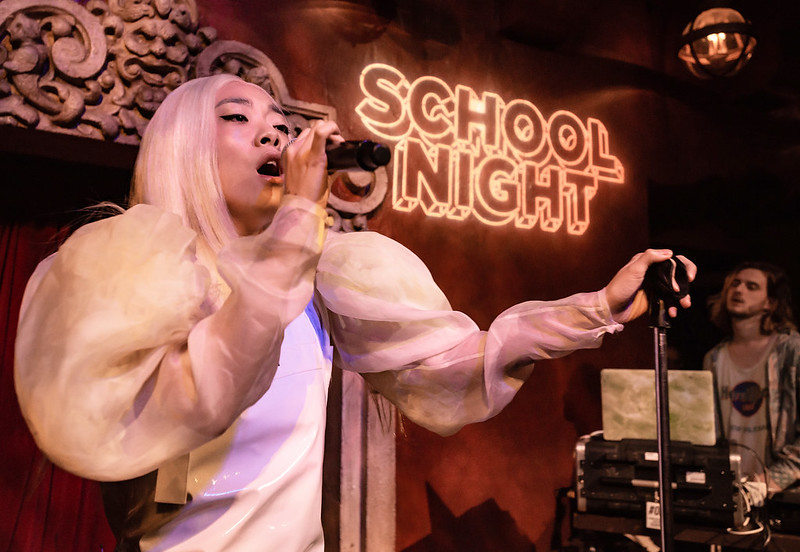 SAWAYAMA is a clever, personal album that comes full circle, Music Critic David Evans writes
Whilst Rina Sawayama's 2017 EP marked a brazen debut, her follow up LP confidently secures her standing as one of the most creative and adept genre blending pop artists of recent years. The 13 tracks showcase an incredible talent for delivering a vast mix of nu-metal and 2000s influenced pop styles all tied together with deceptively eloquent lyrics. Given themes of heritage, family and identity, the eponymous title is a sure fit as SAWAYAMA provides an unfiltered window into an artist confronting her past and society at large.
SAWAYAMA opens with the bombastic and unapologetic 'Dynasty'. Building from a slow bell-tolling, organ backed, ominous proclamation of darkness and suffering, the track dives into a metal head banger as Rina sings of 'breaking the chain' to her parents' pain, encapsulated by their upbringing. Allusions to royalty are a fitting parallel to Rina's rejection of a materially rich yet emotionally dysfunctional family as she boldly decrees that she will 'take the throne this time' and carve her own identity. A powerful manifesto of self-love and development, 'Dynasty' identifies these key themes, which are central to the rest of the album, whilst setting a trend for adventurous pop-metal fusion.
After tackling generational trauma, Rina's focus shifts to capitalism and materialism with the track 'XS', carrying a message which reads as an antithesis to the likes of '7 rings' by Ariana Grande. One of three singles released previous to the album, it's wacky 2000's Britney-esq visuals, depicting an obsessive TV sales channel exploiting alien breast milk, brings home its message in a camp and choreographed way. 'XS' is much more than its presentation however, as the track is seriously well written and produced with its catchy call and response chorus and dramatic verses.
The pop-evanescence crossover Rina touches on in the opening tracks gets dialled up in the brutal 'STFU!'. An answer to micro aggressions perfectly brought to life in the video's stomach churning dialogue, Rina speaks out in the best way possible. Heavy metal verses vent frustrations of being orientalised: 'How come you don't respect me? / Expecting fantasies to be my reality / Why don't you just sit down and …' before a gentle, descending hook brings us into a chorus of 'Shut the fuck up.' The heavy style shift, contrasting the blistering verse with the soft pop hook, really gives the impression of being on the inside of Sawayama's head, hearing an internal monologue when faced with infuriating racial stereotypes. Angry and frustrated, it's a disarming track showcasing a broad vocal range and delivery.
Adding to the ambitious collection of genres, 'Comme Des Garcons' returns to the image focused subject explored on 'XS' but introduces huge house baselines with big club appeal as evident by Pabllo Vittar's excellent official remix. Taking the Japanese designer label's name used in the title quite literally, the track makes a critical assessment of masculine confidence and egoism amidst cosmopolitan references to Shibuya, London and Reno as well as a host of other designers. Like much of the LP, Rina's song writing is complemented by a varied mix of skilled producers. Clarence Clarity's multi-genre influence is a mainstay across the album yet Nicole Morier's pop pedigree, having written for Spears herself, shines through in 'Comme Des Garcons'. 
The album is full of thoughtful pop bangers like the dump-your-boyfriend stadium anthem 'Who's Gonna Save You Now?' and the glittering R&B bop 'Love Me 4 Me' which tips the conventional love song on its head to bring us a Ru-Paul inspired message of self-love. Tracks like the bubblegum-pop 'Paradising' may be a bit sickly for some, yet the fun-filled, nostalgic lookback at teenage relationships and your mum hacking your MSN still makes for an engaging track.
Much of the latter album sees Rina explore much more personal content as she fills out her musical collage. Earnest confessional 'Bad Friend' focuses on neglected relationships and the infallibly catchy 'Tokyo Love Hotel' touches on Rina's own difficult relationship with Japan whilst being angered at its commodification to Western eyes, both adding detail to our picture. Penultimate track 'Chosen Family' pens a touching tribute to the LGBT community and offers a hand of reassurance to fans also struggling to find their way during an important milestone in the album's development.
As the album's closer, 'Snakeskin' answers the original question posed by 'Dynasty'. From 'Breaking the chain' to her inherited trauma, Rina goes from finding new family to shedding much of the pain that her background and identity had brought. The theme of commodification is picked up once more with the clever double-metaphor of shedding the past like skin as well as selling it off like a snakeskin garment to the listener: "Buy my expensive, exclusive, pain wear". Closing the circle, the fadeout features a telling recording of Rina's mother reflecting on what she's learnt from the past 60 years:  'I've realized that now I want to see who I want to see, do what I want to do, be who I want to be.' It is a powerful moment which encapsulates the core themes of self-reliance and independence that's run through the album. 
SAWAYAMA is a portrait of an artist in ascendance. Reflecting on her inner demons and a society which refutes her identity, the LP delivers a profound message of hope, forgiveness and growth, wrapped up in talented musical pop experimentation.  
SAWAYAMA is available now via Dirty Hit
---
You Might Also Like
Redbrick Meets: Frank Turner
A Beginner's Guide To: Chartreuse
Single Review: Live Lounge Allstars – Times Like These