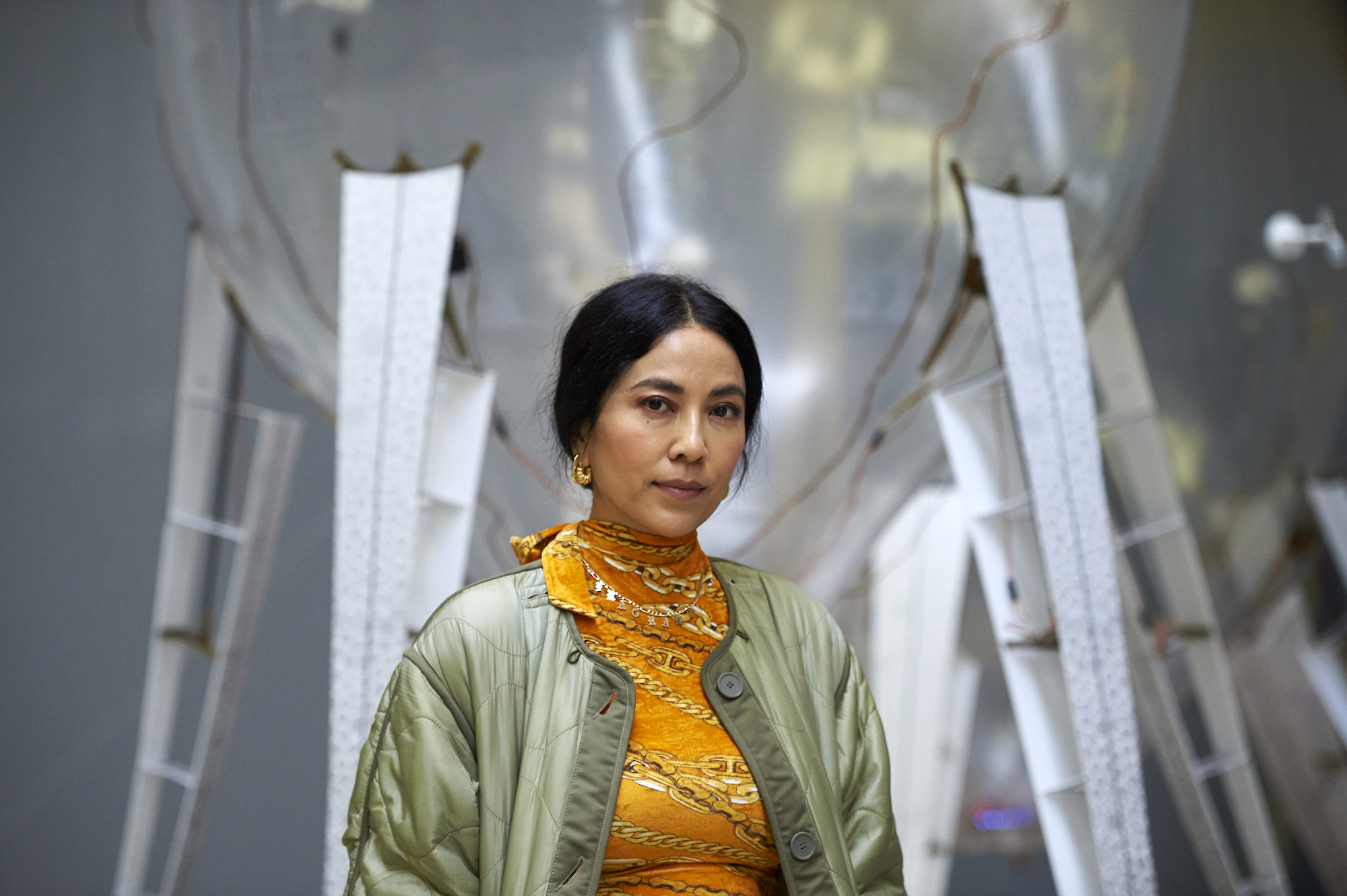 Culture Writer Alfie Moore praises the latest exhibit of the Tate Modern's Turbine Hall and analyses how Ancika Yi finds 'poetic expression' in the intermingling of science and art
Anicka Yi is an artist that first and foremost makes art out of science, keen on finding poetic expression through a practise that can come across as cold and blinkered. In art too she breaks free from preconceived notions, cynical of the idea that artists have to be lone geniuses. She works with a team of assistants in her New York studio and collaborates with a wider network of experts, such as for technical advice or discovering new ideas.
In Love With The World follows a host of previous commissions for the Turbine Hall, the vast hall that visitors first see when they enter the Tate Modern. Machines based on the forms of planula, mushrooms and other species swim in the air above visitors. Their behaviour is determined by sensors set up across the gallery space, which detect changes in the air.
Yi's 'aerobes,' as she refers to the machines, demonstrate her interest in sculpting with invisible scientific phenomena, as opposed to traditional material. The air that visitors inhale and exhale determines the installation, and in turn, the scents produced by the 'aerobes' are taken in by visitors. Most are imagined scents from the Precambrian and Cretaceous eras, but there are also the scents of cholera and the plague.
The 'aerobes' are Yi's take on the future of robotics. Removed from the distorted visions of technology conjured by tech-bro naked emperors, Yi instead envisions technology evolving into the organic world. They become symbiotic with humans and with nature.
Interactivity has been a key feature of previous Turbine Hall commissions. There are artists from previous years who, around the turn of the millennium, were considered to be part of the 'relational aesthetics' movement. Tino Sehgal's These associations, like In Love With The World, relied on visitors to complete the work. Performers cast from local communities would flash mob visitors with dance, acapella singing and (at times confrontational) icebreaker questions. Carsten Höller and Philippe Parreno too dabbled in science and psychology. Parreno's Anywhen consisted of multi-media elements that were controlled by a colony of microorganisms, tucked away in a small room at the end of the hall.
Yet unlike Parreno's helium fish balloons, which had the unintentional comical effect of getting trapped in the ceiling beams, or flying off outside, Yi's project is refined to perfection. You can barely tell how Yi's 'aerobes' move so elegantly, let alone how they stay up in the first place.
The entire project took two years to plan, due in part to the pandemic, time which was not wasted. It is proof of her scientific rigour, and willingness to stand alongside scientists and technicians as an equal. At a time when artists are diminished for not fitting into a perceived future society led by STEM, this holds particular resonance.
---
Enjoyed This? Read More from Culture here!
How Hackney is Celebrating the Windrush Generation through Art
Paula Rego Review: Every Painting a Disturbing Tale
Spotlight On: Fons Americanus by Kara Walker