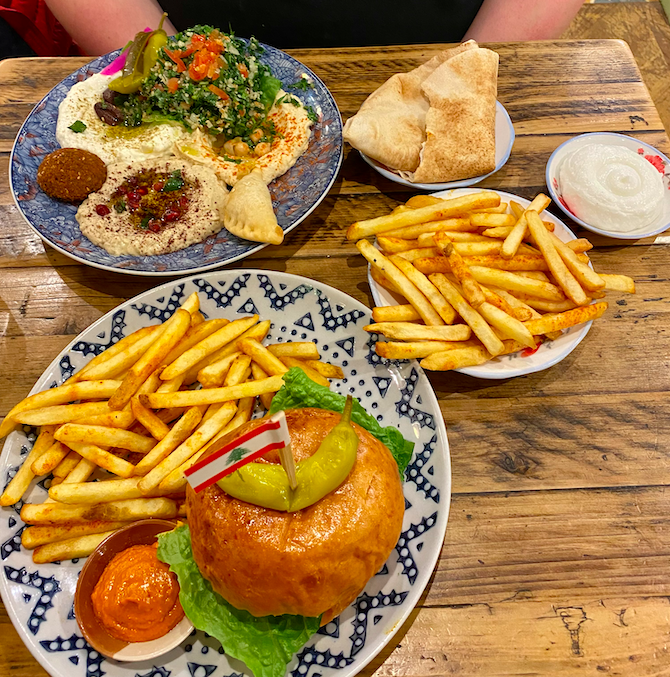 New to Birmingham and wanting to try some new food? Check out our Food&Drink writers recommendations for restaurants and cafes in Selly Oak, City Centre and around Birmingham
Falafel Munch – Kitty Grant
If you ask most people what the best vegan restaurant in Selly Oak is, they will say Vegan Munch. Most people are wrong. While Vegan Munch is great if you're craving meat alternatives, for the sheer quality of the food, it simply cannot match its humble sister, Falafel Munch.
Located on Bristol Road between Hubert and Heeley, walking into Falafel Munch you're greeted by the takeaway's bright, clean interior, and a limited number of options. But that's okay, Falafel Munch essentially does two things: juices, and (unsurprisingly) falafels, and they do them both to perfection.
Once you decide how you want your falafels prepared, in a wrap, as part of a lunch box, or simply alone, you can see the falafels prepared right in front of your eyes. As they scoop the mixture into the fryer you know you're in for a fresh treat, incomparable to anything you could find in a supermarket and cook at home. 
Personally I like to just get the falafels with tahini rather than in a wrap or box. This might sound like a boring option, and is a choice I would not make at a lesser establishment, but I feel it allows the falafels to really be the star of the show. Once you bite into the crispy ball of Middle Eastern flavour dipped in the smooth tahini, you know anything more would take away from the experience.
Aside from the titular falafels, Falafel Munch offers a wide selection of juices and smoothies, which are also made right in front of your eyes. My personal favourite is Zing Time, a refreshing mix of apple, ginger, and lime. 
Location: Selly Oak, Bristol Road
LA-POP! – Zenna Hussain
A truly instagrammable spot and only a fifteen-minute walk from the vale, LA-POP! offers a variety of sweet treats, including gelato lollies, chocolate-covered strawberries and frozen beverages. It advertises itself as a lolly and coffee bar, but the true lure of the place is the customisable, handcrafted gelato lollies. A gelato (or sorbet) base ranging from milk, chocolate and kiwi, to green grape, strawberry mojito and more is dipped into your choice of chocolate, topped and drizzled to make a messy, yet delicious treat. The pastel-perfect lollipop is really customised for your tastes, with over 700 different combinations, and will make your taste buds and Instagram 'pop!'
It's a short walk from the Vale and reasonably priced, so it's ideal for a quick break from university study or a last-minute meet up with a buddy. The environment is casual and laid-back, and the costs are reasonable, despite the originality of the ice cream pop to chocolate coated cheesecakes!. It also caters to everyone, including vegan selections as well as a less messy children's version.
An extensive menu of all things sweet, La-Pop is a Birmingham tradition, a place you will almost surely miss when you graduate, and in my opinion, should be a university classic, alongside Joe's.
Location: Edgbaston
Kafenion – Polly Watton
Located amongst the Edwardian style buildings on Bournville high street, independent café 'Kafenion' is the perfect place to grab food with friends or to take yourself on a study date. The outdoor seating area and secret garden have been my preferred areas to read, enjoy my iced latte, and watch the world go by over the summer months. However, as the weather starts to get cold again, the interior is comforting and homely. With fairy lights strewn up in the windows, houseplants, and an eclectic collection of lamps – Kafenion is a student's dream. 
The drinks menu is wide-ranging and boasts unique house specials: Matcha lattes, homemade spiced chai lattes and a 'Turmeric Ginger Coco Latte'. Not only is the coffee delicious, but the Mediterranean inspired menu is impressive. Their 'All Day Brunch' menu ranges from 'Greek Fried Eggs' and smoked salmon sourdough, to 'Belgian Waffles' and cinnamon brioche 'Greek Toast.' The vegan options are also plentiful, offering 'Avocado Smash' with pomegranate, 'Vegan Sausage Brioche' and even a vegan fry up. 
If brunch isn't taking your fancy, pick from the 'Kafenion classics' menu and enjoy their homemade 'Fasolatha Soup', 'Lemon Halloumi wrap', spinach and feta pie, or their seemingly very popular 'Chicken Souvlaki.' 
Food prices are not the cheapest, but reasonable, ranging from £4.50 to £11, and the drink prices are very average – £3.30 for a latte. The staff are friendly and accommodating, the atmosphere is great and the food and drink options endless. 
Whether you visit in the summer to sit in their beautifully calm secret garden, on a rainy autumn day to get some work done inside the café, or on a brunch trip with friends – Kafenion is truly one of the best student cafes in Birmingham.  
Location: Bourneville 
Dishoom – Halima Ahad
Dishoom is the place to be this semester as the food and atmosphere brings out everything a student would want in a restaurant. The restaurant is cosy with a hint of excitement and it is bustling with people who are eager to try the food which is on offer. It is located in Chamberlain Square where the old library used to be, so it is perfect if you would like a busy atmosphere paired with the fantastic food.
What is even better is the menus at Dishoom cater to every dietary need, including vegan and gluten free, as well as the menu being halal catering to every student's needs. My personal favourites on the menu include starters such as the Chilli Chicken, a sharing dish which comes with succulent chicken paired with the crispy coating of garlic, ginger and soy further paired with the spicy kick of chilli. My favourite on the mains include the Chicken Ruby, tender chicken in a rich, silky makhani sauce, a curry certainly filled with spice and flavour. I would pair both of these dishes with sides of plain naan and Gunpowder Potatoes, potatoes which are grilled and broken apart with butter, aromatic seeds and green herbs. 
The drinks at Dishoom are unique, not like the usual Coke or Sprite you would find at every other restaurant. My favourite drink would be Thums Up, a rendition of Coca Cola, and according to the menu Bombay's favourite cola. If I could pick a place to recommend to any fresher this semester, it would be Dishoom, for its fresh atmosphere and remarkable food which instantly melts in your mouth. 
Location: Chamberlain Square, City Centre

Wingstop – Halima Ahad
Wingstop is also another ultimate student place this semester. The atmosphere of the restaurant is very youthful and modern. The restaurant is primarily based on the idea of wings and although I did not have them on my first visit I am definitely going again to try them. The menus cater to halal students which is definitely a bonus if you are on a visit to town and want to pop in for a quick lunch whilst shopping.
I tried the 24 piece boneless platter in which you can choose up to three flavours; I went for the Lemon Pepper (zesty lemon with cracked black pepper which is described as the ultimate gateway flavour), Original (their original flavour, described full of heat and tang) and Hickory Smoked BBQ (described as bold, smoky, sweet and rich). These versatile flavours placed together created a delicious meal and one that was definitely hard to forget.
The drinks at Wingstop are typical drinks that you would find in any restaurant, including Diet Coke and Fanta, and they are also refillable which is a bonus when it comes to a large meal like the 24 piece boneless platter. I would choose Wingstop to recommend to any fresher for its vigorous atmosphere and tasty food.
Location: Bullring, City Centre
Ed's Easy Diner – Caitlyn McGraw
Fancy a change from your usual hangover cure? With 3 locations in Birmingham including one restaurant overlooking the iconic canals, Ed's Easy Diner is a 1950s-themed diner offering All Day Breakfast, alongside classic American dishes perfect for a casual meal with friends.
The neon lights, black and white checked floors and red leather booths create a rock'n'roll atmosphere right here in Brum. Take your pick from classic bacon, sausage, eggs and all the sides served in giant American portions, or classic fried chicken and waffles, all cooked in the open kitchen in traditional diner fashion. If you're not in the mood for breakfast, Ed's Easy Diner has an extensive menu of signature U.S. dishes, from succulent burgers to loaded hot dogs, starting at £7. There's also a vegetarian version of the breakfast as well as meat-free burgers and hot dogs, all priced around £8. An array of deep-fried appetisers and spicy sides are available to customise your meal including waffle fries, mac n cheese and chicken wings.
And what's more American than a milkshake? Ed's 'World Famous Shakes' are a must-try with flavours including chocolate, Oreo and banana for £5, or pricier Mud Pie and Strawberry Glaze 'Freak Shakes' for those with an undeniable sweet tooth. If you prefer not to drink your dessert, Ed's serves cakes, brownies and waffles if you've got room for more. Secret tip – if you're at the Bullring branch, head to Lola's Cupcakes for a handcrafted sweet treat instead. 
So whether you stroll to Selly Oak or catch a bus to the City Centre, head to Ed's Easy Diner for an alternative fry up and delightful dessert in a retro location that takes you back in time and across the pond to 1950s America. 
Location: Sainsbury's Selly Oak Shopping Park, Selfridges, and Utilita Arena
PERIOS – Caitlyn McGraw
PERIOS is a must-visit Tex-Mex restaurant chain for Freshers, with wide-ranging choice and Student Loan-friendly prices in an excellent location, Brindley Place. Rated the best Mexican restaurant in Brum on TripAdvisor, PERIOS is nestled amongst a variety of restaurants offering cuisines from around the world and alongside Birmingham's iconic canals. Whether visiting during the day for bottomless brunch or dining out with friends, take a quick trip into the City Centre by train for a vibrant dining experience rooted in traditional Mexican and southern Texan culture. Every Saturday night, PERIOS even hosts Latino DJ sets with a special cocktail menu and a unique fiesta partying experience. 
Starters, desserts and sides range from £3-6, whilst main dishes from PERIOS' impressive menu including tacos, burritos, fajitas and nachos start at £7. In addition, burgers, wraps and chicken wings can be customised, with a range of 7 flavours to choose from including 'BBQ Fiesta' and 'Habanero Chero'. Vegetarian and Vegan adaptations of burritos, tacos and nachos are also available to ensure there is something for everyone to try, as well as a modest dessert menu filled with delicious, traditional flavours, priced around £5. 
The restaurant's impressive value-for-money deals include a lunch menu (a main and side for £9.95), bottomless brunch everyday with a Latino twist, and best of all, an amazing 2 for 1 cocktail deal from PERIOS' extensive cocktail menu filled with an array of sweet, fruity and sour Mexican drinks priced around £10. The frozen margaritas and daiquiris are recommended and can be ordered as jugs or with shots, as well as non-alcoholic drinks available to enjoy alongside classic Tex-Mex dishes. 
Explore Birmingham's famous waterways and stop off for a quick bite you won't long forget, in a unique location guaranteed to give you a fiesta feeling. 
Location: Brindley Place
Vietnamese Street Kitchen – Lucy Parry
The Vietnamese Street Kitchen is a great choice for a filling lunch or dinner with friends. It is an independent restaurant with two locations, one in the Bullring and the other in Resorts World. The interior is bright and colourful. The serving staff are very helpful and knowledgeable.
They cater for a range of dietary requirements, including gluten free, vegan and halal. Their lunch menu is available Monday to Friday 12-4 pm: you can get two courses for £11.99 or three courses for £13.99. They have a large cocktail and mocktail menu in which you can order two cocktails for £12.00. I would recommend the Saigon Sunset mocktail. 
The menu has lots of choices, so whether you like your food spicy or sweet, there will be something for you. I will warn you that the bowls of pho are very large, so make sure you go in with an empty stomach! One of their signature dishes is the steamed bao buns, which can be filled with a range of meats or tofu. Personally I love the roast pork filling: the meat is tender and blends perfectly with the sweet hoisin sauce.
@Cara-Louise Scott
Location: Bullring and Resorts World
Comptoir Libanais – Darcy Crocker
Comptoir Libanais is a must visit Lebanese restaurant located in the heart of Birmingham. Located on the top floor of Grand Central, Comptoir offers incredible Lebanese food and a colourful dining experience to all of its customers. And the best news of all, they have some great deals and student offers available!
Upon arrival at Comptoir you are instantly greeted by uplifting polychromatic interiors that give a thoughtful nod to the restaurant's Middle Eastern roots. If it's something that you look for, this place has great Instagram potential. 
There is nearly always a member of staff waiting to greet you, hang up any coats or bags you may have and warmly welcome you to this little taste of the Middle East.
The food at Comptoir never falls short of sensational. Founder Tony Kitous says his main focus for the restaurant was to 'ensure guests fall in love with Middle Eastern food and its bold flavours.' This sentiment certainly translates in Comptoir's menu and allows diners to indulge in wholesome, hearty, and freshly prepared food. 
A personal favourite has to be the Lamb Kofta Burger. A succulent lamb kofta topped with melting halloumi, Harissa sauce and pickled cucumber, all between two soft sesame seed buns. If you're dining with friends, the Mezze Platter is a great bonding experience – a combination of baba ghanouj, falafel, fresh flatbread, pickles and hummus, all served on one large plate. It's quite possibly the ultimate crowd pleaser. A side of their Batata Harra to accompany is also never a bad decision. 
The great news is that you can treat yourself to a Comptoir visit for just £9.95 with their student deal. For under a tenner, you can indulge in either a Chicken Taouk or Falafel wrap with a healthy Comptoir salad and a soft drink. Or alternatively, receive a 10% discount on A La Carte with your student card. Extra saving can also be made with downloading their app, where you can receive £5 off your first purchase. 
So, whether it's a quick bite before you catch the train or your next flat meal out, be sure to check out Comptoir Libanais. You definitely won't be disappointed.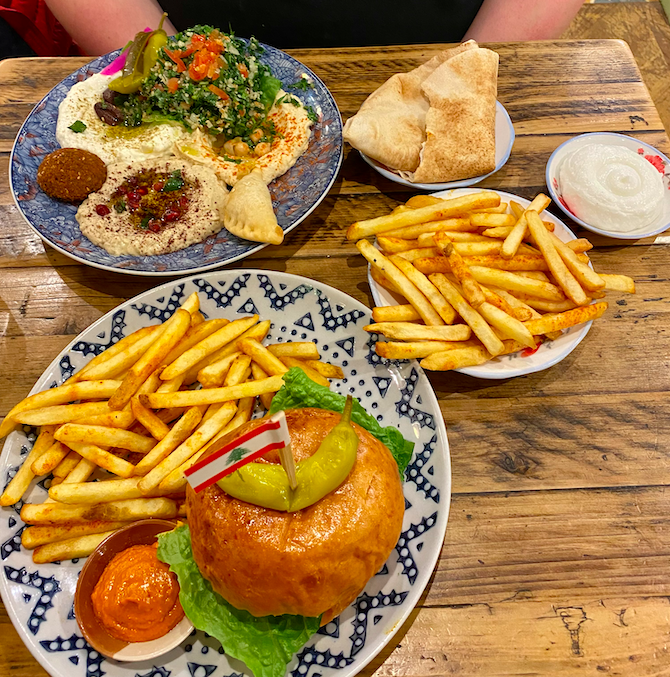 @Darcy Crocker
Location: Grand Central
---
Hungry for more? Check out these other reviews and food guides:
Restaurant Review: Jungle Bird