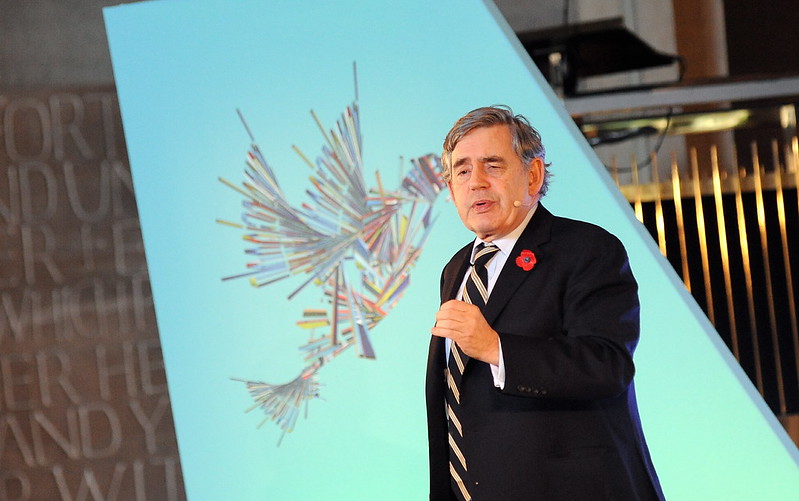 Culture Editor Emily Gulbis considers Gordon Brown's suggestion of how to restore British faith in the government, arguing that whilst an enquiry into governmental failings during the pandemic is vital, it may not go far enough to restore unity
What effect has the government's handling of the coronavirus pandemic had on their image and popularity? According to Gordon Brown, initial support for Johnson has been ruined by broken trust with the public, which threatens Westminster's command in the North of England and Scotland. This comes following a seemingly endless series of government failures such as U-turns, an ineffective track and trace system, and wasted PPE contracts. In order to restore trust in politicians and prevent divisions, Brown has rightly called on Boris Johnson to form a commission to review UK governing because the high death rate and corrupt government dealings have led many to lose faith in Johnson's leadership. Without investigation, these government errors could have greater repercussions in the future, such as the public refusing to abide by lockdown restrictions because they do not trust the decisions made by Westminster.
Brown is currently the United Nations Special Envoy for Global Education and previously served as the UK'S Prime Minister from 2007 to 2010. Yet, the role of Brown could potentially expand, as Keir Starmer's supporters urge him to employ Brown to lead the case for Scotland remaining part of the United Kingdom. The break-up of the United Kingdom, already under threat from Johnson's feeble Brexit deal, has become more likely as the Prime Minister continues to bungle the handling of this pandemic. The incredibly shocking UK death toll, that has now exceeded 100,000, emphasises the incompetence of the government and inevitably puts the public's faith in its leaders under threat. 
In order to restore public trust in the government, it seems to me that the commission that Gordon Brown proposes should start by questioning why so many errors have been made with the management of this pandemic. The first failure that must be scrutinised is the government's stream of U-turns, that have doubtlessly threatened the welfare of many. For instance, in March 2020, Johnson chose to end the mass testing programme, rejecting advice from the World Health Organisation, and instead only allowing tests for health workers. Despite the obvious success of mass testing in South Korea and Japan, it was not until the end of April that Matt Hancock introduced the target of 100,000 tests per day, and by then, the death toll was already woefully high, at 27,300. 
To disregard reputable advice from the WHO, and to take so long to make this U-turn in all likelihood contributed to the rapid spread of the virus in the early months of the pandemic. An investigation into government management should question why Westminster was so slow to put in place preventative measures and explore the impact this delay had on the rapid spread of the virus. By scrutinising and demanding reform to the way the government manages national emergencies, such as this pandemic, it may be possible to restore a public willingness to follow government guidelines and reduce scepticism of Westminster's decisions. 
Most important to investigate, is the arguably corrupt government contract with investment firm Ayenda Capital, which resulted in a huge supply of inadequate PPE. The deal was worth £252 million, yet £150 million of the order was deemed unusable by the NHS. Ayanda Capital specialises in 'currency trading, offshore property, private equity and trade financing,' all of which has little to do with manufacturing PPE equipment. This erroneous investment was first proposed by Andrew Mills, an unpaid adviser to international trade secretary Liz Truss and to the UK Board of Trade. Mills is also a senior adviser to Ayanda Capital, which is owned by his business associate, although he alleges his position on Truss's Board of Trade did not influence this contract. At a time when PPE was urgently needed, this unusable equipment was a crucial loss for the NHS, particularly when this contract was secured because it promised a mass quantity within a short time. 
This blatant example of misconduct within Westminster, which has so far gone unpunished, justifies any public fears that senior business figures with government connections have taken advantage of the pandemic for financial gains. A commission must, without question, investigate government spending during the pandemic, and hold to account all those who have used the disruption caused by COVID-19 to make profit. In addition, this enquiry would crucially demonstrate that government leaders will not permit fraudulent dealings to take place, moving towards a greater transparency between Westminster and the public.
As a result of this government's seeming misconduct and lack of accountability, divisions have arisen across Britain, which Brown laments. This seems particularly disheartening since the pandemic at first gave rise to a strong sense of unity.  The government's poor leadership has led to disagreements between Westminster and local authorities, such as Manchester mayor Andy Burnham protesting the stricter Covid restrictions that for some time were only put in place in the North of England. In addition, the SNP are now demanding a second independence referendum as opinion polls show an increase in support for separation from Westminster after Nicola Sturgeon's impressive and cautious handling of the pandemic. Rather, Brown argues that we 'all should be pulling together and intensifying co-operation across the UK', and so the government should take action to restore trust by setting up a commission. 
On top of this, despite hope that we are now moving towards the end of the pandemic following the success of the Pfizer, Moderna and Oxford University vaccines, the coronavirus pandemic is far from over. Indeed, it is likely that restrictions must stay in place for sometime more. However, with a lack of faith in government decisions, fewer people may be willing to follow these rules. In order to prevent public disregard for government rules and guidelines, then, I believe it to be vital that this commission takes place. It will show the government is willing to subject itself to fair investigation and that it is prepared to be accountable for, and to justify its decisions made during the pandemic.
An investigation into government errors and corrupt dealings would doubtless be an important step in creating transparency and establishing public faith in its leaders. However, I am doubtful about Gordon Brown's hope that it will also heal divisions between both the North and South of England, as well as with Scotland. Sadly, the pandemic has plainly highlighted the London-centric focus of our government, and it is unlikely any investigation could show justification for this. It is hard to imagine what the United Kingdom will look like once this pandemic is over, but without question there will be much to rethink and rebuild.
---
More from Comment on politics:
Why Andrew Yang Should Be the Next Mayor of New York City
Tweets, Turmoil and Far too Many Tirades: What Will Trump's Legacy Be?