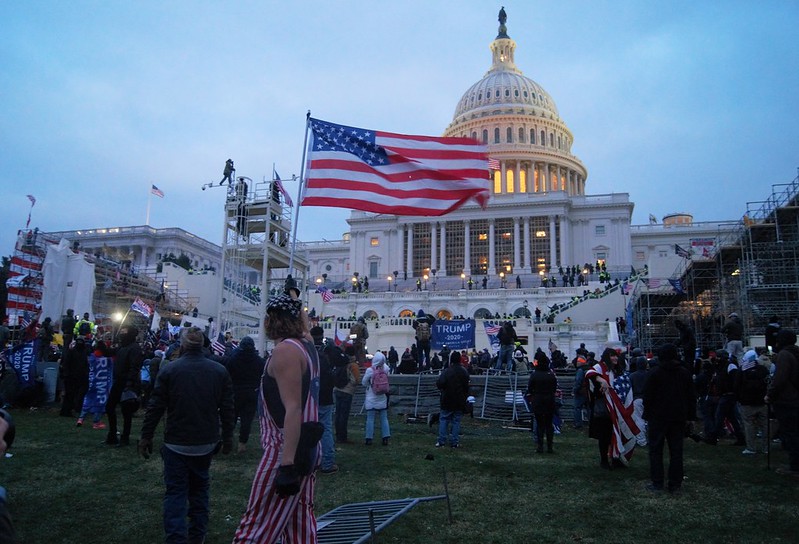 Comment Writer Miren Sowden assesses what Donald Trump's legacy might look like following his ban from Twitter, arguing that politicians must pay more attention to regulating social media companies to prevent further chaos and division
Donald Trump, a man incapable of bothering with the finer detail needed to run the United States opted for his presidency to be told through the simplistic medium of 280 characters. Bypassing the press and going straight to Twitter, Trump's tweets fired officials, extended a hand to dictators and more recently incited violence at the heart of America's democracy. Twitter was his mouthpiece for more than a decade, and now he has been permanently banned. 
The 2020 American Election became 2018's Love Island – far too long, watched by the entire world, and promising to plunge the loser into semi-irrelevance. Questions of Trump's relevance post his presidency emerged before his loss was officially confirmed. In conversations with course-mates and housemates, I predicted that once he left office, his Twitter account would no longer be protected by his world leader status and, unable to conform to Twitter's guidelines, he would be promptly banned and his mouthpiece severed. In recent days this prediction has come true, albeit before he even left office. 
As ridiculous as it sounds, on Wednesday 6th January, the President of the United States attended a rally in Washington DC that opposed the 2020 election result and all hell broke loose. His words incited violent riots at the U.S. Capitol building as supporters of Trumpism staged a self-proclaimed 'revolution' in an attempt to stop the election result being ratified by Congress and, more bizarrely, reinstate a sitting president. After years of social media giants being criticised for not censoring Trump's damaging words, Twitter suspended Trump for 12 hours and demanded he delete the tweets that support the violence. 48 hours later this suspension turned to permanent ban.
It was a whirlwind few days that started with the historic run-off election in Georgia that swung the Senate to a Democrat majority and ended with Twitter finally taking the steps to censor one of the most incendiary men on the planet. But, while I am not one to adopt a cynical view, the fact that it has taken this long for Twitter to even temporarily suspend Trump over the content of his tweets reveals their questionable morals. 
The most obvious difference between the action taken by Twitter in this instance and the inaction taken during the Black Lives Matter protests in June 2020 when Trump tweeted 'when the looting starts the shooting starts', is that his days in office are numbered and his authority diminishing by the hour. Could this censoring of hate speech actually be Twitter's realisation that they need to play ball with the President-elect Joe Biden who has been vocal about how social media has not done enough to stop such hate circulating online? Could their realisation of possible substantive legislative policy on content regulations from the upcoming Biden administration be behind their bombshell ban in a last ditch attempt to show that they actually can regulate hate speech?
As Twitter has sat back and enjoyed the many pats on the back it has received since their shock ban, the political consequences of private companies having the power to silence a sitting U.S. President has to be addressed. The German Chancellor (and all round great politician proving that women really are more capable) Angela Merkel, has called the move 'problematic' stating that while she agrees with intervening in the freedom of expression when necessary, it's 'limits should be defined by a legislator.' Twitter's decision is therefore incredibly symbolic in showing accountability for such hateful language but the precedent that could be set in allowing private companies to amass the ability to silence world leaders needs to be addressed and rectified. Only time will tell how the Biden administration deals with regulatory policy for social media and tech companies but if the past few days have proved anything, more, not less government legislation is needed.
What next for Trump? Now that his 280 character mouthpiece that amassed 88 million followers has gone, his main outlet for pushing agendas and spewing criticism of the 'liberal media' has also vanished. This calls into question how and where he can now circulate Trumpism propaganda, and more importantly for him, where he can reach his base. The mainstream media is largely against him, with the exception of some Fox news broadcasters; other social media platforms that his base used, such as Parler, have been removed from Apple's and Google's Stores. While Trump and his loyal base can keep finding new social media platforms promoting 'free speech', these moves in recent days by tech giants suggests that access to these platforms will continue to be restricted. 
In terms of politics, impeachment proceedings have been officially started by House Leader Nancy Pelosi. If Trump was formally impeached by both the House and the Senate he would not be able to run for any future office and his political influence diminished. And more importantly, he would be the first president ever to be impeached twice so how's that for a legacy? If anything has been proven over the last four years of the Trump presidency, it is that people have very short memories and even shorter attention spans. And so with Trump banned from Twitter and set to be banned from future public office, his relevance within both the mainstream media and politics will hopefully be short-lived.
---
For more on American Politics from Comment:
We Must Look to the Past to Explain the Extreme Racial Injustices in American Healthcare Suffered by African Americans
'From Very Difficult to Difficult': Biden's Quest 'To Heal The Soul of America' Will Take More Than Kind Words