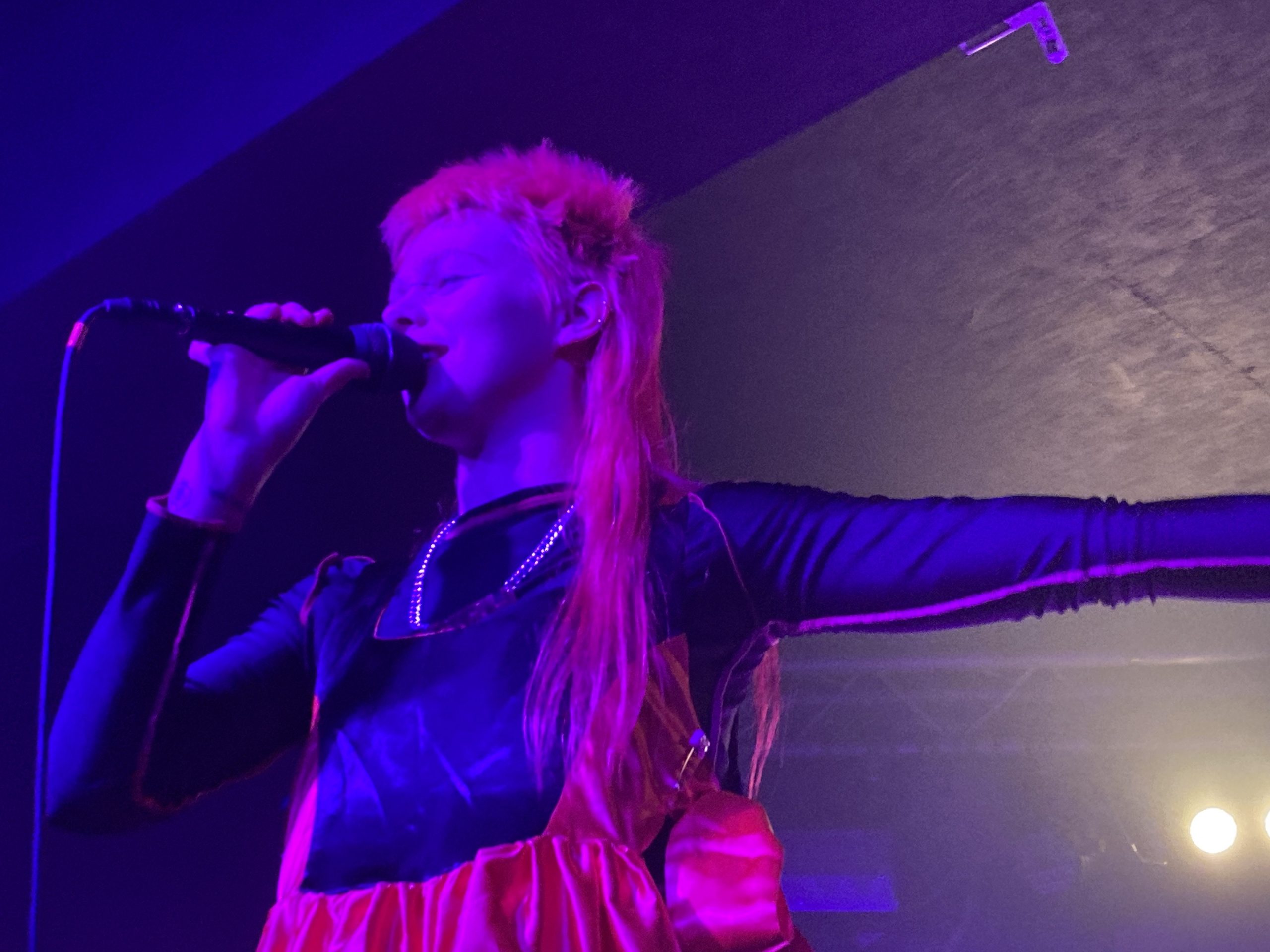 Music Editor Ellie Harris review's GIRLI's live show, finding it a powerful performance of self-expression
Having never been to the Castle & Falcon before, I was looking forward to my first show there – the indominable GIRLI. The venue was incredibly intimate, with only about 150 people in attendance, and it was easy to get a spot right by the stage. Front row meant that we were about to get up close and personal, and I was so excited. The stage was lit up in hot pink, GIRLI's signature colour, whilst classic hits drifted across through the sound-system. Anyone who says 'Livin' la Vida Loca' isn't the perfect song to get you in the mood for a gig is a liar.
The first of two support acts was YNES, an alt-rock duo with strong brit-pop influences and more than a dash of punk. Very rarely do I actively seek out a support band's music, but YNES has gone straight onto my playlist, winning me over with their electric guitar riffs and furious drumming. Singing about identity, lockdown, and the pressure to grow up and act your age, YNES had plenty to say and they were not afraid to shout about it.
Next up was July Jones, whose set focused on the importance of intersectionality. Through her experimental pop sound, which was at times reminiscent of Doja Cat, she emphasised the need for inclusion within both the music and the wider world, drawing on her experiences as a queer immigrant. Her energy was infallible throughout the set, bouncing around the stage and interacting with the crowd, who responded with large amounts of enthusiasm.
Finally, it was time for GIRLI, real name Milly Toomey, the 23-year-old rising star from London. Bursting onto the stage in an outfit that would not have looked out of place in Monster High, the atmosphere was electrified as 'Day Month Second' began playing. Taken from her debut album, Odd One Out, this was an immediate crowd pleaser, followed up by 'Hasbeen' and 'Deal With It,' which also went down a treat. Accompanied on stage by a back-up singer, the vocals were consistently strong across the gig, with plenty of support from the fans.
During the show, GIRLI demonstrated a strong rapport with the crowd, frequently stopping to interact with the audience and ask questions. It was refreshing to see an artist who so clearly cared about their fanbase, with the small venue allowing for genuine connection. Opening up about her struggles with body dysmorphia, 'I Don't Like Myself' and 'Dysmorphia' were especially powerful, giving us an insight into the weight and emotion behind the songs.
GIRLI is known for her defiant lyrics and more defiant personality. This was evident in 'Hot Mess,' where rap and hyper-pop combine into a feminist anthem about being your authentic self, no matter how people try to rein you in. 'I'm messy as a boy and I don't give a f**k,' was the anthem for the evening, with the crowd embracing individuality just as much as GIRLI herself. Dancing badly but clearly having fun, her bubbly mood was infectious and I could not stop smiling throughout the gig.
Alongside 'Dysmorphia' and 'I Don't Like Myself,' GIRLI also performed two more songs from her Damsel in Distress EP, promoting the new release in the best way possible. 'Ruthless' was excellent live, adding renewed anger to the break-up anthem and leading to a call and response interaction with the crowd. 'More Than A Friend' has recently blown up and for good reason. This track closed the show and was an alt-pop celebration of queer sexuality, as well as an all-round bop, that left me wanting to hear more. Her near undefinable music style combined with meaningful but witty lyrics have cemented my status as a fan. Next time GIRLI is in town, I will definitely be going to the show.
---
You May Also Like:
Live Review: Frank Carter and the Rattlesnakes