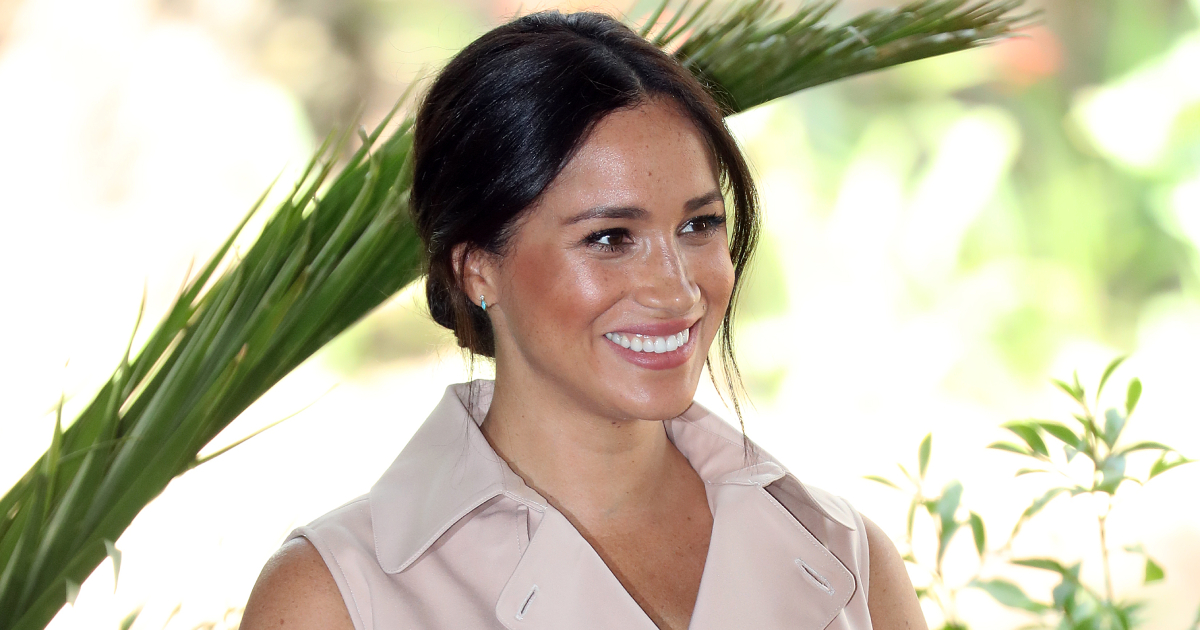 Life&Style's Emma Curzon discusses Meghan Markle's empowering speech at the 2020 Girl Up Leadership Summit
In one of her first ever public engagements since she and Prince Harry made the decision to step back from their official roles as senior members of the royal family, Duchess of Sussex Meghan Markle earned widespread praise for her keynote speech at an event purposed to inspire and empower girls around the world.
The Girl Up Leadership Summit, an annual event which this year was live-streamed to attendees due to risks posed by the Covid-19 pandemic, is essentially one of the world's largest youth-friendly feminist gatherings. Its aim is to celebrate international leaders, activists and celebrities who have made significant contributions in the fight for gender equality, whilst inspiring young people. It is hoped that the young attendees, whose ages ranged from 13 to 22, will subsequently feel encouraged and empowered to raise their voices and with them, awareness for feminist causes. Alongside Markle, this year's 'special guests' included former First Lady Michelle Obama, actress Jameela Jamil and human rights activist Nadia Murad. The latter won the Nobel Peace Prize in 2018 with Denis Mukwege in recognition of their efforts to end the use of sexual violence- of which Murad is herself a survivor- as a weapon in armed conflict.
Girl Up, however, is far more than a single annual event. It is a campaign that was launched in 2010 by the United Nations Foundation to support UN agencies that focus on helping and empowering adolescent girls. Members- who are all welcome regardless of their gender identity- can join as a founder or member of a Girl Up 'Club,' as an independent 'Young Professional' or 'Changemaker.' Once registered, they are granted access to 'exclusive resources' and are able to 'connect with other people passionate about Girl Up'. It is portrayed by the organisation's Leadership Development Programmes as a sort of feminist finishing school, training its (predominantly female) members in the arts of advocacy, fundraising, organisation and storytelling- for example through writing, photography or social media. Any funds raised by Girl Up 'Clubs' or 'changemakers', whether those proceeds come from a bake sale, a raffle, a half-marathon or anything else- go towards UN programmes. These are run by larger organisations such as UNICEF and UN Women, and prioritise the increasing of adolescent girls' access to education, healthcare, and social and economic opportunities. The 2020 Girl Up Leadership Summit has been its biggest to date, with close to 40,000 attendees tuning in from 172 countries, and Megan Markle's speech appears to have been one of its most popular fixtures. At the moment of writing this, Markle's 'special message' has 137,385 views on Instagram (compared to 42,486 for Michelle Obama's speech).
Markle was for the most part widely praised for her speech, with women's lifestyle website PopSugar describing it as 'empowering' and declaring that it 'should be on a billboard ASAP'. Discussing the work of Girl Up members around the world, the Duchess commended her virtual audience, for 'already [having] done so much and [making] so many people's lives better.' She then stressed that 'the moment we are living through right now asks all of us to do more. It's a moment where your voices, and your action, have never been more urgently needed.' She then elaborated on this need for further action, saying, 'Believing in true equality is not enough — it's going to take more than belief. We have to work for it every day, even when it's hard and even when it makes others feel uneasy.' This was followed by her underlining the importance of allyship within activism, stating that 'We have to speak up for ourselves and we have to speak out for others who struggle to be heard.' She concluded by urging her audience to 'continue to honour the conviction and compassion that's awoken within you. I will be cheering you on, so will my husband, so will Archie, as you all continue marching, advocating, and leading the way forward.'
Markle's clear ease with and suitability for her role in the Leadership Summit further suggests that philanthropy, with perhaps a touch of activism, is and will continue to be a non-negotiable part of her public role following her and her husband's relinquishment of their monarchy-related duties. Such endeavours though, are nothing new for Markle who, prior to her marriage, coupled her acting career with outspoken support for various social causes including gender equality, notably with her short-lived lifestyle website The Tig which regularly profiled inspirational women. As a couple Meghan and Harry have regularly participated in charitable activities, in April announcing plans to develop a charitable foundation named Archewell, partially as a homage to their son. Likewise their first Instagram post following the infamous announcement this year documented their visit to the Hubb Community Kitchen– a North Kensington-based collective started by local women affected by the Grenfell Tower fire.
That media coverage of the Leadership Summit would focus on Markle's participation was inevitable. Adored by some media outlets and reviled, often with racist undertones, by others, she and her husband remain nonetheless a number one topic for gossip, especially among publications looking to generate guaranteed clicks and ad revenue. So it's no surprise that the Duchess' anticipated attendance undoubtedly intensified the excitement surrounding the summit this year. This further shows us the considerable amount of visibility and influence that Markle holds, boding well for any organization she chooses to lend her support. In the weeks and months following Girl Up's most prominent event, however, it remains to be seen whether interest in Markle's speech will translate into interest in the organisation's activities and goals. If this is the case, the long-term effects on its image and activities are likely to be positive.
Like this article? We think you'll love these:
The Visuals that Elevated the Video: Fashion in Music Videos
Spotlight On: Living With Vagisimus