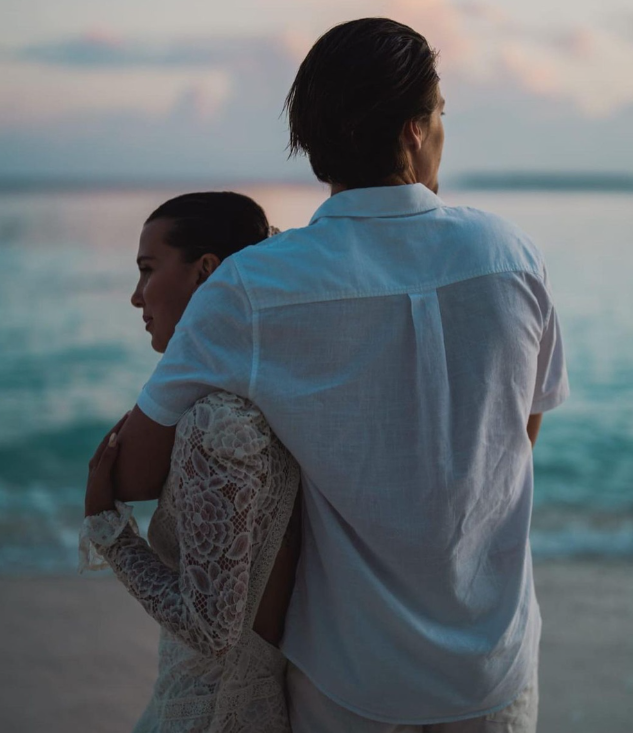 Digital Editor Cara-Louise Scott discusses the criticism surrounding Millie Bobby Brown's engagement, and uses her own experiences to dismiss age related concerns
Millie Bobby Brown, most known for starring in Stranger Things and Enola Holmes, has recently got engaged to Jon Bon Jovi's son, Jake Bongiovi. The 19-year-old actress shared a photo on Instagram of her fiance down on one knee, and a diamond ring on her finger; the photo was captioned with Taylor Swift lyrics: "I've loved you three summers now, honey, I want 'em all."
Despite the fact that the couple are clearly very much in love and that Brown is above the legal age to get married, people on social media have still been criticising the couple for their young age. The post 'sparked fierce online debate about the appropriate age for a modern- day marriage.' The engagement should be congratulated, and while many people did, the couple were also faced with people tweeting #She's19 and cautioning her to not get married and that "this is absolutely not going to last."
Other celebrities have also gotten engaged young; this isn't the first instance. Sophie Turner got engaged at 21 to Joe Jonas. David and Victoria Beckham were also wed fairly young, as well as Kelly Ripa and Mark Consuelos. But since Brown's engagement, people have been sharing their stories of getting married too young and then becoming a divorcee, with some claiming, alongside some 'statistics', that you don't know how you feel when you're that young or what you're doing with your life at 19 – that you're just going to end up divorced.
However, I very much disagree with this. As someone who also got engaged at 19, I can say for certain that age, when it comes to finding your 'person', really does not matter. I met my fiancé when I was 18 (he was also 18) during the first lockdown (the only good thing to come out of the pandemic) and we met shortly after the restrictions eased in the early summer and began dating. When I went off to university just a few months later, we managed to survive as a long-distance couple (and still are now!). 7 months on from when we first became a couple, I was living with him during the early 2021 lockdown and he proposed to me on Valentine's day. Luckily for us, our immediate family could see we were madly in love and they accepted it, but there were a few people that were surprised when we told them, given that we had both only just turned 19 and I was still at university. And some were more surprised at the fact we hadn't been together 'that long'.
But commitment doesn't start at a certain age; you don't have to be nearing your 30's before you commit and you certainly don't have to be living together or having finished university either. We aren't getting married until next year, so for some couples, like us, and maybe like Brown and Bongiovi, a long engagement before marriage is ideal. Some people may be 25 when they feel like 'I want to marry this person', and for others, like myself, we are 19, and are not going to end up in divorce. 19 can be a mature age and for many of us, we very much know what we are doing with our life and how we feel – although, this isn't the case for everyone, understandably.
Young people are always being judged for the way they feel and what they're doing with their life; anything that puts you outside the 'conventional' box of that age ends in criticism. Social media criticism is unhelpful; I don't see Brown calling off the engagement because robots on Twitter told her she's going to end up divorced. But it is still harmful to the degree that too many people judge others on having unconventional love stories. Not everyone is going to be the same age when they get engaged, and the same applies with marriage, and having children too. We must stop judging others for the way that they love – being engaged young just fuels me with more commitment at where my life is heading, and I feel lucky I have found the 'one'. And I am sure others, including celebrities, feel the same.
---
Read More From Life&Style:
The Political Runway: Sam Smith's Perfect Magazine Photoshoot
2023 Awards Season Fashion Round Up