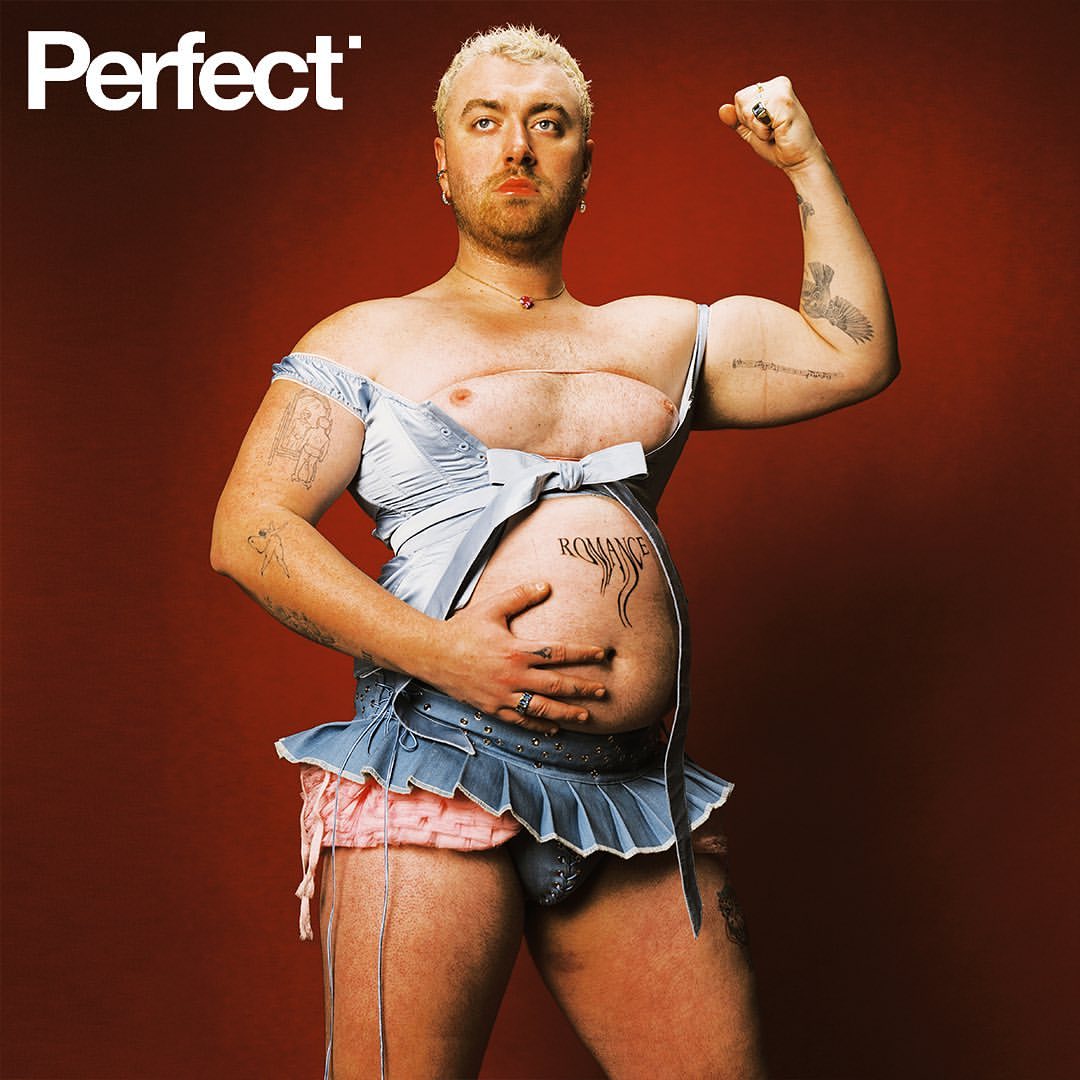 Life&Style writer Lula Izzard discusses the internet backlash over Sam Smith's Perfect Magazine photoshoot, concluding that fashion should be used as a form of self-expression instead of social conformity
In Issue Four of Perfect Magazine, Sam Smith was featured in a photoshoot wearing a series of body-contorting outfits including a corset, a miniskirt, and string wrapped around them, with one image appearing to refer to the 'We Can Do It!' poster from World War II.
This photoshoot sparked a variety of extreme reactions on social media.
While some users praised the 'boldness' of it and admired Smith's refusal to care about others' opinions of them, many people reacted with disgust, calling the photos 'grotesque' and some Twitter users even responded with cruel, mocking comments. The backlash to this photoshoot follows other controversies Smith has been enveloped in, such as responses to their performance of their hit song 'Unholy' featuring Kim Petras at the 2023 Brits, which received over 100 Ofcom complaints and accusations of being Satanic, and the music video for their song 'I'm Not Here to Make Friends' which was condemned by some critics for being sexually explicit.
I think it is significant that many of the hate comments Smith has received have included people calling for them to return to the style of fashion and music from earlier in their career. Activist Matt Bernstein highlighted that many of the hate comments Smith has received include comments asking what happened to '2014 Smith', which refers to a time in which Smith's styling was arguably more conservative and traditionally masculine, often wearing black and white suits and blazers. In conjunction to this, their music was much more melancholy, with ballads such as 'Stay with Me', which is very different to their recent music such as their upbeat song 'Unholy', their bold fashion statements, and song lyrics and performances which are more openly expressive of sexuality.
This time was also before Smith publicly came out as non-binary in 2019. Aaliyah Harry highlighted the double standards in responses to Smith's expressions of gender and sexuality, pointing out that sex has been a prominent theme in pop music for many years, and that celebrities like Harry Styles have worn similar outfits to Smith onstage, but were not subjected to the hate that Smith received. She argues that if they were 'thin, cis and straight', Smith would not be so viciously attacked on social media. The public reactions to Smith's choices of fashion and self expression and departure from their previous style of music is clearly underlined by transphobia, homophobia and fatphobia.
Issue Four of Perfect, in which this photoshoot is featured, is themed around 'Autonomy: the power of self, of personal choice, of independence'. The photoshoot offers a political commentary on the fatphobia enmeshed in society, with feminine clothes often being designed to confine and compress, and make bodies look smaller. Michaela Stark, the designer behind this photoshoot who designs clothes which deliberately contort the body, emphasized the power of fashion as a means of empowerment and resistance, stating 'Fashion is dressing for your own body and feeling confident' and 'dressing your body as a way to rebel against expectations'.
Smith's feature in Perfect demonstrates these ideas, as the photos refuse to conform to the expectation in the fashion industry to highlight thinness and conceal fat. The hatred and disgust with which people have responded to the photoshoot reveals the pervasiveness of fatphobia and conventional beauty standards on our views on fashion and stylistic choices. In the context of the widespread hate comments they have been subjected to, including both trolling comments on Twitter and hate from conservative media outlets, this photoshoot is a powerful statement from Smith of resistance to societal bigotry and hatred, and strength and empowerment within their own identity.
In the fashion industry, there should be an emphasis on using fashion and stylistic choices as a form of art and a means of self expression, rather than as a way of confirming to rigid societal beauty standards. There is often a preoccupation with how 'flattering' outfits are, which can be seen in the responses to celebrity's red carpet looks, as well as in style advice targeted towards us in magazines. 'Flattering' is often used synonymously with how slimming an outfit is, with style advice pertaining to particular figures often encouraging us to wear clothes which highlight the smallest and hide the largest parts of our bodies.
This photoshoot defies these ideas and expectations surrounding fashion and beauty standards, and I believe it is a striking demonstration of fashion as an artistic form and a vehicle for both political expression and expression of personal identity.
---
Read More from Life&Style:
The Expectations of Motherhood: Exploring 'Mum-Shaming'
The Rise of 'Balletcore': An Embrace of Femininity or an Escape Into Childhood?
From Diversity to Conformity: Is London Fashion Week Regressing Body Positivity?