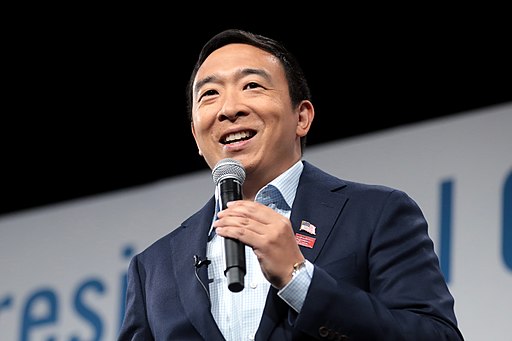 Comment Writer Kit Parsons takes a closer look at Andrew Yang's bid to be mayor of New York, arguing that Yang has been subject to unfair treatment by sections of the media dominated by vested interests
The job of New York City Mayor is one of America's most high-profile and toughest political positions. Mayor de Blasio is not running again due to the city's term limits, and as the city is heavily Democratic, the Democratic primary will likely determine who the next Mayor will be (the 2017 Republican candidate received under 28% of the vote). The field of candidates to be the next mayor is certainly a crowded one as there are over twenty of them. The frontrunners include former Presidential candidate Andrew Yang, former Brooklyn Borough President Eric Adams, the city's Comptroller Scott Stringer and MSNBC legal analyst and civil rights activist Maya Wiley. This mayoral election is arguably one of the most important ever, with the next mayor facing the vast challenge of resuscitating the city as it emerges from the pandemic.
Early polls suggested a lead for Andrew Yang, where he was receiving a healthy 32 percent of the vote, however, in more recent polls his support has halved, with Eric Adams seemingly coming out on top. Now, obviously, polls are all to be treated with a necessary level of skepticism, due to their well-known failures in recent elections. But this change in the landscape of the New York City Mayoral race is significant, as I believe it highlights the power and influence of monied interests and the corporate Democratic media establishment in the city. For a city that is seemingly crying out for a progressive voice, the field is now led by a former registered Republican. 
The US Media is showing clear biases in how they are covering the race. For example, Eric Adams is receiving articles about how he is prioritising public safety, while former Citi Group executive Ray McGuire is receiving coverage about how he 'wants to show he's not just the Wall Street Candidate'. Meanwhile, Andrew Yang is the target of countless hit pieces such as complaints he cursed during an event in a church, accounts that he reportedly gave his dog away and, even more ridiculously, that, as he answered some questions correctly, he allegedly cheated on a candidates quiz from The New York Times. 
The situation is very clear. The corporate establishment media are doing everything they can to discredit Andrew Yang, and I find it painful to watch. It clearly demonstrates how they are afraid of any bold or innovative ideas, such as his basic income proposal. The fact Yang's lead in the polls is no more is no surprise to me when you consider the media treatment he is receiving. I am not only disappointed in Yang's treatment, because I personally am a big supporter, but it feels anti-democratic to see the establishment media chip away at his lead. I also believe that New York City having an Asian American Mayor would be a great thing, especially when you consider the horrific rise in anti-Asian hate crimes. It would help these victims feel as if they "do belong". So not only do I think that the media treatment of Mr Yang is unfair, but I also think it is only deepening divides between groups of Americans.
Another factor of the media's actions through this campaign is how the city's progressives must rally behind another candidate to stop Yang. You see articles such as this one "Progressive NYC candidates target Andrew Yang". I think this is nothing but another planned media attack on Yang. It is simply baseless and confusing. Andrew Yang ran for President campaigning for a Universal Basic Income. He wanted to give every American $1000 a month no questions asked. He also wants to bring a similar, albeit more targeted program to New York City. Maybe I am just missing the mark here, but how is a man who simply wants to give people money not a progressive. Basic income is a very progressive policy, one of which these other so-called 'progressives' who the media are pushing don't support. It is clearly just another attempt to subdue Mr Yang. I'm hoping that Yang makes it over the line on June 22nd. If he does, it would show a shift in the paradigm of power between the people and the establishment media. If he doesn't, it would show how American politics is still firmly under the control of the corporate establishment.
I think the American media establishment is too powerful. I find it undemocratic and unjust, how some media elites with vested interests can relentlessly attack a candidate in an attempt to influence the people's opinions. It highlights the true interests of the establishment media in America. It shows how they are so scared of any meaningful change, any change that could reduce their power over and influence to manipulate the people. I would argue that if a candidate is relentlessly being attacked by the establishment media, it is oftentimes a good sign that they want to bring around meaningful change (see Tulsi Gabbard's press treatment for another example). Now, of course, I would understand if a candidate was getting attacked by the media for something more serious, but not because he gave a dog away. The changing dynamics in the race to be the next Mayor of New York City clearly illustrates the media's influence and power. Influence and power that is being used to prevent true and honest democracy.
---
More from Comment:
What Nigel Farage is Really Getting Out of Cameo
Chauvin is Convicted, But We Have a Way To Go Before True Justice is Served
It is Time to Say Goodbye to the Outdated Ideals Used to Justify Anti-Abortion Laws