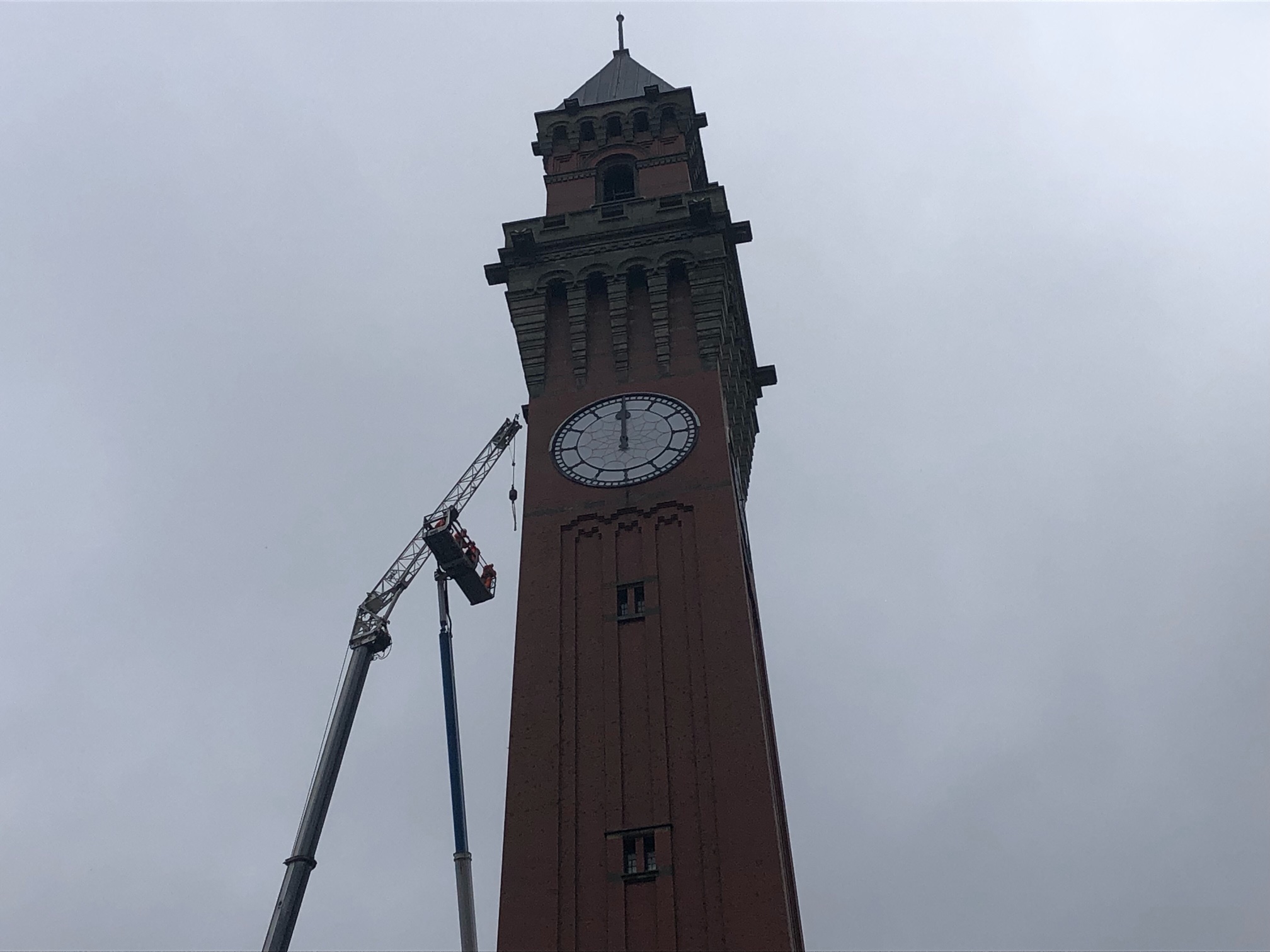 News editor Ellen Knight reports on University of Birmingham's clock tower restoration
As early as October 2019, the University of Birmingham's iconic clock tower – named after its first Chancellor, Joseph Chamberlain – was facing problems, with the North face's hands seemingly stuck forever at midday. It wasn't until February 2020, however, that Old Joe came to a total grinding halt. Storms in January had let water in, rusting some of the essential inner mechanisms that kept the clock tower functioning. 
For the first time since the clock tower was completed in 1908, the hands were taken off to be restored, leaving Birmingham to be restored by expert clockmakers, Smith of Derby. In a twist of fate, this takes Old Joe back to its roots, as in 1967, Smith of Derby merged with Joyce of Whitchurch, the tower's original clockmakers. 
Speaking to Redbrick, James Moore said that it had been 'a combination of factors' that led to Old Joe's eighteen-month hiatus. The process of returning Old Joe to his former glory cost £85,000, despite it being 'the most cost effective and the most efficient' method possible. Furthermore, the pandemic drastically affected the restoration process – Moore tells us that 'just as we were about to reinstall the cogs,' the pandemic hit, 'delaying everything, going forward.' However, looking on the bright side, Moore tells us that this delay allowed the Estates team to plan the process more carefully and to limit the costs as much as possible.
'[Old Joe] hasn't really been looked after. It hasn't had this level of refurbishment in forty years, it was in the 1980s that it last had major works done on it […] this level of external work hasn't been done in a long, long time.'
Moore told Redbrick that the repairs have gone 'really well' with only a few problems caused by high winds over the past week, and that 'apart from a bit of painting on the inside, we're all up and running again.'
Old Joe began 'bonging' again, for the first time in eighteen months, on the afternoon of Thursday 7th October – reigniting the long-held student superstition that should you walk underneath the tower as it's bonging, you'll fail your degree. The community response to Old Joe's new lease of life has been stridently positive, with the tower's official Twitter account (@oldjoeclock) flooded with positive responses, from people describing Old Joe as looking 'as sexy as ever' to local residents 'looking forward to seeing Joe's clock hands again' on their daily commute. 
Looking to the future, James Moore said that he hopes that 'the cranes won't be back for another hundred years.'
Check out other News articles:
Change in UoB's Regulations on Sexual Assault
News Feature: Students Reveal Harassment from Birmingham Bouncers