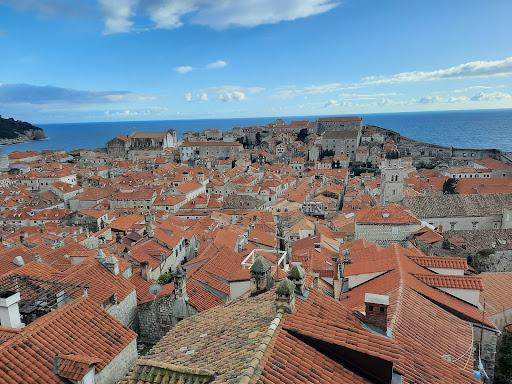 Digital Editor Cara-Louise Scott tells us why everyone should take a trip-of-a-lifetime to Dubrovnik, Croatia
Dubrovnik is an underrated beauty of the world that I believe more people should visit in their lifetime. Situated in southern Croatia and overlooking the Adriatic Sea, Dubrovnik is the perfect city to visit in Croatia if you're looking for a relaxing holiday where there is sun, sea and (not much) sand, as well as sight-seeing with a vast amount of history. 
I visited Dubrovnik in April this year for a week-long holiday with my partner and even though this was a suitable amount of time to explore the city, we fell in love with the city so much that we could have easily spent an extra week there.
If you are looking to stay in a resort surrounded by  plenty of beaches, I would recommend staying in the Babin Kuk area. We stayed in the 3-star Club Dubrovnik Sunny Hotel – it was reasonably priced for a week as it included flights (Tui package), and was full-board, which meant that we had all three meals of the day sorted including drinks. This saved us a lot of money on the trip itself, and other than buying ice creams and drinks during the daytime, we ensured we made the most of the hotel food. 
Babin Kuk, situated on the Lapad peninsula, is a friendly quiet neighbourhood with a multitude of resorts and beaches. Our hotel was close to Copacabana beach which is a private reserved beach area, perfect to visit for a quiet swimming area or on an evening walk.
It's worth noting that Babin Kuk is 15-20 minutes away from Dubrovnik Old Town but we used the cheap buses that pick up outside the hotels around that area. Getting a Dubrovnik card for the 7 days is recommended as you get free public transport as well as free entry to Dubrovnik City Walls and eight exciting museums.
On your first day in Dubrovnik, I would just recommend walking around spontaneously; getting lost in the city is the perfect way to see what Dubrovnik has to offer. If you're a cat lover then you'll be delighted to find a crazy number of stray cats roaming the streets. 
A must-do in Dubrovnik has to be the City Walls. Dubrovnik is lined with walls that you can walk around (for a price – included in the Dubrovnik card); it takes 1-2 hours to walk round the entire walls depending on how busy it is or if you are stopping lots to take photos. There is a cute bar half way round too with stunning views of the city and the sea, so I would suggest stopping here for a drink. 
In terms of exploring the Old Town, I would recommend visiting all of the museums that Dubrovnik has to offer. The Museum of Modern Art is a quirky art gallery that is worth visiting; the maritime museum is also interesting for learning more about the history of the city, and the Franciscan Church and Monastery are great for religious history. It's also worth heading over to the Fort too, as the views are simply breath-taking and you shouldn't leave Dubrovnik without seeing a birds-eye view of the city. 
Visiting Lokrum island is a must too; take a boat to the island in 15 minutes and you will be blown away by this picturesque island with plenty of swimming spots, botanical gardens, hidden ancient monuments and lots of peacocks!
At the harbour they offer a multitude of boat trips too – we went on a full-day three-island boat tour on one of the days and we got to visit Kolocep, Lopud and Sipan, with a complimentary lunch and drinks included on the boat. You get to spend the most time at Lopud island; get on a buggy cart and head over to the other side of the island for a huge sandy beach if you want an opportunity to sunbathe and swim. 
Dubrovnik is a fairly cheap place to visit and it is worth waiting until you arrive to book boat trips, museums and excursions, as you can often get better deals this way – I would say that buying the Dubrovnik card on your first day in the city is definitely worth it!
If you love historical cities, picturesque views and exploring, Dubrovnik is the city that awaits you on your next travels.
---
Read more travel articles here:
One for the Bucket List: Van Gogh Museum, Amsterdam
A New Way of Travel: Sleeper Trains