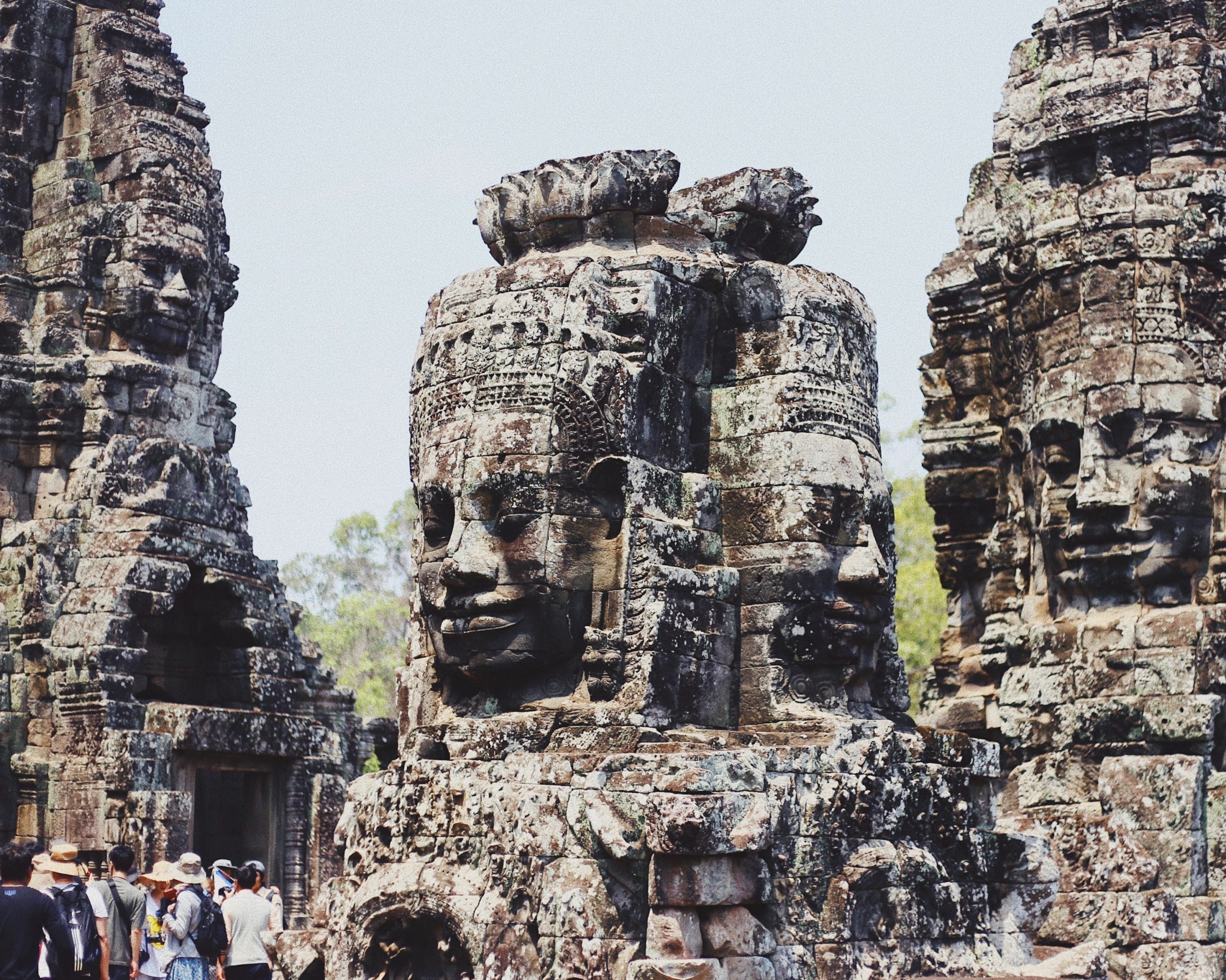 Travel Writer Chloe Hyde explains why the scenic temples of Siem Reap, located in Cambodia, should be a destination on every traveller's bucket list
When people ask 'Where has your favourite holiday been?', Cambodia immediately springs to mind. I had the pleasure of visiting both Cambodia and Thailand in 2018 as part of my parent's silver wedding anniversary, and what we all gathered was that Siem Reap was a remarkably down to earth city. There is a multitude of historic and magnificent sites to visit, all boasting Khmer culture and tradition. We were astonished by how budget-friendly eating out was – though it did not compromise the atmosphere of the restaurants, or the quality of the dishes prepared. But it was also the friendly and welcoming nature of all the people we met in Siem Reap that made the trip so memorable.
Angkor Wat
Built by Emperor Suryavarman II in the 12th Century, Angkor Wat (translating to 'Temple City' in Khmer) is a UNESCO World Heritage site, and is the largest religious monument in the world. Located roughly five miles north of Siem Reap, Angkor Wat is easily accessible via Tuk Tuk. Angkor Wat itself is a vast expanse of stone monuments, with the five towers symbolising the peaks of Mount Meru and the dwelling place of the gods (according to Hindu mythology). These peaks are also on the Cambodian flag. It was overwhelmingly impressive – and very popular judging by the number of tourists that grew towards midday. I would recommend booking a sunrise tour of Angkor Wat if you visit in the summer since the humidity is much more bearable, there are less tourists and you can capture a beautiful photograph of the temples set against the sunrise.
Angkor Thom and Ta Prohm
Angkor Thom (translating to 'Great City') was also built in the late 12th Century, but by King Jayavarman VII. It was the last capital city of the Khmer empire and is almost shaped as a perfect square, lined with eight-metre-high walls which were used to protect the city against attacks. We visited the Bayon Temple, placed in the heart of Angkor Thom, and the mesmerising design was unforgettable. There are around 50 towers surrounding the temple, with over 200 serene, smiling faces carved into the rockface. Many remark these faces as a state of inner peace, but it was truly like nothing we had ever seen before. If you wish, you can climb up through the temple and see the faces up close. To think these faces have sustained almost 1000 years is astounding.
Ta Prohm (previously named 'Rajavihara', meaning 'Monastery of the King') is also in Angkor Thom. It is a Buddhist Temple dedicated to King Jayavarman VII's mother. Ta Prohm was also the setting for Lara Croft: Tomb Raider (2001) starring Angelina Jolie. It was particularly exciting to be able to visit a very famous location on the film, whilst also admiring the grandeur of the temple. Perhaps one of Ta Prohm's most impressive features is the giant towering trees and huge roots that sprawl over the temple, adding to the secret-temple-in-jungle factor of the site.
Madam Moch
On one of our very few evenings in Siem Reap, we experienced Cambodian food at its finest. Trip Advisor recommended a restaurant called Madam Moch with stellar reviews, so we decided on that. It was definitely our hidden gem of Cambodia. There were very few tables which gave the restaurant an intimate and cosy feeling – without it feeling empty or bare. Madam Moch was beautifully decorated with an arrangement of plants and Cambodian ornaments, making for an authentic atmosphere. For me, a vegetarian, eating abroad can sometimes be quite troublesome, but there are an array of Khmer dishes that can easily substitute meat for vegetables or tofu. Our families' favourite dishes were the Amok and Lok Lak curries. It is two years later and the price of our meal still bewilders us. For starters, mains, and a variety of drinks, the bill came to $23 (roughly £4.50 per person). I could not recommend this restaurant enough if you ever visit Siem Reap.
To put it simply, I would go back in a heartbeat.
---
Check out the links below if you want to read about more destinations in this series: