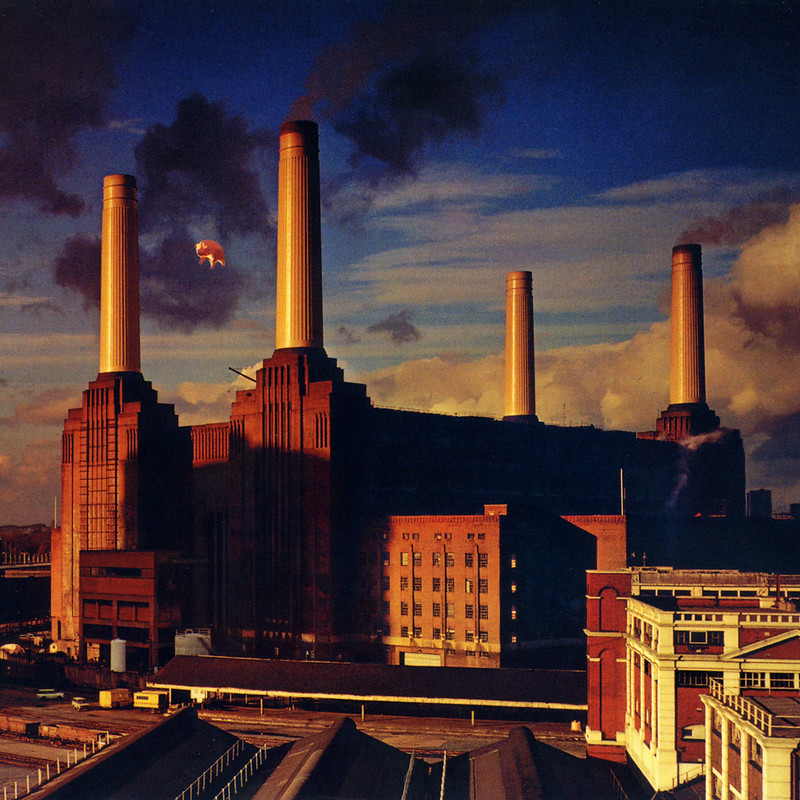 As the only Pink Floyd album to receive a 10/10 score from Pitchfork, Music Critic James West considers the ways in which it deserves its perfect rating
Animals holds an interesting place in the Pink Floyd catalog. To begin with, it is sandwiched between Wish You Were Here and The Wall, two of the band's most popular and best selling albums. It also marks the start of Roger Waters's dominance over Pink Floyd and what would eventually contribute to him leaving the band in the mid 1980's. However, despite Animals' relative unpopularity, it remains the only Pink Floyd album to score a Pitchfork 10/10 rating. Why? 
Firstly, the thing that makes Animals an unpopular album is also the key to its success, and the elusive 10/10 score. Albums preceding it like Dark Side of the Moon or Wish You Were Here dealt with very grand themes, like life, death, time, etc. Animals was not like that. Animals was about getting under the skin of humanity and revealing all its flaws. Waters took this concept from 'Animal Farm' by George Orwell, and decided to further explore this by comparing humanity to animals, which was particularly relevant as this five-track-album was set against the backdrop of the social discontent of the late 1970s. This is evident in titles such as 'Dogs' and 'Sheep' which compared aspects of humanity to these particular animals.
The album is comprised of three main songs, 'Dogs', 'Pigs (Three Different Ones)' and 'Sheep', all over 10 minutes in length, and bookended on either end with 'Pigs on the Wing'. 'Dogs' is very much a social commentary about businessmen, firstly comparing them to animals fighting for their next meal and then describing their fake persona which they adapt, but will still betray you – 'So that when they turn their backs on you/ You'll have a chance to put the knife in'. He then goes on with his critique of the business world with its dog-eat-dog mantra for the rest of the song. At 17 minutes in length, it is the longest song on the album and continues some fantastic vocal work from Waters and Gilmour. Gilmour delivers some explosive guitar work on the album over the course of the tracks, and Richard Wright's keyboard work during the musical interludes is superb as always.
The track that follows is 'Pigs (Three Different Ones)', a song criticizing the elite of society, with the first verse criticizing politicians in general for their empty promises 'Big man, pig man/Haha, charade you are.' The second verse is believed to be criticizing Margaret Thatcher (or unnamed person) for their lack of compassion and the third one clearly referencing and criticizing Mary Whitehouse, a famous morality campaigner in the late 1970s. Next we follow on with 'Sheep', which opens with a big thumping drum beat and repetitive baseline, which really amps up the expectation of danger as sheep are easily preyed on. In fact, the lyrics say 'There may be dogs about,' and later in the song some echoed vocals from Gilmour are used from 'Dogs' to increase the sense of menace. 'Sheep' is about the idea that people are sheep, and do what they are told 'You better stay home/ And do as you're told.'
The album is bookended with 'Pigs on the Wing', a song split into two 90 second halves, and a love song written by Waters to his then girlfriend. This song creates quite a juxtaposition to the rest of the album, suggesting that companionship is important to a person and that humans do have some redeeming qualities. It is also much lighter in tone, with only an acoustic guitar being played, and provides an optimistic note for the album to end on, which helps alleviate some of the gloom created. 
To conclude, I believe that Animals is deserving of a 10/10 Pitchfork rating due to the depth of the lyrics presented on a challenging subject, the great juxtaposition and structure of the songs presented, and the incredible musical atmosphere throughout the album.
Animals is available via Pink Floyd Music Ltd.
---
You Might Also Like
Album Review: Rina Sawayama – SAWAYAMA
Album Review: The 1975 – Notes On A Conditional Form
Single Review: Florence and the Machine – Light of Love
Single Review: The Killers – Fire in Bone