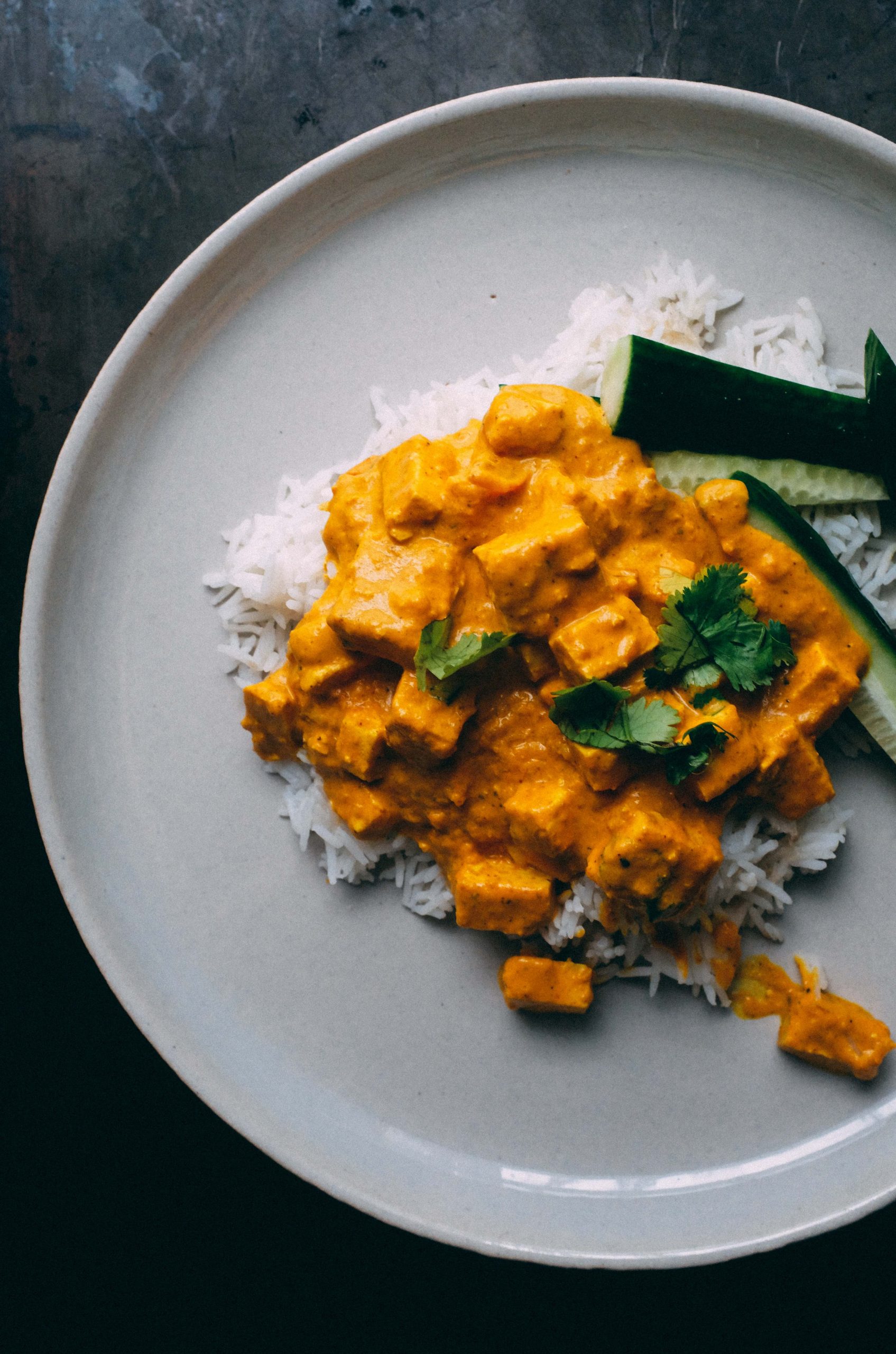 Food&Drink writer Anna-Marie Fischer shares her delicious, high-protein tofu curry recipe
A delicious and rich, vegan curry made with store cupboard spices and firm tofu. This is a really easy, classic plant-based weeknight meal which is also high in protein. The recipe serves two, but you can double it and store in the fridge for meal-prep.
Unlike other butter tofu curry recipes, this recipe coats the tofu in seasoning to create a truly flavourful dish and bakes it in the oven, as opposed to traditionally frying it. I also only combine the tofu and the sauce at the end to ensure the tofu stays crispy.
I usually serve this with white basmati rice, but you can also just have it with naan.
Serves 2.
Ingredients
For the curry:
40g / 3 tablespoons of dairy-free butter

1 Onion
2 Garlic cloves
A thumb-sized piece of ginger
2 tsp garam masala
2 tsp paprika
2 tsp garlic granules
2 tsp ground coriander
2 tsp ground cumin
3 tsp ground turmeric
3 tbsp tomato purée
400 ml tomato passata
5 tbsp coconut or oat cream
Salt and black pepper
For the tofu:
450g Firm Tofu

4 tbsp cornflour
3 tbsp soy sauce (light or dark, up to you)
1 tbsp garam masala
1 tbsp paprika
1 tbsp garlic granules
To serve:
Method
1. Preheat the oven to 180C (Fan-assisted oven) / 200C
2. Drain your tofu and lightly press dry with paper towel.
3. Rip your 450g of tofu into bite-sized chunks, you want the edges to be jagged to increase the surface area which allows it to get crispier and absorb more of the flavours.
4. Add the tofu chunks into a bowl or container and add the cornflour. Shake until the chunks are well dusted. Add the seasonings, soy sauce and shake again.
5. Move the tofu onto a baking tray and cook in the oven for 10-15 minutes, checking periodically until the tofu has significantly browned and crisped. Once the tofu is cooked, remove it from the oven but do not add it to the curry.
6. Cook your rice or naan in the meantime.
7. As the tofu and rice/naan is cooking, start on the curry. Melt 1 tablespoon of dairy-free butter onto a frying pan on a moderate-low heat.
8. Finely chop the garlic, ginger, and onion and add to frying pan. Allow to cook in the butter for 3-4 minutes until lightly golden.
9. Add the tomato purée and allow to cook for another 2 minutes.
10. Then add in the tomato passata, the remaining tbsp of dairy-free butter, seasonings and stir well. Finally add in 4 tbsps of coconut/oat cream. Allow this to cook for 5-8 minutes to let the flavours develop.
11. Serve with your rice (or naan), tofu and add curry sauce on top to desired amount. Swirl in the leftover coconut/oat cream on top for colour/extra creaminess.
@Anna-Marie Fisher
Tips:
The sauce and tofu are only combined last when serving, to ensure the tofu stays crispy and doesn't soak up too much of the liquid.
The exact measurements are not super important here but just a rough guide as to how I make it. Feel free to adjust to your own taste.
You can use salted or unsalted butter, just be sure to adjust the salt levels accordingly.
Coating your tofu with corn-starch first will help achieve that crunchy coating. You can also use potato starch, regular flour, or even gluten-free flour instead of corn-starch, but the corn-starch crisps up the best.
---
Hungry for more? Check out these other recipes from Food&Drink!
Recipe: Four ways to use crumble!