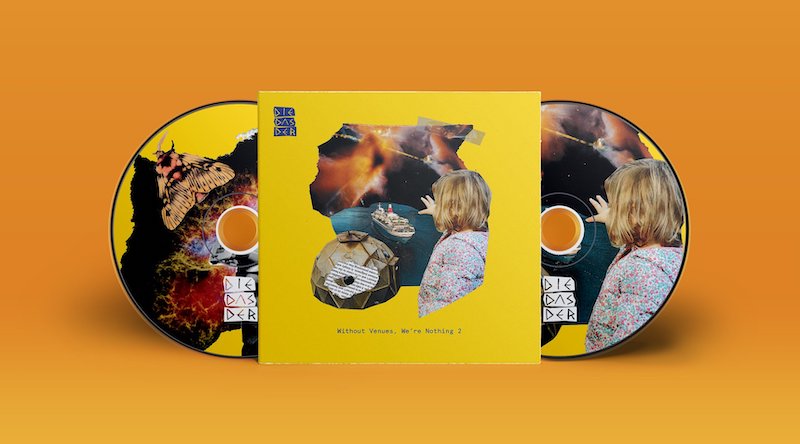 Music Writer Bethany Carter speaks to the Birmingham Music Label Die Das Der about their lockdown fundraiser, Without Music, We're Nothing
The music industry has been heavily hit by the impact of Covid-19. No longer able to access venues and perform live, many smaller artists and venues are struggling to remain afloat with the loss of a major income stream. Today, I spoke to Greg from the Birmingham-based collective Die Das Der who have released two compilations entitled Without Venues, We're Nothing. These releases aim to support local venues and studios who Die Das Der have worked with in the past.
---
Firstly, could you tell us about Die Das Der's mission for anybody unaware of the incredible work you do for creatives in Birmingham?
Die Das Der started in 2014 and is a collective of creatives initially formed to put on shows by some of the more angular and obtuse acts in Birmingham, but soon graduated to booking out of town bands as well. During our first six years we have played host to national acts including Slaves, Idles, Desperate Journalist, John and Girls in Synthesis, as well as a glut of local talent like Table Scraps, Sunshine Frisbee Laserbeam, God Damn, WMN and Youthman (RIP) to name but a few.
We've also been running 'Yr Welcome' over the same time period, initially as a two-day festival – now a one dayer (as we were all losing our minds with logistics!). We really enjoy the fact that we have been able to showcase emerging (and in some cases established) national talent alongside some of the most interesting and awesome bands the Midlands has to offer.
Over the last two years we have stumbled our way into becoming a record label and have overseen releases from a number of acts including Kendo Nagasaki, Frauds, Knife Crime, Peaks and Meadow Burials. We see it as an honour to be able to commit so many amazing acts ideas to some kind of physical (and digital) format, be it vinyl, CD or cassette.
Were you surprised with the overwhelming support of your compilation 'Without Venues, We're Nothing' raising over £500 just within the first 24 hours of its release?
We have been bowled over by the response to the first two volumes of Without Venues, We're Nothing. The initial idea was to do a couple of releases to try and benefit venues, staff and freelancers we work closely with, and all the artists involved really got on board with that and were happy to donate tracks. So far, the two volumes have raised £1,500, which is pretty amazing, as a lot of people are feeling the pinch financially at the moment. We're now lining up volume 3 for September! In the meantime, there are a limited number of physical copies of volume 2 left (as well as both volumes available digitally) so if anyone wants to bag a load of ace tunes and support the local scene then head to our bandcamp.
I have been very concerned myself with the impact that lockdown has had on the entire music industry, especially smaller venues that are struggling during this time. What are some of the venues you are supporting through the compilation release, and how have you worked with them in the past?
So far, we have used the cash to support staff at the Hare and Hounds and Muthers Studio who have been financially affected by the lockdown. We are also in talks with a couple of other venues about what their potential needs might be as time progresses. We have also reached out to freelancers we have worked with and given them assistance where required.
How have you had to adapt over the last few months to continue supporting your artists, and has it been a challenge?
I think the most challenging thing has been the lack of live music, although it was definitely the correct decision to suspend all shows for the foreseeable future, as a busy gig would be a peak environment for cross infection of Covid. We have had to cancel and postpone shows, which has been disappointing, both for us, the bands, and most importantly the venues – as they rely on income from gigs to keep their heads above water. From a Die Das Der point of view, we are still able to plod along releasing stuff, but we really miss the sweaty excitement of seeing the bands we put on play live!
What are some artists that you are working with that you think we should be looking out for?
Wax Futures – History of Everything is a fuzzed up, scuzzed up piece of forward looking nostalgia. Heavy (sub)pop 'discordant' vibes for fans of Fugazi and Jetplane Landing.
Fauxchisels – Live at the BCRC is a lovely slice of angular disdain for the country's ruling elite, riffs and poetry. For fans of The Fall and Mcklusky.
Modern Literature – Their EP Nordic Fiction is a gloomy and belligerent record of outward looking introspection and gloomy angst. For fans of Jesus Lizard, Joy Division.
Of course all of these releases are available through the Die Das Der bandcamp and we can't recommend them enough! Another few names worth investigation are Exotic Pets, Ghost of the Avalanche, Peaks, Knife Crime, WMN and Meadow Burials – who all have releases currently available from us! We would also like to give shout outs to Grotbags, Pet Crow, Salt the Snail and Girls in Synthesis (and far too many others but this would be a massive answer if I didn't limit it!) who have all been marvellous guests to Birmingham in the last few months. Finally, everyone should check out Society of Losers – an ace Liverpool collective – similar in ethos to us!
If you are interested in supporting Die Das Der and their mission to help local artists and venues, the Without Music, We're Nothing compilations are available via their Bandcamp store.
---
Like this? See more from Music below: 
How Local Venues are Managing During Lockdown
BBC's Best of Glastonbury – The Highlights
Single Review: SKETCH – Do You Love Me Yet?