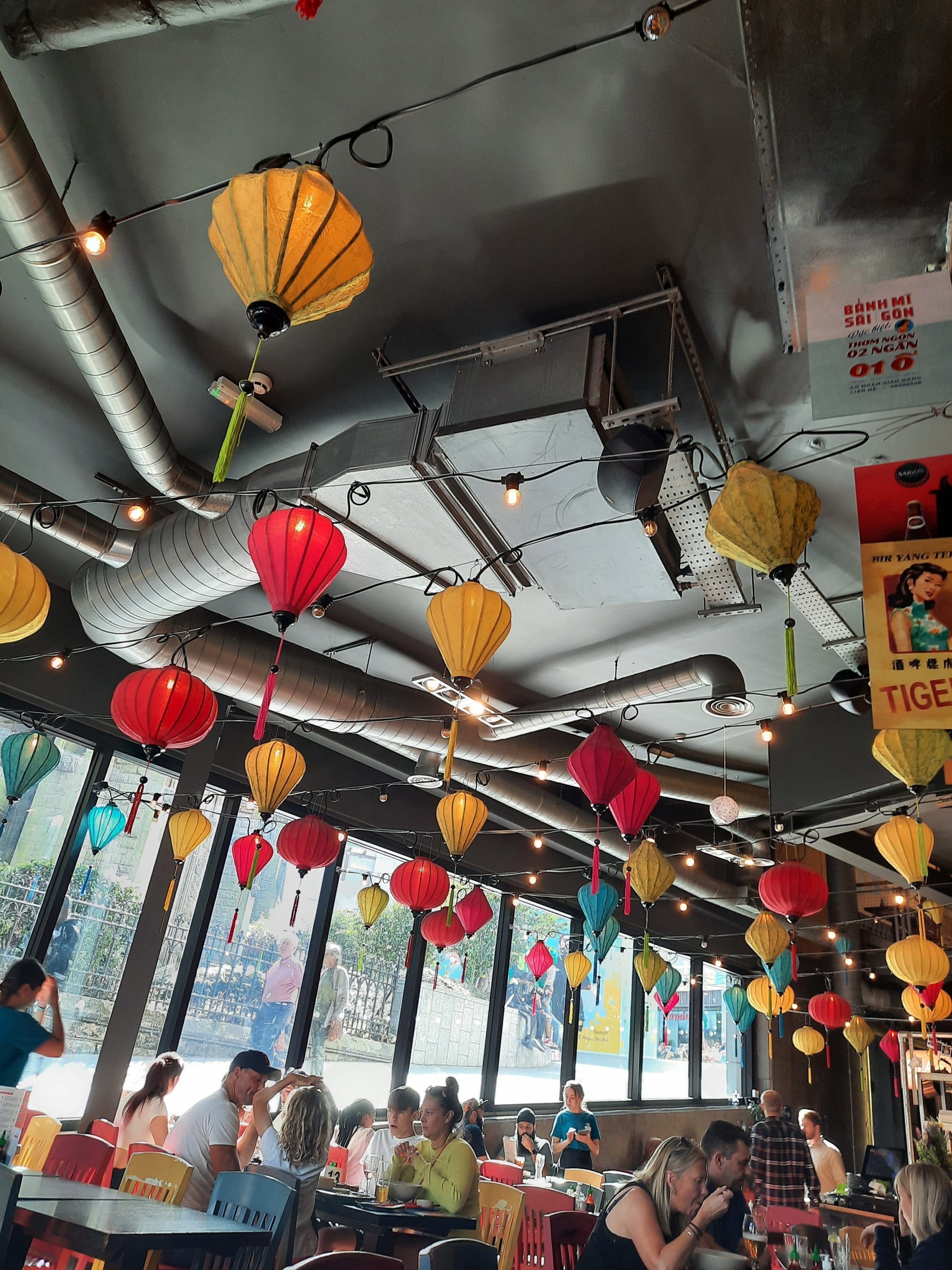 Digital Editor Cara-Louise Scott reviews her experience of Vietnamese Street Kitchen, which boasts deliciously authentic Vietnamese food and drink in Birmingham
I have been wanting to visit Vietnamese Street Kitchen in the Bullring for a while now, and on the 4th August after seeing the Hockey game for the Commonwealth Games, my partner and I finally got round to going.
Vietnamese Street Kitchen is located just outside the Bullring, right next to St Martin's Square, and is a family-run, independent restaurant in Birmingham, serving 'Vietnamese classics in a modern setting'.
When you enter the restaurant, you can choose whether to sit inside or out, and we chose to eat inside to experience the colourful decor, which boasts yellow, blue and red chairs with the same colour lanterns hanging from the ceiling.
It was half-full in the restaurant which meant there was chatter, but it wasn't loud or hectic – the staff were friendly and made sure to check we were happy with the food and to ask if we wanted any more food and drinks after each order.
Vietnamese Street Kitchen have 2 for £12 cocktails; their cocktail menu shows off an impressive array of classic cocktails, but also unique drinks to the restaurant. We decided to choose 'Ocean Blue' which contained Bombay, Blue Curacao and 'Glitter.' The Pina Colada shaped glass was a great size for a cocktail, and the icy smooth texture of the cocktail made for the perfect summer drink. It had a strong lemon flavouring, with a subtle alcoholic kick afterwards. It's crystal blue colour gave it an authentic cocktail look; I'd certainly have this cocktail again.
For my starter, I chose the 'Tofu and Mushroom Steamed Bao Bun', which I can't put into words how heavenly the taste was. The bao bun had a soft, melt-in-your-mouth texture, with two big chunks of tofu and a few mushrooms in the middle. I added some Hoisin Sauce to add some flavouring, but the bao bun itself with the tofu and mushrooms was a tasty combination. The only thing that would have made it better was if there were two buns and a sauce that came with it.
After having the starter, I ordered my main which I chose from their selection of 'Big Bowls' off their vegan menu. This is a bowl that contains lettuce, cucumber and carrots, with a choice of topping from 'Not Grilled Chicken', vegetable spring rolls, tofu and mushroom or vegetable curry, and then a choice of base from rice, noodles or salad. I chose the 'Not Grilled Chicken' and 'Stir Fry Egg Noodle'.
The size of the bowl was immense, with a heap of noodles and vegetables and an extensive amount of the 'chicken'; the texture of the 'chicken' was soft and tasty, and the sauce it was coated in with the noodles was like that of curry, but was rather spicy for my taste buds. The 'chicken', noodles, vegetables and sauce all worked well together to create a succulent dish that I would have again in the future.
While some dishes are somewhat pricey, as a whole, for the size of the main dishes, the prices are justifiable and worth it for a hearty divine meal.
Vietnamese Street Kitchen is a distinctive restaurant in the heart of Birmingham that offers a wide range of flavoursome and authentic Vietnamese dishes that do not fail to satisfy taste buds and give an enjoyable dining experience. I will certainly be visiting again.
---
Enjoyed this review? Check out these recent Food&Drink reviews:
Review: Be At One's New Cocktails